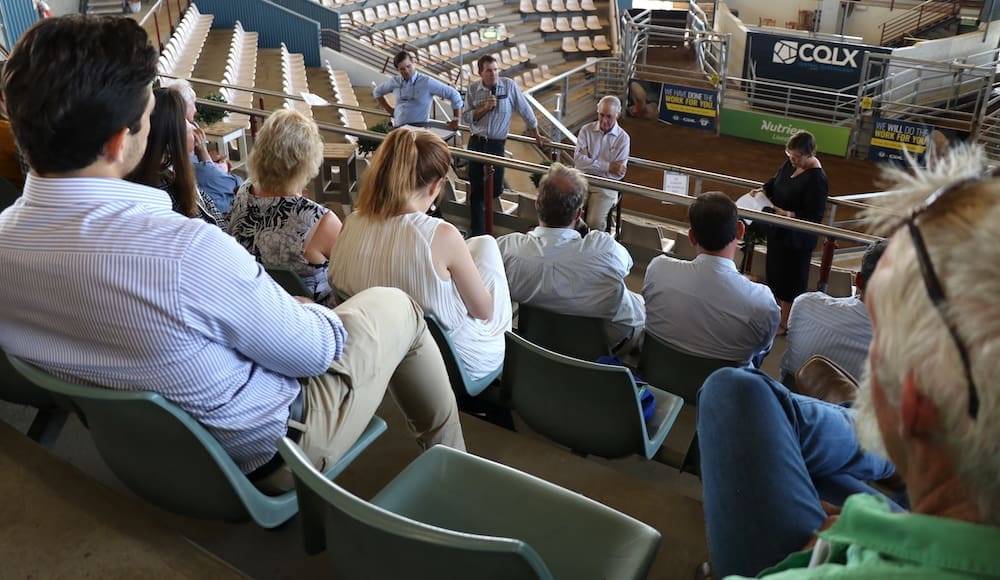 AFTER months of meeting over video screens the return to an in-person beef industry forum hosted by AgForce at Rockhampton on Thursday prompted an enthusiastic response from producers.
Held in conjunction with the AgForce Cattle Board annual general meeting at the Gracemere saleyards, a panel session invited producers to respond to the question "What's Your Beef?"
A recurring theme dominating discussions was the issue of how the industry can strenghthen the impact of its messaging and advocacy efforts at a political and public level.
AgForce has been a vocal opponent of strict vegetation management controls and reef regulations introduced by successive Queensland Labor Governments in recent decades, arguing they are the result of politics driving science, rather than the other way around.
After last weekend's Queensland election result, which will extend Labor's time in power in the State from 26 of the past 30 years by a further four-years under new fixed terms, much discussion at yesterday's forum focused on ways to lift the impact of industry advocacy.
'No time to be apolitical'
Keynote speaker Susan McDonald, an LNP senator and former Super Butcher managing director, did not mince her words in emphatically asserting that agricultural industry groups should not be apolitical, and calling for AgForce and LNP to work more closely together.
"I really have a problem that we talk at an industry level about being apolitical," she said.
"And I was talking to my father (former Queensland and Federal National Party president Don McDonald) the other day. I said has that always been the case, and he said 'no, no'."
"We should be together, LNP members should be in AgForce and AgForce members should be in the LNP.
"We should send our people o George Street and to Canberra because until we get serious about it we are being mucked around, the last 30 years of Labor tells me that is true.
"Sorry to be political, but we don't have a lot of time."
She said the industry in Queensland now has Government regulation coming in that is 'fantasy and fantastical', including reef regulations that do not improve reef water quality and vegetation management rules that do improve land management.
"There's not that many any of us, so we have to line up as one," she said.
"Our people we keep thinking we can dance with the devil, but they're not interested in us.
"I think we need to get serious about having a strong voice and a bigger voice and if we keep saying we're apolitical we will keep being done over slowly."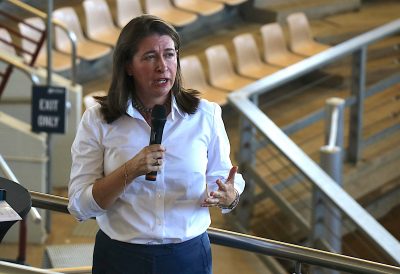 While rural producers tended to be very independent people she said it was essential they join their industry organisations to improve their clout at a political level.
She said the Greens movement, which was fabulously organised and ideological and 'not required to follow up on facts', had helped to create a perception in the broader community that live export is bad, farmers want nothing more than to fire up bulldozers to pull out trees and cane farmers actively throw fertiliser onto the reef.
"These are all things people know," she said.
"We know it is a problem.
"So the challenge is how we get ahead of that and how do we replace that with common sense,"
"The True Story (social media rural advocacy video) is fantastic but it needs to be deeper and younger, we know what kids are being taught at school is very one sided.
"A school in Toowoomba has meat free tuckshop. It is responsibility as an industry to have a plan to have strategies to go into schools."
She suggested the industry needs "a big strategy".
"It needs to be very considered,  a bit like an election campaign, where each party decides what its key messages are and they stick that to message and how disciplined you are is how successful you are."
'Trickle down effect'
CQ cattle producer Andrew MacTaggart agreed that the industry had to do more at school level, saying it was not uncommon for country children to return from boarding schools telling their parents they were seen as environmental vandals.
"I am a big believer in the trickle-down effect," he said.
"In the early 80s no one had air conditioning in their cars, I doubt you would find one now without it.
"Go to the top and let that filter down. Identify someone who is doing a fantastic job who is increasing soil organic matter, increasing soil carbon, identify those people and promote them shamelessly."
'Preaching to each other isn't advocacy'
Fred Hughes from Georgina Pastoral Company supported the view that finding ways to educate school children about the value of agriculture was critical, pointing out that AgForce cattle board member Matt Bennetto hosts school groups at his Charters Towers property to help build their understanding of what cattle production is really like.
"Preaching to each other isn't really advocacy," Mr Hughes said.
"We don't need to be convincing each other we're doing a good job, we need to be talking to other people."
'Do we even know how to do advocacy?'
Burnett producer Alice Greenup said the industry needed to invest more heavily in capacity building to strengthen its advocacy efforts.
"I feel we get outplayed, out manoeuvred," she said.
"What does advocacy actually look like? Because we're spending a lot of time talking about policy, a lot of time talking around in circles, and I can tell you my life is getting overrun with compliance and trying to justify what we do excellently.
'We just had a massive rainfall event and Rick said you could have drunk the water straight off the pasture, it was just beautiful and that is after how many years of drought.
"So my question is do we even know how to do advocacy? Maybe we need to stop spending money on R&D and put that money into capacity building for our industry."
Industry needs to invest in leadership programs
AgForce president and South Burnett cattle producer Georgie Somerset said the industry was suffering now from past decisions not to continue investments in initiatives such as building rural leaders programs.
"We run a community leadership program in our region but it is one of the few across the State," she said.
"In our industry we have stepped away from a lot of extension."
Do we need to look harder internally?
Andrew McTaggart also questioned if the industry needed to take a harder internal look at itself.
"Do we need to look inwardly and ask ourselves a question –  if everyone is blaming us, is what we're doing is that the best we can be doing, or can we do better?"
Fred Hughes suggested everyone in the industry should be given a half page sheet with relevant facts about the industry to help them to advocate and counter mistruths and junk science perpetuated against the industry when they encountered them.
"If we all had something like that, if you hear someone saying that is not true, we all need to be prepared to do our bit."
AgForce Cattle President Will Wilson said industry groups were working hard to develop effective strategies and "getting information in front of the right people with the right influence to get the right outcome".
"There has been two or three examples now where because we're thinking differently about it we're getting some outcomes."
Forum discussions also centred around issues including trade relations with China, EU market access and how to fast track farmer rewards for ecosystem services.