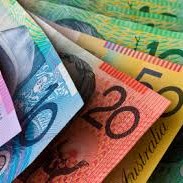 The Australian dollar shot to a five-month high against the US currency overnight, despite the US fiscal deadlock being averted yesterday.
The A$ reached US96.47c overnight, its highest level since early June, and was trading this morning at US96.3c.
National Australia Bank financial commentators said while the resolution to the US fiscal impasse provided some relief to financial markets, there had been a big move in the US$ overnight as markets now start to reassess the US Federal Reserve outlook.
"Despite a US deal being done and a crisis averted (for now), investors are now wondering whether to expect another US government shutdown and another round of deadline-day deals early next year," NAB's overnight currency report said.
"A later start to Fed tapering now looks likely, and subsequently the US$ has been hit hard in currency markets overnight," NAB said.
While the drought-induced supply situation continues to be the main influence on the steady weakening in Australian cattle prices in recent weeks, the higher A$ is unwelcome news for Australian exporters, and may start to bear some influence in cattle pricing.
As Beef Central's home-page graphs show, the path of the A$ so far in 2013 has been mixed, after starting the year at US104.7c and peaking in mid-January at 105.8c. Once the A$ dropped below parity in mid-May, it continued to depreciate, trading below US90c briefly in August.
Since the start of September, however, the A$ has appreciated more than 6pc against the US$, with rises also registered against the Japanese Yen (6pc), Euro (4pc), Indonesian Rupiah (10pc) and Korean Won (3pc). All of these movements add headwinds to Australia's beef and live cattle export trade prospects.
The higher currency value was clearly reflected in trading in imported manufacturing beef into the US during the past week.
While the US 90CL imported cow beef indicator was unchanged this week in US$ terms, at US194c/lb, when measured in A$ terms, the price fell more than 6c/kg to A420c/kg.
If the upward trend in the A$ value continues, National Australia Bank suggests the Reserve Bank may have to re-think its on-hold interest rate strategy – especially if investment and employment intentions remain weak, as reported in NAB's third quarter Business Survey yesterday.