As we were proud to announce yesterday, Beef Central has a new website, which is the result of an extensive redevelopment process which kicked off with a reader survey last year.
The changes we've made are designed to make our website easier to use for all readers regardless of how they access Beef Central – whether it be via a computer or mobile device like a smart phone or tablet – while also giving advertisers even greater opportunities to reach a targeted audience of beef industry stakeholders across Australia.
Here's a quick overview of some of the new features we've introduced:
New drop-down menus
New drop down menus now appear when your mouse pointer hovers over each category on the menu bar, providing instant access to recent headlines and more specific sub-categories within each section. You can still access each section in full by clicking on the category title on the menu bar. The drop down menu will disappear as soon as you move your mouse pointer away from the section title.

Easier access to stories
It is now even easier to access each article. Just clicking on the headline, picture (where relevant) or the summary text of each story on any Beef Central page will now open the full article.
Search by topic
We've also made it much easier for readers to search for articles in specific areas of interest by introducing a Hot Topics section, which can be found on the top right corner of our home page:

Clicking on the expansion box at the right of the Hot Topics panel will also open a full range of search topics for readers to browse:

A list of related topics also now appears at the bottom of each article, which readers can click to view more stories of relevance to that subject, as demonstrated here:

News finder
Another easy way to find articles on specific topics is to use our new News Finder tool which can be accessed in two ways:
 By typing a search term into the Search Box on the top right hand corner of the home page:

Or by clicking on the News Finder link in the News drop-down menu: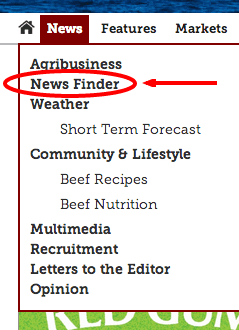 The bigger picture
Pictures in Beef Central articles can also now be instantly expanded just by clicking on each image.
Industry dashboard
Beef Central's home page now features an 'industry dashboard', where multiple graphs of key performance indicators can be accessed via a 'mini-menu'. The current list of four indicators – EYCI, A$, Weekly kill and 90CL manufacturing beef price – will shortly be expanded to include other KPIs for industry state-of-health.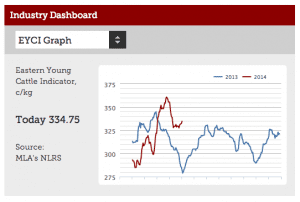 A fresher, cleaner look and feel
We have also increased the type size of our text across the board, which, along with changes to the typefaces used, are designed to make reading our articles even easier.
Benefits to advertisers
Beef Central advertisers can now access more comprehensive website traffic information, as it relates to their advertisement, at the completion of each campaign.
New exposure opportunities for advertisers are also now available, including additional subject pages like 'Property' and 'New products', and dedicated subject areas like 'nutrition' and 'stock handling' within our production and lotfeeding pages.
Exciting new advertising options are also available on the website, including large format, high exposure 'wings' on our home page and key sub-pages.
We hope you like the new look and feel of the site and find the information we provide useful and interesting. If you have any feedback or thoughts on how else we can improve Beef Central, please don't hesitate to drop us a line here
– Beef Central publishers Jon Condon and James Nason