Farming businesses in fire-affected regions will get help to rebuild through an initial $100 million in emergency bushfire funding, which will be made available following agreement with relevant state governments.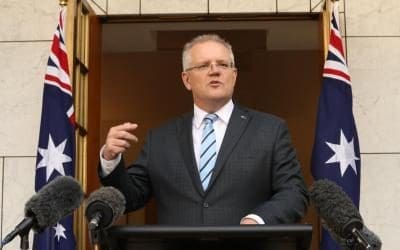 Prime Minister Scott Morrison today announced the Federal Government would provide up to $75,000 in grants for farm, fish and forestry businesses in fire-affected regions, with the funding administered by each state government.
"We will do whatever it takes to support those communities and businesses hit by these fires, and if we need to do more, we will," the Prime Minister said.
"I need to stress this is an uncapped program so if demand for support goes above $100 million, money will continue to flow.
"As the scale of the damage becomes apparent, it is clear that our farm, our fish and forest businesses need support and along with communities who depend on them, we will help them rebuild and we will continue to back them.
"This funding will support primary producers to access essentials like fodder and water, while also help rebuild fencing or hire vital agricultural equipment like water pumps, irrigation systems, horticultural netting and generators."
This funding is in addition to the extensive work being undertaken by the Australian Defence Force, clearing roads and properties and helping communities rebuild.
The Morrison Government will also provide $15 million to fund 60 additional rural financial counsellors and support workers.
Already the Rural Financial Counselling Service is on the ground providing free financial counselling to our farmers in times of need with now approximately 180 counsellors located within key agricultural communities across Australia.
Minister for Agriculture Bridget McKenzie said so many rural businesses had been hard hit by the bushfires and they were now looking at how they could rebuild.
"Rural and regional communities particularly across Queensland, New South Wales, Victoria and South Australia have been hit hard by the bushfires and we will continue to work together to support all those Australians whose livelihoods have been devastated by these fires," Minister McKenzie said.
"This funding could help pay for tradespeople to conduct farm safety inspections, for veterinary fees, waste disposal and to repair any damaged property.
"Our farmers, fishers and foresters have been hit extremely hard by these terrible fires. I've seen firsthand, farmers who have left their properties to fight fires.
"Our farmers are resilient and very generous putting themselves on the line for their friends and neighbours.
"These grants of up to $75,000 will help get them the equipment they need to start rebuilding.
"We're working closely with farming groups to develop specific industry recovery plans."
Minister for Natural Disaster and Emergency Management David Littleproud said the grants were designed to make sure farmers are equipped to get the job done.
"We are working with the states to get these funds to farmers as quickly as possible under existing Disaster Recovery Funding Arrangements," Minister Littleproud said.
As with the grants for the North Queensland floods in early 2019, funds under the Disaster Recovery Funding Arrangement will be made available to state governments of impacted communities, on request, for delivery through their relevant state disaster response agency.
"This is critical support for primary producers to meet their immediate needs in getting their agriculture businesses back up and running where those needs are not covered under existing insurance policies," Minister Littleproud said.
"Primary producers from farmers and fishers to private foresters and beekeepers will all be eligible to apply under the extended definition of primary producers in the Disaster Recovery Funding Arrangements."
Farmers who have been tackling the drought and have off-farm income won't be disadvantaged, the same off-farm income rules for Farm Household Allowance will apply. This means farmers that aren't eligible for Category C payments due to off-farm income rules will still be eligible for up to $75,000 to help them normalise their farm businesses as quickly as possible.
Funding will be available through the Emergency Bushfire Response in Primary Industries Grants Program.
This assistance will be provided through a joint Disaster Recovery Funding Arrangement between states and territories and the Commonwealth Government.
Further details will be announced as soon as state-based delivery arrangements are confirmed.
This initiative forms part of $2 billion commitment the Morrison Government has made to address the impact of the recent bushfires.
Source: Prime Minister Scott Morrison. For more information on the Emergency Bushfire Response in Primary Industries Grants Program please contact 1800 900 090.