The eight largest breeds identified in Beef Central's 2011 bull auction sale results report yesterday accounted for 18,789 herd replacements, a record number for this report, and up about 25 percent from a similar survey conducted in 2001.
Part of that may be explained by some concentration of demand within a fewer number of beef breeds in tropically-adapted, British and European options.
A credible survey of auction bull sale statistics carried out in 2001 also showed large differences in average price between breeds. It must be said however that 2001 was an exceptional year, with a six-breed average price rising 25pc from a year earlier.
Based on average auction price, Droughtmasters were easily the most popular breed in 2001, producing an average price of $5324. Surprisingly, that's just $5/head short of this year's new breed benchmark.
In comparison, however, Angus bulls back in 2001 were relatively cheap ($4379 nationally and only $3384 for bulls sold into the Queensland market in 2001), while Herefords fared little better ($3714 for bulls to Queensland, $4345 in NSW).
Angus bulls, which a decade ago were among the cheaper bulls on the market, are now among the leaders, based on average price.
Demand reflects volume, as well as price
Any measurement of the relative popularity of beef breeds as reflected in bull purchases is pointless unless it reflects volume as well as average price, and that's where simplistic assessments of average price can come unstuck.
As seen in examples like the tropically adapted Bos Taurus Senepol some years back, high demand plus low volume can trigger some extremely high prices short-term, until supply/demand equilibrium is restored.
But equally 'popularity contests' between breeds in the form of direct comparisons in numbers of bulls sold at auction are irrelevant, for several reasons.
In the dominant tropically-adapted Brahman and Droughtmaster breeds, for example, an overwhelming majority of bulls used are not sourced via the auction system, but out of the paddock, where no publicly-accessible records are kept. Credible estimates have suggested that two-thirds of all Brahman and Droughtmaster bulls employed in northern Australian herds are either bought from seedstock breeders via paddock sales, or home-bred by commercial cattlemen retaining their own herd bull producing nucleus herds.
Thus, comparisons in terms of numbers sold at auction this year between the numerically largest breed Angus (6408), Brahman (2656) and Droughtmaster (2134) do not provide any accurate picture of impact on the national beef herd.
Season perspective: Droughtmaster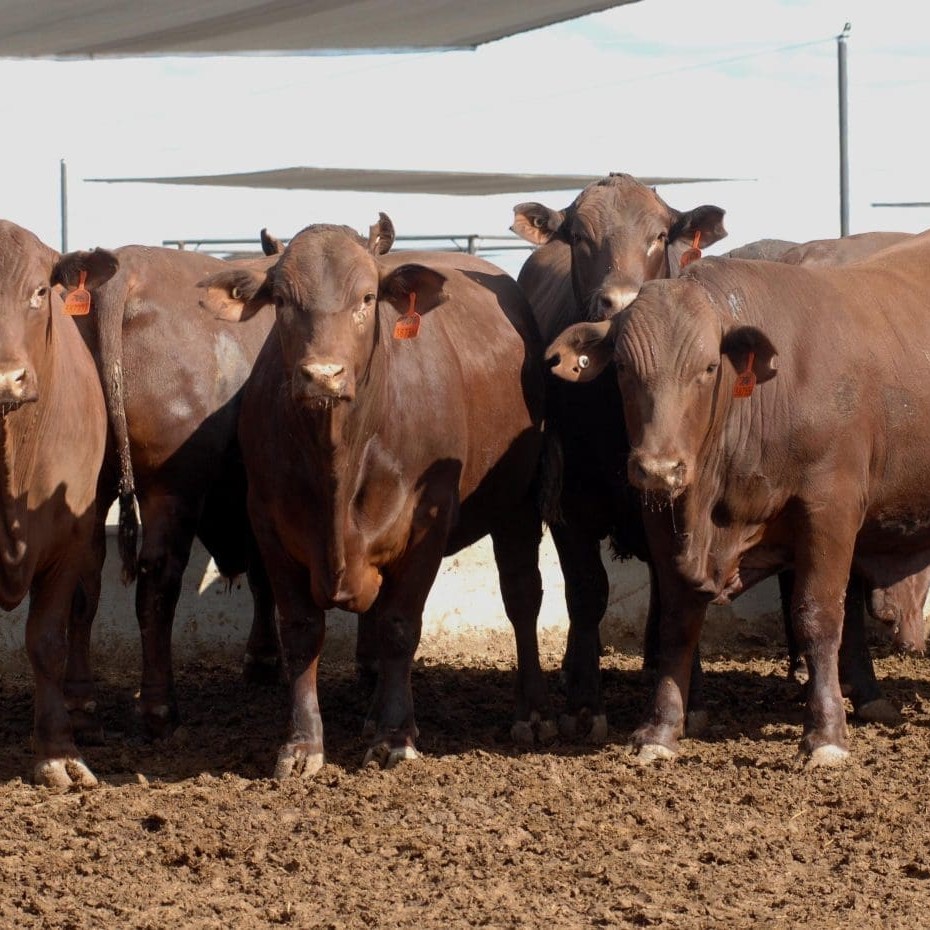 Droughtmaster Society general manager Neil Donaldson said his breed's auction clearance rate (94pc) and the absence of any significant fall in sale numbers this year was a satisfying overall result, given some of the market disturbances seen in northern Australia.
"I think those far northern cattle breeders are starting to look around to make sure they have a broader range of market options, through the genetic package they are selecting," Mr Donaldson said.
Strong competition for Droughtmaster bulls through paddock sales this year had probably pushed some buyers back into the auction system this year, he said.
Nationally, there had been an increasing demand for Droughtmaster cattle, with bull auction numbers almost doubling from 1344 in 2001 to 2134 this year.
"On top of that, questionnaires and surveys of our members suggest we are still selling two thirds of all Droughtmaster bulls produced out of the paddock. Demand for bulls, for us, is more based on the amount of feed in the paddock and the outlook for the commercial beef market," Mr Donaldson said.
"Despite the disturbances caused by this year's Indonesian live export crisis, many cattlemen continue to see the fundamental protein demand growth occurring in Asia – the middle class is constantly expanding and they want to eat like westerners. Beef is part of that, and that will continue to drive confidence in the future prospects of the beef market," he said.
"That's likely to be reflected in the performance of the bull replacement market in coming years."
Mr Donaldson also saw opportunity for "breeds like Droughtmaster in the rangeland regions of northern Australia" in the current expansion in interest in grassfed product because of its natural, free range image, particularly in Asia.
"We think there is a strong role for straightbred or crossbred Droughtmaster cattle in MSA. We did a substantial grainfed MSA trial on northern cattle in 2004, and saw 86pc compliance based on cattle and suppliers that had never been through MSA before."
Huge opportunity still existed to use DNA testing to identify the better eating quality cattle that existed within all breeds, and selectively breed for those traits, he said.
Droughtmaster bull breeders took a big step towards delivering greater product integrity this year when vendors at the National Droughtmaster Sale in Rockhampton implemented for the first time a compulsory Pestivirus PI screening and vaccination program, covering all 500 sale bulls. Some private sale vendors were doing the same.
Season perspective: Brahman
Timing, as the old saying goes, is everything, and Brahman bull breeders could hardly have timed their run worse this year if they tried.
Just ten weeks before the launch of the breed's 2011 bull selling season, the Indonesian live export market collapsed, with a trade closure implemented by Ag Minister Joe Ludwig.
Given the deep penetration of tropically-adapted Brahman cattle across northern Australia, it would be hard to envisage a worse PR disaster, from a bull selling prospect perspective.
Australian Brahman Breeders general manager John Croaker said early-season sales like Rockhampton Brahman Week did take a hit due to the uncertainly surrounding live export, but fortunately the restoration of trade gathered pace quickly and confidence in Brahman bull buying gathered pace as the season unfolded.
In all, Brahman auction sale numbers this year were down a little (-140) but average price actually improved, rising about $160 a head.
"If anything, the trend was probably within breed, with a soft shift from auction selling to paddock sales, to keep costs down," Mr Croaker said.
"There was a noticeable absence of NT, Kimberley and far north Queensland buyers at Brahman Week this year, as those buyers pulled back, but once they had sold some feeder cattle into the re-emerging live trade, there was clear evidence that many went out and made substantial paddock Brahman bull purchases," he said.
"Generally the later sales this year were a little stronger than the earlier ones. It was a bull season of two halves for Brahmans."
Asked to comment on what impact growing momentum in MSA programs was having on demand for higher Indicus cattle, Mr Croaker said there was a perception in the marketplace, that had been difficult to overcome, that high Indicus and MSA were not compatible.
"The reality is that Brahman cattle can comply, and regularly pass through the system. Similarly, many larger processors supplying the new grainfed high-quality EU trade are happy to accept Brahman feeder cattle. But a lot of breeds have been marketing against Brahmans, from an MSA fitness perspective."
"There are some Downs feedlots that have a stated preference for flatbacks for the domestic market, that offer a flatback rate with a discount for Brahmans on a Friday, and if they haven't filled their requirements by Monday morning, take Brahmans at the same rate."
Mr Croaker said interventions other than breed type could have a greater impact on MSA compliance. Not using an implant, alone, could improve MSA scores by two boning groups.
"In some of the harder northern country, higher rates of ossification definitely comes into play, and producers giving their cattle a pill at the wrong time when they don't have feed are only advancing that process. But that applies regardless of whether the cattle are Brahmans, Droughtmasters or Angus."
"The real issue is that it is the production environment, not breed type, that largely determines a producer's market options."
Another significant development was the growing interest among processors in tenderstretching, as a means of significantly lifting MSA performance in all carcases, and particularly Indicus. One prominent MSA processor, had basically built its business on tenderstretching Indicus infused carcases. Greater adoption of tenderstretching, alone, could deliver substantial benefit in terms of grading compliance among higher Indicus cattle.
Mr Croaker said there was no denying the fact that there had been an injection of various other British, Euro and composite breed bulls into some herds in northern Australia in recent years, particularly as seasons had been kinder.
"But our view is that they are leveraging off the tropical adaptation of the high-grade Brahman dams. It won't be until those breeders try to retain some of the F1 female progeny, less adapted, when seasons turn bad that they will really expose a weakness," he said.
Unfortunately, there was a tendency for some northern producers to "manage for the average to better than average season, and cope with the worse ones," when in actual fact the producers that were more viable, long-term, were those that "managed for the worst seasons, and took advantage of the better ones."
Season perspective: Angus
Have Angus bull breeders reached saturation point in the commercial bull market?
The question has been asked in the past couple of years, as the breed displays a soft decline in overall bull numbers sold through the auction ring.
This year's Angus tally of 6408 is down about 280 bulls from the 2010 figure, and more than 1100 from the record high-point achieved in 2006 of 7544.
Angus Australia general manager Peter Parnell sees that trend not being due to declining popularity in Angus, but simply the sequence of tough seasons seen in many parts of southern Australia, where the overwhelming majority of Angus bulls are bred.
Given the two to three year lag in seasonal conditions at conception time to when those bulls are marketed, the lower bull numbers seen in 2011 are symptomatic of reduced matings back in 2007-08, he argues.
"We're still recovering in terms of female herd inventory from declines seen over the past five years – or decade really – of lower than average seasons," Mr Parnell said.
"Next year we are budgeting for a slight increase in numbers on our female inventory. Given the lag factor and current strong demand, we see quite an increase in the supply of Angus bulls over the next five years, if seasons do not interfere too much."
Despite the soft decline in numbers in 2011, this year's Angus bull average auction price of $5260 was a record for the breed.
Mr Parnell said the impact of MSA in Queensland, grid price market signals generally from Queensland and southern processors and the stronger focus on improving meat quality generally had driven greater demand for Angus bulls in the more northern regions of the continent over the past few years.
Brand programs had driven much of this. Stronger adoption of grassfed programs, which had represented cumulative gains, rather than offsetting grainfed MSA programs, had also created demand for the same cattle.
"Further south, another factor is strong demand for Angus replacement females," Mr Parnell said.
"Producers facing better seasons are restocking after earlier herd reduction, and they have an opportunity to consider more closely what genetics package is going to deliver them the most profitability in the long-term. That is underpinning demand for Angus replacements."
Lesser influences included the growing live export trade in Angus females, typified by the recent breeder shipment to Russia, plus Turkey and Kazakhstan.
Commenting on the strong improvement in average price seen in Angus bulls over the past ten years, relative to other breeds, Mr Parnell said the steady encroachment into the northern bull market had probably driven this.
"The further north you go, the better average bull prices appear to get," he said.
"Our southern NSW/Victorian bull breeders are always envious of prices achieved further north. The further north the breeder is, the closer they are to the big-paying Queensland market, and typically, for all breeds, those buyers are prepared to pay more than cattlemen in more temperate regions further south."
Some of that could be explained by enterprise scale and profitability, as exposed in ABARES annual assessments of regional cattle enterprise profitability.
Mr Parnell said there was a growing tendency for northern bull buyers, instead of buying a line of cheaper Angus herd bulls, to go out and buy a smaller number of outstanding Angus bulls and use them within a Brahman or Droughtmaster bull-breeding nucleus herd to breed second generation F1 Brangus herd bulls for their own use.
"A decade ago bigger companies like AA Co were coming down and buying truckloads of Angus bulls for northern breeding properties. We don't see that so much today, but instead they will invest in a few high quality bulls for an internal composite bull-breeding program."
Unlike the Charolais/Charbray industry where the trend is well-entrenched, very few Angus breeders had developed a Brangus 'off-shoot' to their bull breeding operations. Of three prominent Angus breeders located in Queensland, only one sold any Brangus bulls of any numbers, and the strategy was virtually unheard of south of the border.
There was also a growing tendency for seedstock producers to invest in Angus genetics to produce some Angus x Santa or Angus x Charolais F1 bulls, for example.