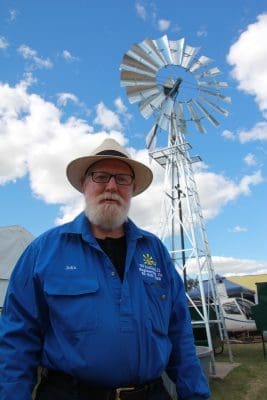 Towering above the solar panels, state of the art machinery and high tech agricultural gadgetry at the Henty Machinery Field Days this week was one piece of technology that has been silently serving Australian farmers for well over a century.
John White was just 18 when he lost his windmill contractor father, and was counselled at the time not to follow in the family business.
"They said to me, John, there is no future in windmills because electric pumps are going to wipe them out," he said.
"But electric pumps didn't wipe them out because they're too dear to operate.
"Now they're saying John, there's no future in windmills because solar pumps are going to wipe them out.
"And it still hasn't happened, I'm still here."
For more than 50 years John has travelled New South Wales installing, repairing and maintaining windmills, and manufacturing windmill parts, pumps and stands at his Windmill Engineering Co workshop in Bathurst.
Not only have windmills stood the test of time, they are increasing in popularity again, he says as the push towards using more renewable and clean and green energy gains momentum.
Windmills have been helping Australian farmers to harness natural, sustainable energy for more than 150 years.
"They're still very much in vogue," he told Beef Central at the Henty field days this week.
"They work, they are cheap to run, cheaper than anything else, you can fix them yourself, there is no micro-technology, you don't have to run around putting petrol in it, or wonder if it's going to start.
"They are able to work 24 hours a day, not 40 percent of the time like solar. A windmill is a 50-year project, not a five year one."
While the basic design hasn't changed in more than 150 years Mr White said the biggest change that has occurred in windmills was the introduction of the 'pro-pol' rod and columns that replaced steel and galvanised pipe about 20 years ago.
The plastic-based material doesn't rust, prolonging the life of pumping equipment and reducing the frequency of required maintenance intervals.
"It's been the biggest improvement in windmills for 100 years," he said.

Worsening drought conditions have led to increased demand for maintenance and repairs of existing windmills.
Mr White said some landholders tended to let their windmills break down when it was raining and when there was plenty of water about, only to come to rely on them again as dry conditions set in.
He said a lot of new windmills he is selling now are equipped with siphon pumps to pump surface water from dams, streams and springs, replacing a lot of cast-iron pumps that are up to 50 years old and often frost-cracked.
He said he is also selling a lot of new windmill heads to go on old towers, and has been doing a lot of refurbishment work on existing windmills.
Mr White said the one issue working against windmills was a perception that they were unsafe.
"There is a fear factor, pushed especially by people who are selling something else, that you are going to fall off it. but I don't have any trouble with OH&S.
"The only thing that will kill them is that we're all in cotton wool these days."
Mr White's stand at the Henty Machinery Field Days where he has exhibited for the past eight years was equipped with windmill comprising a 10 foot Southern Cross wheel on a six metre tower.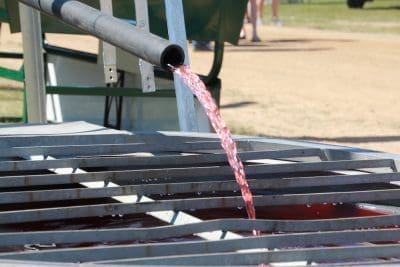 In an eye-catching touch Mr White uses a different shade of food colouring to tint the water his mill pumps into a small tank at his Henty display each year.
This year the water was coloured red.
Why?
"It's come from the bloodbath in Parliament House in Canberra," he said.
Last year Mr White's mill pumped deep blue-colour water – "blue water from the east coast of Tasmania imported at great expense to us of course" and in 2016 it pumped green water, which he claimed was "the "water that went rotten in the pools of Brazil" during the Rio Olympics.
Mr White said that while the initial purchase cost of a mill might exceed the cost of another type of pump, over time they were the most efficient way to pump water.
"It is going to cost about $250 a year to run a windmill.
"That is cumulative, you can't spend it all in the one year, you might have to save it up and spend a couple of grand on it in eight years."
Can he see windmills still being used in another 150 years?
"I think they will be mate."