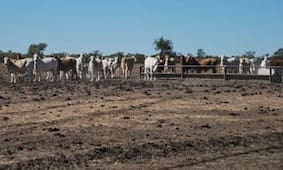 The Queensland Government has announced funding of $110,000 to boost water availability across the stock route network in North Queensland, which is enduring crippling drought conditions.
State Development Minister and Natural Resources and Mines Minister Dr Anthony Lynham said the funding was part of the State Government's $832,000 investment in 48 priority capital works projects across Queensland's 2.6 million hectare network.
"The worsening Queensland drought is forcing many stock owners to move stock to market or for agistment, resulting in increased usage of stock routes," Dr Lynham said.
"This capital works funding will help councils improve and upgrade water facilities along the most frequently used roads and reserves that make up the 72,000 kilometre stock route network.
"Priority stock route projects focus on the upgrade and replacement of water point infrastructure; including installing water tanks and solar pumps, drilling new water bores and replacing old water troughs.
"These upgraded watering points will ensure travelling livestock have access to water at facilities that otherwise may not be able to provide for large numbers of stock on the network."
Agriculture and Fisheries Minister Bill Byrne said the news would be welcomed by drought-hit graziers.
"The Queensland Government has committed record expenditure on drought assistance, provided fodder freight subsidies, emergency water infrastructure rebates, land rent rebates, boosted funding for mental health services, discounts on electricity charges and waived water licences fees," he said.
"We are also providing a range of health and practical assistance measures that have not been provided in previous droughts such as the Royal Flying Doctor Drought Wellbeing Service as well as funding for social support and community events."
Regional councils will undertake the water projects, as they manage the stock route network within their boundaries and issue travel permits and agistment permits for stock owners who use the stock route.
A total $110,441 being invested in the North Queensland region and shared between the Flinders, McKinlay and Richmond councils.
Source: Queensland Government