Readers have only three days left to secure a ticket in the Australian Agricultural Co's $103,000 charity raffle, raising money for much-needed medical research.
Since losing respected workmate and colleague Pat Dempsey to cancer last year, staff at AA Co have embraced medical research fundraising in a big way – but the effort is going to a whole different level in 2015.
In addition to putting a team together to again participate in the annual Rio Tinto Ride to Conquer Cancer cycling fundraising event, AA Co staff are this year organising two additional activities which promise to take their cancer research fundraising tally to new heights.
Last year, a team of 26 bike riders from head office and remote company properties across northern Australia raised an incredible $184,000 for the QMIR Berghofer Medical Research Institute.
A larger team of 40 will take part in this year's event, but in an effort to expand their fundraising effort even further, two additional major fundraising events have been organised.
Raffle offers $103,000 in prizes
The first will be a charity raffle offering some truly incredible prizes, with a total value of about $103,000:
First prize is a brand new $85,000 Toyota Landcruiser 200 series station wagon, valued at $85,000
Second prize is two tickets to this year's Rugby World Cup Final (plus a playoffs game) in the UK, plus return airfares and quality accommodation, valued at $15,000
Third prize is a new road or mountain bike valued at $3500 from 99 Bikes.
Tickets cost $100 each, but are restricted to 2500 in number, increasing the chances of winning a great prize.  Ticket sales will continue up to Friday August 7.
An identical vehicle to the Landcruiser first prize has been doing a tour of the bush to build awareness of the raffle, visiting Cloncurry Show and Brunette Races last week, and before travelling to Darwin for the races/show next week.
Full details to access raffle tickets are available via the link appearing at the base of this page.
Black Tyre Gala Ball in Brisbane in August
The winners in the charity raffle will be drawn at AA Co's second cancer research fundraiser event this year – the "Black Tyre Gala Ball" to be held in Brisbane during Ekka week on Friday evening, August 7.
In the absence of any formal Ekka beef ball this year, AA Co is organising the black-tie event, to be held at the Pullman Hotel (formerly the Crest). The night includes a three-course meal featuring various AA Co beef cuts, drinks, dancing and entertainment. Tickets cost $150 a head.
A big feature of the ball will be a charity auction, where yet another incredible prize will be up for grabs.
The successful bidder will win a once-in-a-lifetime supply chain tour across AA Co's northern Australian beef operations for six people.
Travelling in luxury in AA Co's own PC 12 aircraft, the fully-hosted five-day tour will include visits to feedlots, a Channel Country property like South Galway, historic Brunette Downs on the Barkly Tableland where the winners will camp in the station's beautifully-appointed guest-house, before moving on to Labelle Downs and Darwin operations, staying at Rydges Hotel.
Click on the link at the base of this page for more Ball information, including access to tickets.
2015 Rio Tinto Ride to Conquer Cancer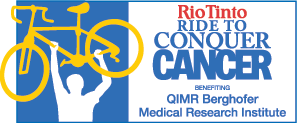 As if the charity raffle and Brisbane Black Tyre ball were not enough, a team of 40 AA Co staff are currently in training to participate in this year's 200km Rio Tinto Ride to Conquer Cancer, being held between Brisbane and the Gold Coast in September.
Included are 16 staff from outlying stations on the Barkly Tableland, Katherine, Darwin and the Darling Downs. A team of six riders from Brunette Downs are regularly training on the nearby Tablelands Highway.
Any stakeholders interested in sponsoring AA Co's Ride to Conquer Cancer cycling team can make inquiries via this email address:  rtcc@aaco.com.au
Fundraising coordinator, rider and AA Co staffmember Sam Graham said everybody across the beef industry seemed to know somebody who was either about to go into treatment, or just coming out of treatment for cancer.
"On the back of the success of last year's Ride to Conquer Cancer event, we've decided to do it again this year, but on an even bigger scale," he said.
"The respective station staff social clubs and our business partners have already heavily committed to the 2015 fundraising project."
All the funds raised from AA Co's charity raffle, the Brisbane Black Tyre Gala Ball and the Ride to Conquer Cancer will go to the QIMR Berghofer Medical Research institute.
Click here to inquire via email about the Cancer Research raffle, including ticket sales; the Brisbane "Black Tyre Gala Ball", including ticket purchases; or sponsorship of AA Co's team in the 2015 Rio Tinto Ride to Conquer Cancer.
Click here to view details about the Cancer Research raffle, including ticket sales
Click here to access details about the Brisbane "Black Tyre Gala Ball", including ticket purchases