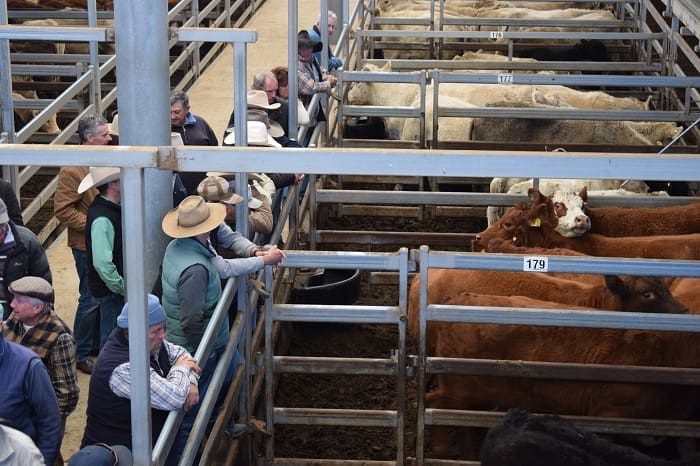 LIQUORICE all sorts, dribs and drabs and small are three ways people have described the make-up of saleyards in recent times – with the weekly national throughput halving over the past month.
The low numbers have seen prices rally, with the Eastern Young Cattle Indicator going from 886c at the end of July to 1036c this week (see graph) – with numbers at the Roma Saleyards doubling and making a significant contribution to the indicator rising.
With late rain across large parts of Queensland and New South Wales a good spring has been predicted – leaving many to ask, 'where are the replacement steers and heifers?'
Rodney Neill runs a grain-assisted grass-fattening operation near Guyra in the New England region of New South Wales – primarily selling to domestic supermarkets. He said the business was struggling to source British breed store cattle.
"When we come out of winter, we will be looking to buy about 3,000 head – but we are being told 400kg British steers are not even available," Mr Neill said.
"You can go to the saleyards and pick-up small mobs, but you can't source truckloads of them. Even after the drought when there was a big buy up of re-stocker cattle we could still source the cattle we wanted, they were just expensive.
"We could go to the saleyards, in Tamworth of Gunnedah, and come away with a b-double load of cattle."
Mr Neill said with all the re-stocking in the past two years, it was hard to understand why store cattle had become so hard to source.
"There seems to have been a bit of grass fever in the past two years and people have been buying whatever they can for the feeder market," he said.
"With so many people now selling to feedlots, there is a disconnect between the store price and processor price.
"Not sure what we are going to do about it, we might have to do something different for a bit, maybe go back into the feeder market or fatten cows."
Live export issues changing the market
With the spread of Foot and Mouth disease in Indonesia halting the live export, many of the Brahman cattle traditionally put on the boats have come back into the domestic market.
A JBS feeder cattle supply manager told a conference at the Ekka the oversupply of Brahmans on the market had prompted the company to discount them. In contrast, Angus feeder premiums have been increasing.
Gunnedah-based Davidson, Cameron & Co general manager Luke Scicluna said he had been contacted by agents and producers from Qld, looking to source British cattle.
"I'm getting a lot of inquiry out of places like Roma and Blackall wanting to buy angus cattle from down our way," Mr Scicluna said.
"I think that is because the live export job has been pretty slow and crossbred cattle for the 100-day market are not making as much money."
Mr Scicluna said there was not much appetite from producers in the area to sell cattle further north.
"We sell most of our cattle through the autumn as weaners and people who take them through the winter plant oats and value add themselves," he said.
"Really, there's no runs of weaners in our area until early next year – the cows are calving now."
More cattle to come later this year
Large-scale breeding areas of Central and North Qld have seen significant late wet season rain. According the AuctionsPlus, there have been clear signs of herd rebuilding in the area, with the number of listed steers increasing by 16 percent from the 2020-21 financial year to 2021-22 and the heifer listing dropping 15pc for the same time period.
Winton-based Brodie Agencies livestock agent Jack Brodie said his North-West Qld clients were apprehensive to buy in stock.
"There's good feed around, but it is still coming back from seven or eight dry years, so it is still not that bulk we saw 10-years-ago," Mr Brodie said.
"A few people were interested in buying some a month ago, but the FMD risk and interest rates rising scared them. So instead of buying stock in, some of them decided to put agistment cattle on their properties."
Mr Brodie said cattle were available for restockers, but some were expensive and hard to justify.
"We are all guilty of wanting cattle to be cheap when we buy them and most of the buyers here really looking for value," he said.
"The market has kicked over the past two weeks cattle are about 50c/kg more expensive. They are available, you can always get Brahmans, but if you are looking for another more-specific article than they might not be available."