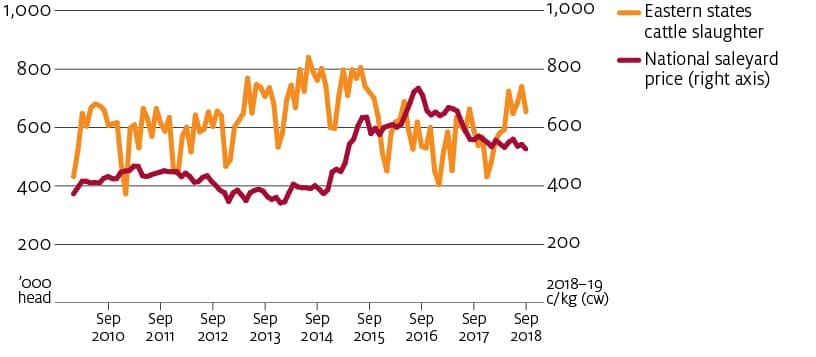 ABARES analysts are still tipping lower Australian cattle prices this financial year compared to last, but not by as much as previously thought.
ABARES is forecasting saleyard prices in 2018-19 to average 435c/kg carcase weight, according to its December 2018 Agricultural Commodities report released this morning, a 4 percent drop on 2017-18 price levels.
That is a slight improvement on where it saw prices going when it last released a projection for 2018-19 in September, suggesting at that time prices would ease by 9pc on 2017-18 rates to 413c/kg on average.
This morning's report does not pinpoint a specific reason for the slight upward adjustment, but does emphasise how the Chinese demand picture has improved in the past three months.
That has been driven by a general improvement in household incomes and economic growth in China, and also more specifically the shortfall in protein supply occuring in China as a result of the African Swine Flu epidemic in its pig population.
China is the world's largest producer and consumer of pig meat, and since August 2018 has recorded more than 50 cases of African swine fever. This has led to restrictions on the slaughter and transportation of live pigs in affected provinces to try to contain the disease's spread.
The reduction in Chinese pig meat production is expected to increase China's demand for imports of pig meat and flow through to increased global demand for alternative proteins such as beef.
However, despite the improving demand picture in China, average saleyard price for cattle are still expected to fall, weighed down by falling export prices for beef, greater competition for Australian beef from other suppliers in the key US export market and higher cattle turn-off due to dry conditions.
US beef production is forecast to rise in 2018–19 following 4 years of national herd expansion.
The increased supply of locally produced beef is expected to decrease US demand for imported manufacturing beef from Australia, and also increase the amount of US beef that will compete against Australian product in other export markets.
US exports of beef in the calendar year to August 2018 were 15 percent higher year-on-year. Most of this increase went to Australia's major Asian export markets—Japan and the Republic of Korea.
Cattle slaughter to remain high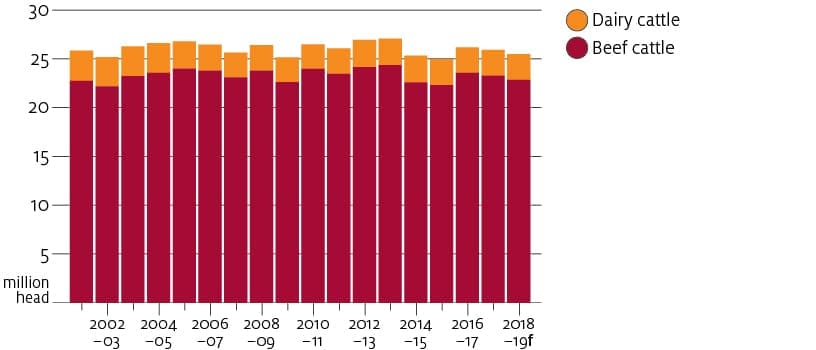 Forecasts of a drier than average summer will continue to elevate the supply of cattle at saleyards and contribute to falling saleyard prices, ABARES said.
It now expects adult cattle slaughter to increase by 6.3pc in 2018-19 (up from 5pc in its September forecast) to 8.415 million.
The cattle herd is expected to reduce by 1.2pc in 2018-19 to a total of 25.5 million head (not counting dairy cattle the beef cattle herd is expected to fall by 1pc to 23.0 million head.
Total beef production is expected to rise 3.6pc to 2.317 million tonnes.
If seasonal conditions improve, the herd is expected to enter a rebuilding phase. However, ABARES says the smaller breeding cow inventory will limit the number of births, which will slow herd rebuilding efforts and restrict the rate at which beef production can grow in coming years.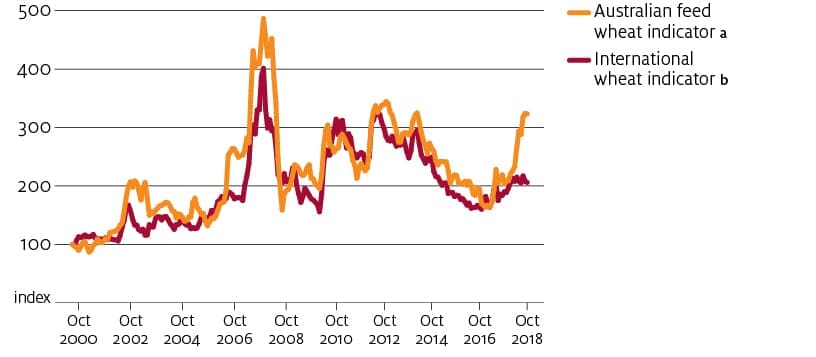 In Australia, prices for feed grains and fodder rose rapidly during winter. This resulted from dry conditions, lower winter crop prospects and biosecurity-related restrictions on imports. Higher domestic prices for feed limit Australia's ability to manage poor pasture growth with supplementary feed. As a result, slaughter weights are expected to average lower in 2018–19.