AUSTRALIAN cattle prices could fall by nine percent on average during the 2018-19 fiscal year, the latest forecast released by ABARES this morning suggests.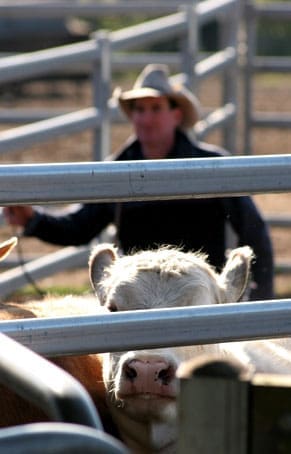 ABARES' latest commodity forecasts for the 2018-19 year were released in the September quarter Agricultural commodities report. It suggests average saleyard prices for beef cattle could ease 9pc to 413c/kg (carcase eight) this financial year, due to higher global beef production and growing export market competition from other suppliers in North and South America. ABARES pointed out that this adjustment was coming off historically high prices of recent years.
Other key forecast figures included a national cattle herd (beef plus dairy) slightly lower at 25.7 million head, back 100,000 head on the 2017-18 year due to further drought impact, while rates of adult cattle slaughter could rise 5pc this financial year to 8.345 million head.
As a result of drought liquidation fuelling slaughter cattle turnoff, total beef production could rise by 3pc to 2.303 million tonnes by the end of the financial year next June, ABARES says.
Noting that the national cattle herd has again entered a destocking phase due to drought conditions in Queensland and New South Wales this year, ABARES said the share of female slaughter indicated that the herd would continue to contract in 2018–19.
Average slaughter weights are forecast to fall as a result of higher female slaughter and lighter-weight cattle being turned off, while drought pressures had seen the number of cattle on feed in Australia remaining close to record levels.
US also experiencing drought
The United States was also experiencing drought in major cattle regions, ABARES noted. In August the US National Oceanic and Atmospheric Administration estimated that almost 30pc of the US cattle inventory was drought-affected. Female cattle slaughter in the US was approaching levels that had historically indicated herd contraction.
The US feedlot sector, which is much larger than Australia's, is also being used as an outlet for cattle from drought-affected regions of the US. If drought conditions in the United States persisted, it was likely that the US herd would peak earlier in 2018–19 than previously expected, ABARES said.
Greater competition drives lower prices
As a result of higher slaughter in Australia and the US, the volume of beef on the world market in 2018–19 is expected to increase. Competition from US exports continues to intensify in Australia's major export markets, placing downward pressure on prices.
Rising US cow slaughter would also reduce demand for imported lean frozen beef from the US fast-food sector, ABARES said.
Consumer demand is also expected to moderate in 2018–19. Slowing Japanese income growth and greater competition from other meats is expected to reduce demand for chilled beef imports.
Korean import demand is also likely to slow due to a combination of higher domestic supply and increased US competition, ABARES said.
However a weaker Australian dollar would provide a boost to competitiveness in export markets.
Live cattle exports forecast to grow
Demand for live cattle in Australia's major markets of Indonesia and Vietnam is forecast to remain strong in 2018–19, ABARES suggests. Higher numbers of live cattle from Australia are expected to be exported, but at a lower average price.
Opportunities and challenges: Australian drought conditions
The Bureau of Meteorology's three-month rainfall outlook indicates that above median rainfall is unlikely for most of the eastern states of Australia in September and October, ABARES points out.
The onset of northern rainfall is likely to occur later than usual and if that occurs, it will delay pasture growth and possibly lead to increased turn-off of northern cattle. If expected weak export demand eventuates, this would suppress saleyard prices further.
Rising feed grain prices will reduce feedlot margins in 2018–19, the governments agri-forecasting body says.
However, this will be partly offset by falling feeder cattle prices as farmers destock to manage dry conditions.
With higher domestic poultry production and lower pig prices forecast, competition amongst protein sources in the domestic market is likely to be stronger. Consumers will continue to substitute away from beef and lamb towards chicken and pork, ABARES said.
Trade dispute opens opportunities in China
The ongoing trade dispute between the US and China provides Australian beef exporters with an opportunity to expand their presence in the rapidly growing Chinese market, ABARES said, with opportunities exist to expand both chilled and frozen exports.
Australian beef exporters face tariff rates of between 7.2pc and 15pc, compared with rates of between 37pc and 50pc for US beef.
However Australian exporters needed to compete with other countries that have access to China, including Brazil, Argentina, Uruguay and New Zealand.
US herd contraction not a certainty
If drought conditions in the US ease, rebuilding of the herd could resume, ABARES said. This would reduce growth in US beef production and alleviate some of the pressure on world beef prices.
The US economy has been performing strongly and is assumed to grow, which would typically result in increased protein demand.
Lower domestic beef production in this environment would support import demand, benefiting Australian suppliers – however, such a scenario would require US feedlot input costs, particularly feed grains, to remain low or to fall in real terms in order to maintain profitable ratios for US producers.
The latest US Department of Agriculture beef projections expect the opposite to occur.
Farm production value remains stable despite drought
ABARES says the value of Australia's overall farm production is forecast to remain relatively unchanged at $60 billion in 2018–19, well above the 10-year average of $55 billion, despite very dry conditions in some places.
ABARES executive director Dr Steve Hatfield-Dodds said although dry conditions are affecting agricultural production in eastern Australia, expected strong production in Western Australia, and rising grain prices, high livestock prices and a lower Australian dollar were providing support to farm incomes.
"The value of crop production is forecast to decline by 3pc to $30 billion in 2018–19, reflecting a 12pc fall in the volume of winter crop production nationally, especially in drought-affected cropping regions in NSW and Queensland.
"Offsetting this lower volume we are expecting higher prices for canola, coarse grains, cotton and wheat, and a favourable exchange rate will result in a much smaller decline in the value of production, and help maintain returns to Australian exporters.
"Relatively high world prices for meat are providing some support for cattle prices in Australia, but we are expecting beef prices to fall by around 9 per cent from the historically high levels of recent years," Dr Hatfield-Dodds said.
"As we've seen, rising input costs are a significant challenge for some producers and we can expect increased competition in export markets as more cattle are turned off in the US in response to dry conditions there.
"Despite a higher value of production, total export earnings from Australian agriculture are forecast to decline by 5pc from $49 billion to $45 billion, largely due to lower exportable supplies of canola, coarse grains, and wheat, and an increased domestic demand for grain.
"However these declines will be offset by a rise in export earnings for lamb, mutton, rice, cotton and cheese, due to strong global demand resulting from an increase in global economic growth," he said.
Source: ABARES