WEANER cattle failed to break the 400c/kg mark in the opening sale of the southern series today at Wodonga.
The best price on a c/kg basis for the offering of nearly 2700 Angus weaners was 371c/kg for steers and 331c/kg for heifers. These were described as 'isolated', and prices in the late 350's and early 360's was perhaps more representative of the better end of the light steer market.
Vendors said they expected the market to be down about 25 percent on last year's results given the drop in the prime market, and that's the way the market played out.
The sale was the first in a series at Wodonga with more Angus calves to be offered tomorrow and Friday at the centre.
Next week, there will be more weaners sold at Wodonga, while the Western District calf sales kick off next Monday.
Today's sale was held by Corcoran Parker and was the first time in 20 years that the company had held a sale alone. Traditionally they pair up with Elders and Landmark to offer calves together, but animal welfare and handling concerns meant the agents felt an offering of 6000 calves on one day would not work.
Corcoran Parker director Kevin Corcoran said it was a good decision to go alone, with all cattle presented well.
The draft of Angus steers averaged about $1100.
"Prices might be down on last year but thanks to heavier calves, the dollar a head returns would not be much different," Mr Corcoran said.
"The sale today went as expected given the 20-30pc price drop in the physical market."
Mr Corcoran said there was a raft of repeat buyers at today's sale including Rangers Valley feedlot, which took several pens including 56 Angus steer weaners, 350kg, for $1190 or 337c/kg.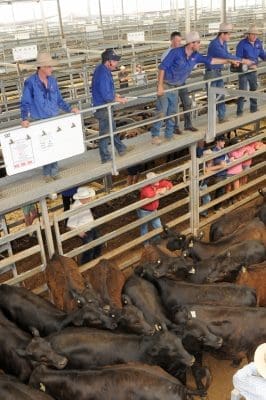 Other buyers came from Orange, Bathurst, Forbes, Gunnedah and Finley, while local buyers also took a big share of the offering.
One of the Gunnedah buyers told Beef Central they had not bought any cattle today but intended to ramp up competition and bid at tomorrow's sale, where 5000 weaners are expected to be yarded. Another 3000 weaners will be sold on Friday.
What was noticeable in the offering was the lack of smaller, lighter calves. There were few calves weighing less than 300kg, and those that were offered made some of the highest cents a kilogram returns.
That included a pen of 284kg calves which made $1010 (356c/kg); another pen of 253kg steers which made $915 (362c/kg) and a pen of 277kg calves which made $990 (357c/kg).
One of the big vendors was Davilak Pastoral Co operated by the Manning family at Mansfield.
Last year their draft of 531 steers averaged 310kg and returned an average of $1331 or 428c/kg.
This year the calves were heavier, but made less, on a c/kg basis and a dollar a head basis.
Their draft of 480 calves averaged 332kg and topped at $1235, and averaged $1153 or about 344c/kg.
Rodda Manning said this year's calves were nearly 20kg heavier and they had hoped to average about 350c/kg.
The price drop for their calves on a c/kg basis was about 24 percent.
'We expected the calves to be about 25pc cheaper and they were'
"We expected the calves to be about 25 percent cheaper and they were," Mr Manning said.
"It's a reflection of the way the prime market has tracked but we are still making reasonable money with returns like this."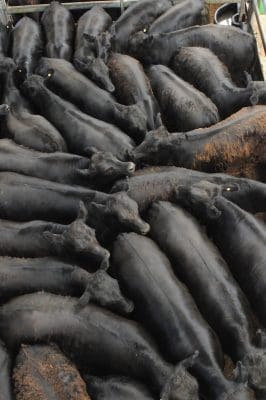 Prices for the heaviest weaners over 350kg liveweight ranged from 300-310c/kg, while 300-350kg steers made 320-330c/kg. Lighter weaners, 300kg and less, made 350-360c/kg with isolated sales out to 370c/kg.
There were some older yearling steers offered at the start of the sale, which made 290-305c/kg.
The market for heifers was flat with most selling from 280-300c/kg.
There were isolated highlights including the rates paid for the calves from the Roche family, with the 366kg Angus heifer weaners making $1170 (366kg, 320c/kg) and $1085 (328kg, 331c/kg).
Some of the results included:
L Nankervis: 15 Angus, 410kg, $1255 (306c/kg).
Jack Lebner: 29 Angus, 400kg, $1250 (313c/kg).
Davilak Pastoral Company: 480 Angus steers, 311-398kg, $1120-$1235 (310-371c/kg).
Deepdale and Seaton: 116 Angus steers, 260-344kg, $955-$1125 (327-367c/kg).
Gifforan Pastoral Company: 26 Angus steers, 348kg, $1135 (326c/kg); 15 Angus steers, 315kg, $1075 (341c/kg).
Narracalca: 25 Angus steers, 317kg, $1090 (344c/kg); 23 Angus steers, 268kg, $960 (358c/kg).