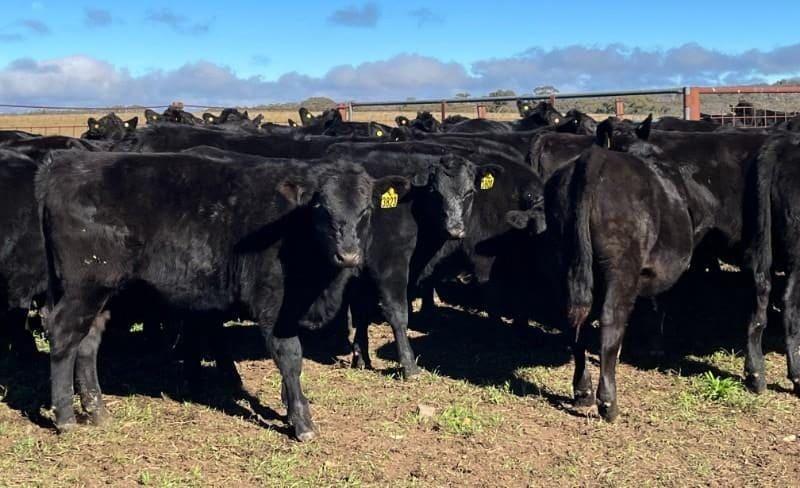 A STRATEGIC marketing decision to offer an entire 2021 calf drop totalling 604 head in one sale paid big dividends for a specialist New England (NSW) beef producer last week.
Kaputar Pastoral Co, operated by Louise Harris (recently retired, having lost her husband Wilf in 2020) from their property Wongala and Gamboola, between Barraba and Narrabri, put up 604 unweaned F1 Wagyu steers and heifers, offered in eight lots on AuctionsPlus on Friday.
Both the steer and heifer offerings broke AuctionsPlus records for F1s, with the only higher sales ever recorded online being for a handful of Fullblood Wagyu feeders sold in the past.
The steer portion sold for between $3620 and $3830/head, to average an incredible $3750, while the heifers sold from $3320 and $3450/head, to average $3383.
In c/kg terms, the eight mobs sold from 1173c/kg to 1280c/kg liveweight. For comparison, the Eastern Young Cattle Indicator at its recent record high in January reached 1192c/kg – but of course, that figure is reported in carcase weight equivalent terms – not liveweight.
The vendors of Friday's record-setters adopted a similar 'single sale' strategy this time last year, providing an interesting comparison over just how far F1 Wagyu backgrounder prices have come over the past 12 months.
Kaputar's steer portion last year (similar breeding) averaged $2695, representing a $1055 'premium' this year, while heifers last year averaged $2391 (+$992 this year).
The previous F1 steer record on AuctionsPlus was $3790 set back in March, but this was a much smaller line. The previous heifer record was set by Kaputar Pastoral 12 months ago.
All eight Kaputar lots sold on Friday were bought by two large commercial lotfeeders with well-established F1 backgrounder programs. The eight lots, all 7-8 months of age, were drafted into mobs with average weights from 279kg and 318kg.
Well above expectations
Marketing agent Charlie Hart, from Hart Rural Agencies, Barraba, told Beef Central that despite high expectations, the steers and heifers had sold about $200 a head above the reserve.
"It showed just how strong this F1 feeder and backgrounder market is at the moment," Mr Hart said.
He said Kaputar Pastoral took the decision to sell its annual weaner turnoff in one online sale last year, having previously sold most of its F1s into the Japanese live export market. Price signals had incentivised the decision to re-focus on marketing the annual turnoff as weaners, back into the domestic supply chain, rather than onto boats.
"This strategy works really well for Kaputar in simplifying the process – they get to wean straight onto the truck, removing the weaning process from management. As of tomorrow when the last of the weaners are trucked, the cows simply go back into the breeding paddock, and life goes on."
Kaputar Pastoral has been producing Wagyu F1s for a considerable period – at one time running its own Fullblood Wagyu stud specifically to provide herd bulls for use over the business's high quality Angus cows.
"Rather than a risk, I saw Friday's single-sale marketing strategy more as an opportunity, given the numbers involved and the quality of the genetics," Mr Hart told Beef Central.
"We deliberately combined smaller breeding mobs into larger groups, to make them attractive and convenient to large Wagyu F1 supply chains, working in multiples of B-double loads," he said.
The Barraba region has become something of a hub for F1 Wagyu production, and Hart Rural Agencies typically turns over more than 10,000 local F1 feeders and backgrounders each year.
"We understand the market, and virtually knew where the Kaputar cattle were likely to go, even before the sale," Mr Hart said.
"Offering big lines of quality bred backgrounders makes it that much easier for the buyers – it's part of the appeal."
Mr Hart said F1 numbers were 'pretty skinny on the ground' currently, which partly explained the level of prices seen on Friday.
"Just now, supply is probably skinnier than it ever has been, because we're between an autumn and winter calving. Our yearlings, which we typically sell at 420-430kg, are pretty skinny on the ground – that's why the market has shifted so much. While there's quite a lot of Fullblood and Purebred Wagyu about, there's not the number of F1s that the market is looking for – especially through Queensland."
Locally-bred fed F1s like those sold on Friday typically produced carcase weights of 460-470kg, with average marbling scores around 6.
"There's a real following for high-performing F1s out of this area," he said.
Sourcing good Angus replacement female lines was part of the secret, as well as desirable Fullblood Wagyu sire lines. The Kaputar Pastoral terminal cross herd includes bought high-marbling females, mostly pure Rennylea and Te Mania blood, along with some Booroomooka and Ardrossan genetics – essentially herds that had focussed long-term on marbling.
"Some other Angus breeders do not focus on the marbling trait as their main selling point," Mr Hart said. "The maternal side is every bit as important as the Wagyu sire side, in producing high and consistent F1 marbling performance."
Sire lines represented in Friday's steers and heifers included known high-indexing F1 performers such as Itoshigefuji and World K and Westholme Japanese Fullblood sires.
"The steers and heifers show exceptional growth for age and frame for their young age," Friday's listing comments from assessor Tessa Cameron said.
Click the link below to view a short video of some of the Kaputar Pastoral offering
Click here to view a recent Beef Central article on a series of smart cattle marketing strategies that took place through 2021.