IN A year where extraordinary prices for all store and slaughter cattle have become almost routine, there have still been examples of highly-innovative, adventurous, gutsy and market-savvy marketing plans put in place by vendors and their agents across the country to try to optimise their outcome.
The distortions put in place by the 2019-20 drought has meant cattle have in some cases travelled extremely long distances to find their new homes, as the market has struggled to put buyers and sellers together in a demand-heavy trading environment.
The list below includes sales through three main channels – paddock transactions, physical saleyards and online marketing platforms.
Examples like those listed below, with vendors and their marketing agents thinking outside the square, are being heavily influenced by the extraordinary young cattle market cycle that Australia is currently experiencing.
So here are our picks for the smartest cattle trades in 2021:
Big payback as Qld producer put 38,000 bought cattle on agistment
Featured in a separate story today is the first example, of Moonie (southern Queensland) beef producer Mitchell Cameron, who since the middle of last year started accumulating some 38,000 bought cattle, agisting them on up to 57 separate paddocks scattered across Queensland and northern NSW. Most of the cattle have been progressively sold this year, at rates in some cases averaging 250c/kg higher than what was paid for them. Some of the females later joined were worth $800 when purchased, but turned into $3000 units when sold with a calf in them.
Click here to access the full story.
$350K profit in 90 days, and herd age profile slashed in half
There has been a host of smart trades on breeding cattle across Australia in the past 12 months, due to the extraordinary demand for PTIC females and cows with calves, as herd rebuilding gathered pace.
A good example is this case study from the western districts of Victoria. Both the vendor's and buyer's identities have been withheld from publication, at their request.
Six months ago, the vendor elected to sell 320 older cows, with calves at foot. They sold for an average $3500, putting $1.12 million in the bank.
The vendor's objective was a 'like-for-like' swap, exchanging the older cows for PTIC heifers.
It took three months to facilitate the second half of the trade, leading to purchase of roughly the equivalent number of head – 308 PTIC heifers of similar breeding and quality, averaging $2235, for a total of $688,380. Because the heifers were bought as a single line out of the paddock, the participant was able to negotiate a slightly lower price than the market at the time.
The deal effectively reduced the average age of the producer's cow herd by 4-5 years, meaning it will be years before he has any need to cull females on age again, while putting an excellent profit in the bank.
The farming business ultimately picked up more than $350,000 after deducting costs through the process, while holding on to nearly the exact number of stock at the beginning of the trade, and calving down at the same time as his own herd's cycle.
Because it took three months to facilitate the trade, with the buying-in and selling-out taking a little time, specialist livestock financier StockCo was used as a form of 'bridging finance' to pay the bill of $688,380 for the new PTIC heifers, which were bought on seven-day terms.
With a little time and feed, the bought PTIC heifers have since become the equivalent of the cow and calf article, valued currently at +$3500.
Key points to the trade:
The western Victorian property had the capacity to run both lots for a short period whilst trade was being facilitated.
Trades of this size can take time to facilitate, and potential buyers may not come through in which case cow calf lots being sold would have to be carved into smaller bites. This is not necessarily a bad thing, as they may end up achieving a higher price – however it does increase the level of logistics
240 Angus cows and calves make up to $5220
CENTRAL Victorian producer Mark Calvert-Jones' yearly sale of surplus aged cows with calves really paid off in 2021, with the top priced lot making $5220 per head on AuctionsPlus recently.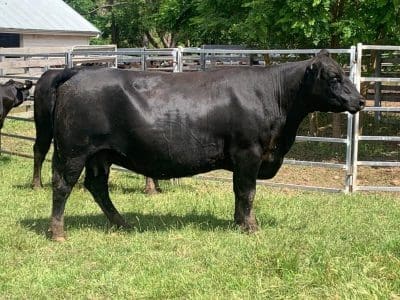 Working under the Team Te Mania Angus program,  Mr Calvert-Jones' Tonga Station in the Victorian high country first started selling all his surplus cows and calves, pregnant cows and heifers at a single annual sale on AuctionsPlus in 2016 – developing a following of repeat buyers over the years since then.
"Where we are in Mansfield, our calving starts in late July and early August, so our surplus cattle look their best in late November or early December," Mr Calvert-Jones said.
"Before 2016, we were still very much building up our numbers so we were weaning our calves in February and March – then we would sell the cows. But cows that have just had their calves weaned off them don't look the best."
This year, Tonga Station offered and sold 240 females in ten lots, with mobs of cows and calves and pregnant heifers. The top priced lot broke a record for Tonga Station at $5220 a head. The cattle were sold as far north as Nyngan in Northern NSW and south to Tasmania.
Mr Calvert-Jones said developing a following for the yearly one-time sale of surplus cattle was crucial to the station's breeding program – with most of the cows six-and-a-half to seven-a-half years old.
"From our point of view, moving older cows out to bring the new genetics into our 1000 breeders, has proved a real success by holding this sale on the same date every year."
"Our spring calving herd targets the high-end marbling market through Rangers Valley in NSW, which takes our steer portion."
We asked AuctionsPlus for statistics on highest priced cow and calf lots sold online for the 2021 year.  While there have been some sales higher than Tonga's $5220 record for cow/calf units, most appeared to be very small lot sizes (4-11 head), or sales of purebred (but unregistered) breeders, being sold by seedstock producers, evidently to people interested in breeding unregistered herd bulls. Officially the highest price paid on AuctionsPlus this year for commercial cows and calves was $6050 for five young Woonalee blood Simmental cows with Simmental calves at foot, and re-mated to Simmental bulls, offered by Mt Ararat Simmental Stud, Nar Nar Goon, Gippsland.  The sale was on 12 November.
Nigel Kerin's massive heifer buy and AI program
A calculated move to buy 2508 high quality Angus heifers as widespread rain began falling late in 2020 and join them to leading Angus sires via a massive AI program paid off handsomely for Nigel Kerin at Yeoval, NSW, when he resold the large PTIC mob via auction in March this year.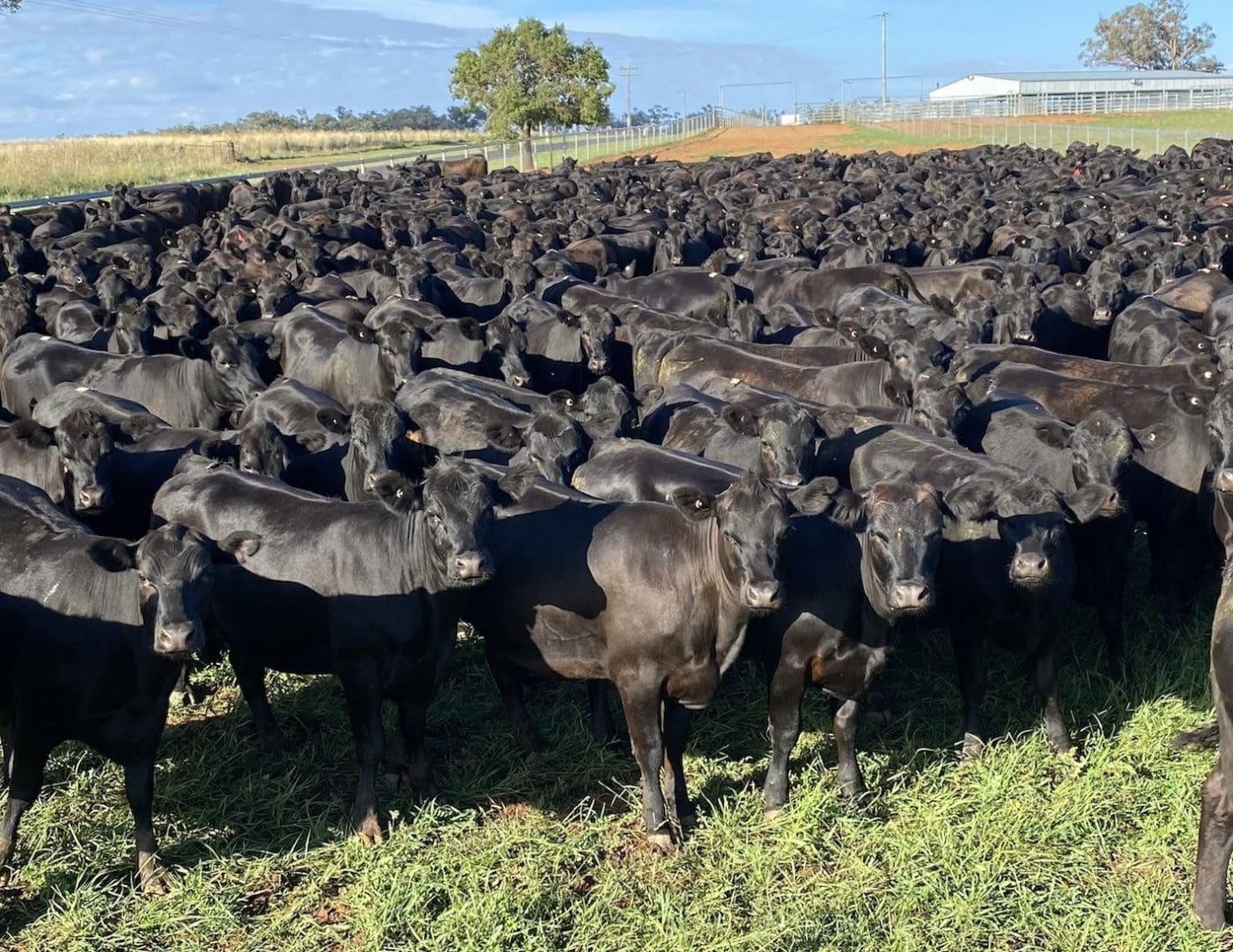 As season-breaking rain began falling across Eastern Australia Mr Kerin knew quality PTIC heifers would be in high demand as producers sought to rebuild their severely drought depleted herds.
Over a period of several weeks, buying in lots of around 500 heifers at a time, he was able to assemble a total of 2508 Angus heifers.
While the cost to buy each mob kept rising from week to week as rain pushed more buyers into the market, Mr Kerin was confident that the price of his heifers when averaged out from start to finish would still represent attractive buying in the rising market.
The next step was to create a point of difference for his Angus females which he did by undertaking a mammoth single program to artificially inseminate all of the heifers to two leading sires – Millah Murrah Paratrooper, the $160,000 Australian record priced Angus bull, and Millah Murrah Nugget, the $54,000 all breeds Australian record priced yearling bull.
He then listed the entire group of heifers for sale on AuctionsPlus and used regular posts on social media to promote and share the story.
This included posts assuring bidders the heifers would be on the market once bidding reached $2400 per head, giving aspiring buyers the confidence to know the cattle were worth chasing.
Mr Kerin explained that the reserve price incorporated his buy price, the cost of carry and a "levy" he attaches to all trade stock of $10 per month per DSE equivalent. The reserve price equated to a return of $120 per DSE, annualised – "Once I get that I am happy because that is a massive return".
Mr Kerin did not share the exact price received but it was well above the reserve. In total the overall sale grossed well $6 million and resulted in a return on investment of 47 percent, he said.
Mr Kerin said he began trading cattle as a strategy to deal with climate variability and to allow his business to fully capitalise on the small number of big years when they arrive.
"Using grazing charts and following the trend line you can keep pouring the animals on whilst that rain keeps coming," he said.
"The guts of our busines, the engine of our business, is the ability to grow grass." – Read our earlier full story on Mr Kerin's cattle trade here
Distance no object: Strategy exposes Kimberley cattle to voracious eastern states buyers
The sheer remoteness of the Kimberley region in northern WA normally limits opportunity for cattle buyers in the distant eastern states, but a clever strategy to 'take the hard work out' of accessing quality cattle from the region for buyers in southern and eastern Australia paid big dividends for Hancock Agriculture's Fossil Downs station in November.
Located near Fitzroy Crossing, Fossil Downs offered 1820 quality young Droughtmaster steers and heifers on AuctionsPlus on 5 November, selling to extraordinary rates previously unseen for Kimberley-bred cattle. It was one of the larger single sale offerings for any vendor seen on the online marketing platform this year.
Key to the project was a decision by the vendors, working with marketing agent Todd Walsh from Northern Rural Supplies in Broome, to offer the eight lots delivered to Roma in southern Queensland (or equivalent) – a transport distance of 3369km, according to Google – instead of the traditional terms of being sold ex property of origin.
Dipping to clear the cattle from ticky to clean country, and several nights' spelling were included in the vendor's terms – clearly designed to motivate eastern Australian restocker buyers to operate. The total cost involved (transport, spelling, dipping) worked out at 'roughly' 100c/kg – a lot of money, but well justified, given the reception the steers and heifers received in the marketplace. Some of the lighter lines loaded at about 42/deck.
The 1600-odd quality Droughtmaster backgrounder steers, sold on seven mobs each of six decks, were mostly 10-13 months drafted into mobs averaging from 266kg down to 166kg. They made from 757c/kg ($1700) at the heavier end down to an unbelievable 892c/kg ($1410) for a lightweight line of 250 head averaging 166kg. Most of the reserves on the steers were in the 650-700c range, freight and other costs included.
A single line offering of their older heifer sisters – 216 Droughtmasters 18-24 months averaging 248kg – were offered under similar delivery terms. They made $1700 or 684c/kg when secured by an eastern states buyer, selling about $300 a head above the reserve.
Even deducting a figure of around 100c/kg off the sale price for the freight exercise, and these Fossil Downs steers and heifers easily set all-time records for young cattle sold out of the Kimberley region.
Similar Fossil Downs steers, 12 months older averaging 300-330kg, sold into the live export boat trade earlier this year for 400-415c/kg or around $1200-$1300.
Buyers for the November offering came from five states, with consignments heading to Queensland, NSW, Victoria, South Australia and southern parts of Western Australia. Most went back to the paddock for backgrounding.
"We were just trying to take the considerable logistics hassle out of buying the cattle on property for an eastern or southern states buyer," Mr Walsh told Beef Central.
Fossil Downs carried out a similar strategy last year, selling large runs of young steers also delivered Roma. Prices then were typically around 130-150c/kg below those achieved last month, but the market has moved a long way since then.
Another of the keys behind the sale was the quality of the genetics on offer.
"We're lucky to be able to deal with these Fossil Downs Droughtmaster steers, that definitely command respect in the marketplace," Mr Walsh said. "This exercise would not necessarily work the same, in terms of buyer response, if the quality of the cattle was not present. You've got to put the right article up, that southern buyers are prepared to have a go at," he said.
Potential for slaughter cattle?
The pre-paid freight/dipping/spelling strategy worked handsomely for store breeder replacements, but could it also work for slaughter cattle?
Not long before the Fossil Downs deal, Northern Rural Supplies in Broome managed another large deal, this time on a large offering of slaughter cattle off Warrawagine Station near Broome in the Pilbara. Freight, dipping and spelling costs were all pre-paid by the vendor, with the cattle sold delivered into southwestern WA, or equivalent. The cattle went to a number of southern Australian processors, at exceptionally good rates by Kimberley standards.