WIDESPREAD, if patchy rain across eastern Australia lifted prices and clearance rates in Friday's AuctionsPlus sale, where Central Queensland Santa backgrounder steers sold for 429c/kg and Angus cross first-calf cows and calves from Barraba, NSW made $2410.
Cattle from dry areas of Queensland again dominated listings, representing 61pc of the catalogue.
Overall numbers offered rose 33pc to 3877 head, but remain only a small fraction of the 9000+ offerings seen for long periods earlier this year.
Prices jumped across all categories on Friday, with a 93 percent clearance recorded at auction.
All steers cleared the 300c/kg mark and only a handful of heifers were still below 300c in value.
A line of 216 Wagyu/Brangus steers averaging 303kg at Moranbah, Central Queensland sold for 542c or $1639, while just down the road at Middlemount, 87 262kg Wagyu/Shorthorn F1 steers made 534c or $1400, while their 237kg heifer half-sibs, 100 in number, made 497c or $1180.
In a breakdown of the catalogue by weight:
Steers less than 250kg made 330c to 429c to average 371c, up 16c on last week, while heifers in the same weight category made 286c to 371c averaging 337c to jump 38c.
Heifers 250kg-300kg sold from 327c to 346c to average 335c, up 12c.
Steers 300-350kg made 338c to 367c averaging 351c, and heifers sold from 287c to 374c to average 334c, up 12c.
Steers 350kg or heavier made 304c to 346c averaging 329c, up 9c and heifers 300c to 328c to average 315c, down 10c.
Highlights of young cattle sales included 117 Droughtmaster x Red Angus steers at Marlborough, Central Qld, averaging 203kg, selling for 378c or $830, and 331 Santa backgrounder steers at Rolleston, 209kg at8-10 months, selling for 429c or $895 a head. Their heifer half-sibs averaging 198kg made 371c or $735.
At Blackwater, a line of 80 420kg Belmont Red feeder steers sold for 324c or $1364, while in Barraba 371kg black steers made 346c or $1285 and out of Armidale, Angus heifers weighing 306kg sold for 374c or $1150.
Cows with calves at foot were a hot commodity, topped by three-year-old Black Baldy first-calvers selling as a three-in-one unit for $2410, being in calf to Angus with 258kg Angus calves at foot.
Other first-calvers made $1450 to $2000, proven breeders sold from $1610 to $1790 and mixed age lines made $1235 to $1900, and cows with calves across all ages averaged a strong $1777. PTIC heifers made $1310 to a top of $1520 for two-year-old composite Angus heifers at Gunnedah.  Proven breeders made $1210 to $1335.
AuctionsPlus will be hosting workshops in Broome WA (December 8), Katherine NT (November 23) and Darwin NT (November 27) in coming weeks. Stakeholders wishing to attend can call the AuctionsPlus office  on 02 9262 4222 for more details.
Interstate transfer prominent during October
The map published below shows the destination for each  AuctionsPlus consignment sold during October, colour-coded by state.
It clearly shows the ability of the online marketing platform to reach more distant buyers, often outside the reach of conventional selling methods. While some of the cattle flows are 'logical' (i.e. cattle moving out of dry areas of Qld into NSW) others are surprising. Note, for example, the shipments of NSW cattle into Victoria, Victorian stock into southern Queensland, and NSW stock into North Qld. Click on image for a larger view.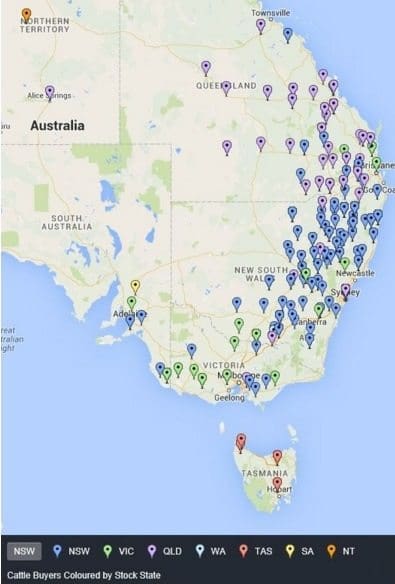 Click here to access a full tabulated summary of Friday's AuctionsPlus cattle sale results.