NUMBERS leapt to almost 12,000 head in Friday's AuctionsPlus online cattle sales.
In addition to the 9140 head lodged as part of the three Eastern States sales, there was a further 2500 head offered in the Macintyre Station herd dispersal which averaged an impressive $1008/head.
As reported on Beef Central earlier, Macintyre Station near Inverell sold recently for a price around $23 million, and will now be used as a dedicated backgrounding operation, necessitating the dispersal of the high quality breeding herd by vendors, Fred Millar and family. Full details published towards the bottom of this page
Big numbers came out of drier parts of Queensland for Friday's general AuctionsPlus sales, where feeder steers regained the price limelight that breeders have held for the past few weeks.
Again, Auctions Plus's ability to find bidders from the widest possible geographic footprint was a feature, with buyers from South Australia securing a big line of crossbred steers out of Winton, in Central Western Queensland.
Younger cattle dominated Friday's sales results and as well as feeders and backgrounders, a special line of future breeders were a standout.
The annual offering of Speriby North Angus weaner heifers from the property near Glen Innes saw prices from $880 to a top of $1115, reached three times, with the run of 280 heifers average weight  311kg, averaging $1072.
Cents per kilogram rates for steers increased with weight in Friday's sale compared with the week before, with backgrounder prices softening. Feeder steers over 350kg met stiff competition from 12 feedlot buyers as well as grass finishers. Steers under 250kg averaged 268c, as did 250kg-300kg steers.
Steers in the 300kg-350kg range averaged 274c, and feeders over 350kg made 254c to 323c to average 274c.
Queensland steers were well supported with 455kg Charolais/Charbray steers out of Barcaldine selling for $1225 or 269c/kg, and a line of 192 Charolais cross steers out of Winton weighing 322kg selling for 273c/kg or $882 with a considerable transport component to South Australia on top.
Angus/Brangus yearling steers sale weighing 356kg sold for $1145, and the weaner portion at 349kg made 328c to also return $1145.
In Victoria 308kg Angus and Angus/Shorthorn weaner steers made $935 or 304c. Heifer prices firmed at the lower and higher end of the scales, with those under 250kg averaging 246c, 250kg-300kg heifers making 235c and 300-350kg heifers averaging 238c. Well-grown yearling heifers sold from 219c to 263c with a top price of $975 for 370kg Charolais cross heifers out of Scone.
Cow and calf sales declined, with prices ranging from $1010 to a top of $1400 for young Angus cows with Angus calves. PTIC females sold were primarily younger proven breeders and made from $825 to $1460 with the top price being for Dulverton blood Angus four-year-olds in northern NSW.
PTIC yearling heifers made $790 to $1250 and joined heifers made $950.
Click here to view a table summarising Friday's AuctionsPlus cattle sale results.
Possible records in Macintyre Station dispersal
The steer portion sold particularly strongly, and may have created national price records for volume consignments, as 2500 quality station-bred cattle from Macintyre Station near Inverell found new homes via AuctionsPlus on Friday.
In an unprecedented display of public interest, 3811 sale catalogues were downloaded in the two weeks prior to the sale, 147 bidders registered and at least 85 bidders actively participated.
The sale was co-ordinated through Bob Jamieson Agencies, Inverell, which has handled the annual turnoff of the much sought-after Macintyre Station cattle via Auctions Plus for many years.
The offering attracted enormous pre-sale interested and inquiry, Bob Jamieson said. As this Google map pinning buyer locations published here shows, the dispersal drew buyers from a wide area, with sales west as far as St George in Queensland and South Australia, Muswellbrook in the south and near Kingaroy in the north.
Overall, the Macintyre Station herd dispersal grossed $2.518 million, with successful purchasers from three states paying an impressive $365,000 above vendor expectations (reserves).
The 2500 Brangus/Angus cross weaners, feeders, cows and cows and calves sold to a top of $1285 and averaged $1009 for a total clearance.
Top price in the steer portion came for a line of 118 Angus/ Brangus steers weighing 350kg, which made 327.7c/kg on farm to average $1145/head. Buyer was Bindaree Beef, Inverell.
While higher cents per kilo prices have been paid for smaller lines of feeder cattle – sometimes as few as a deckload – Beef Central believes this may be a national record price for a larger line of weaner/feeder steers – especially as the price reflects the absence of yards fees and transport.
The balance of almost 500 steers offered in the Macintyre Station sale, mostly weaners, made from 304c to 323c/kg. The overall steer portion, totalling around 580 head, including just over 100 feeder-weight steers, averaged close to 320c/kg – again potentially a national record for a line of young steers of this size.
The heifer portion was just as strong with 538 heifers making from 258c to266c/kg, to top at $825 for the 8-10 month old Angus x Brangus calves.
The PTIC cows attracted keen interest, with 200 x 2009/10 drop cows averaging $1270 per head and 350 older cows averaging $1070.
A line of 330 2013 drop heifers with a 42-day joining, but no preg test averaged $950 in another outstanding sale.
Perhaps the 'buy of the day' was a line of 300×300 2012 drop cows with 1-3 month old calves at foot. The cow/calf units made $1285 and represented outstanding value in this new and improved cattle market.
Dry conditions in many areas no doubt contributed to that particular result, with the buyer, Sandy Munro at Weebollabolla near Moree, having the good fortune to receive earlier rain with some feed to place the cows onto.
The table below lists results for all 29 lots covering the Macintyre Station dispersal. Click on table to see an expanded version.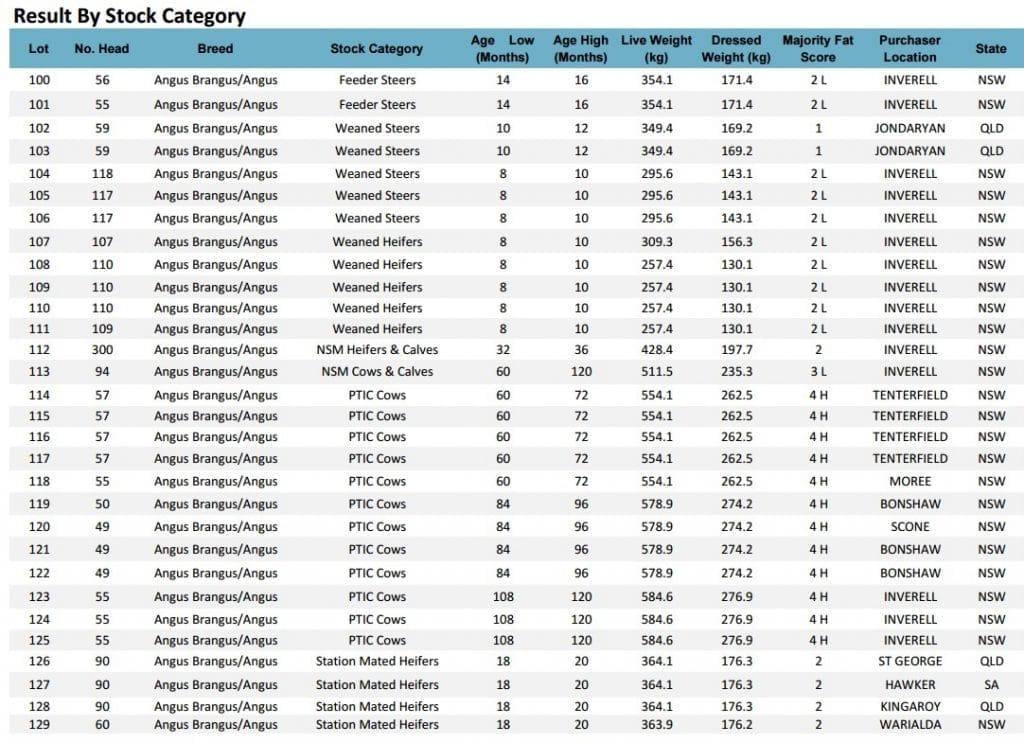 The Macintyre Station dispersal represents the end of an era for the Millar family after 40 years with the sale of Macintyre and Myall Creek Stations. See Beef Central's earlier report.
Bob Jamieson Agencies will conduct the Macintyre Station clearing sale on-farm on June 26.
Click here to view one of the Macintyre Station dispersal listing videos
Click here to view a short video of James Millar of Macintyre Station wishing buyers well with their purchases.