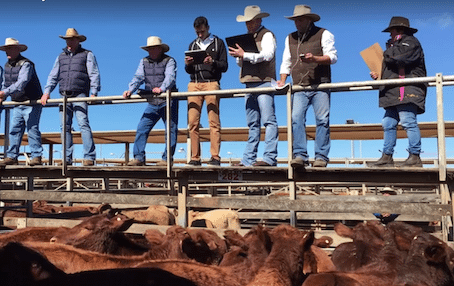 Online livestock marketing took another important step forward yesterday when more than half of a large offering of 1300 young cattle offered by a local vendor at the weekly Roma store sale were sold to remote buyers, accessing the sale over the internet.
The offering of large lines of weaner steers and heifers by the Murray family's Kindee Pastoral Co in a single sale at Roma has been an annual occurrence at the end of June each year for the past 30 years, but yesterday the vendors elected to try something different.
The physical sale was supported by access via the Elite Livestock marketing platform to remote buyers, allowing them to see and hear the sale progress in real-time, via video and audio, as well as posting bids online via the facility. The platform also provided preview video footage uploaded prior to the sale. Yesterday's use of the full suite of tools may have been the first in Australia on commercial cattle, it was claimed.
Video from Andrew Murray showing the auction underway with the Elite Livestock Auctions team on the catwalk.
Ultimately, more than 700 of the 1300+ Kindee cattle sold went to remote online buyers, rather than those physically present at the Roma yards. Sixteen online bidders were registered, from as far afield as Sale and Penola in South Australia. Largest online buyer was Bob Jamieson Agencies at Inverell on the New England tableland, operating for two large clients including the Munro family from Weebollabolla, Moree.
In what was already a red-hot market for store cattle across eastern Australia at present, it is impossible to say exactly what impact the presence of remote buyers had on the Kindee sale outcome. What is known, however, is that remote bidders operated on 80 percent of the 40-odd lots offered, and the best of the steer weaners offered through local Roma agents Watkins & Co made a neat 400c/kg liveweight.
Observers said the video and audio process functioned seamlessly for the online audience (about 90 registered to simply have a look), without the glitches or lag which has been apparent in some earlier attempts to utilise similar technology in stud cattle sales. The entire mob of Kindee cattle was sold in two runs (steers and heifers) in about an hour – no longer than a normal physical store sale – and was not slowed down in any way by the online process, Beef Central was told.
Vendors, the Murray family said they were happy to pay the $4/head fee to expose their annual feature sale to an expanded gallery of buyers. Beef Central understands that that fee may have been a 'one-off' introductory rate, to get the Elite livestock platform started, however.
A second large line of weaner steers and heifers, 750 in total, will be offered at next Tuesday's Roma store sale, using exactly the same interfaced online selling process. The Shaw family's JS Grazing from Injune will offer 500 quality Angus steer weaners, and 250 heifers, as part of their annual Roma feature sale turnoff.
Beef Central wrote about the pioneering use of the online video/audio/bidding platform in this preview article last week.
See this morning's separate Roma store sale report.