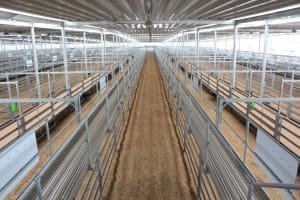 THE standoff between saleyards operators and processors over pre-sale versus post-sale weighing at the new Barnawatha saleyards near Wodonga appears to be over, with a full gallery of meatworks buyers in attendance this morning.
After a 20-30c/kg slump in prices last week after seven or eight meatworks buyers chose not to attend in protest over the decision to impose pre-sale weighing, prices this morning again lifted to levels similar to those seen earlier.
Today's post-sale weighed yarding was almost halved in number to 1246 head however, as vendors reacted to the price outcomes seen a week ago. Heavy grown steers and bullocks suited to processor buyers were in limited supply.
Meat & Livestock Australia's National Livestock Reporting Service summary issued this morning said a "full field of domestic and export buyers" was in attendance, however fewer feedlots were operating.
There were several store buyers operating on plainer quality yearlings as confidence grows on the back of summer storm activity across the region.
Vealers sold to solid competition with European vealers and their crosses lifting 10c to 20c, selling from 218c to 259.6c/kg. Yearling steers suitable for the trade sold to much stronger price trends, benefiting from spirited competition from several domestic processors. Yearling trade steers to slaughter averaged 225.3c and reached a top price of 240c/kg, while mediumweight yearling trade heifers sold to stronger demand from domestic buyers, with prices lifting 14c to average 217.9c/kg.
Heavy grown steers sold to stronger domestic competition, with prices generally 15c/kg higher. The better finished steers and bullocks made from 215c to 238c/kg.
Local ABC reports suggested Australian Competition and Consumer Commission investigators were spotted at the sale this week, after last week's processor action.
Click here to see Beef Central's earlier report in the pre-weigh, post-weigh dispute at the new Barnawatha yards.
Click here to view this morning's NLRS sale report from Barnawatha.