Lighter steers and heifer categories rose in value, while heavier feeder weights declined in a smaller offering of 18,027 head on AuctionsPlus this week. PTIC females, and cows with calves all showed solid gains in price.
Listings were down 10,800 head on the week before. Central West NSW was the biggest purchasing region for the week, securing 2691 head.
This week also saw changes to the way AuctionsPlus sales are catalogued, with smaller state-based sales introduced to reduce the concentration of bidders accessing the site and ensuring ease of navigation of the sale catalogues for a more effective online experience. These changes proved effective as the three Weaner & Yearling sales and two National Cattle Sales on Friday ran smoothly with strong prices and clearances across the board.
Additionally, the new Wednesday National Cattle Sale was re-introduced and attracted immediate interest with 1123 head recording 80pc clearance.
Cow & calf units were in demand this week which drove prices $423 higher, on average, with sales between $1310 and $3500 to average $2335. SBC Farms from Mickleham, VIC offered two lines of station-mated Angus cows & calves which made $3500 and $3460. The top priced lot was 15 cows, 6-7 years average 638kg, with 5-6 months old CAF averaging 265kg.
At Millicent SA, 18 PTIC Angus heifers & calves made well over reserve, selling for $3160. The heifers were 30 months averaging 653kg with 257kg 6-7 month old CAF.
There were 1224 PTIC cows listed this week, down 1154 head from last week. The reduced offering boosted prices as they ranged between $1520 and $3040 to average $1909, up $61 from last week.
Top price was achieved by Yabtree West, Wagga Wagga, NSW, which offered 29 Angus PTIC cows 30 months averaging 538kg, and are PTIC to Angus bulls. Another highlight was a line of 23 EU accredited PTIC Poll Hereford cows, four years, from Ballyrogan VIC, averaging 614kg, PTIC to Hereford bulls.
PTIC heifers prices also saw a significant increase from last week. They sold from $1200 to $2470, averaging $1903, up $241.
Top priced lot was a line of PTIC Hereford heifers offered by TK & ET Young, Koreelah, northern NSW coast. The EU accredited heifers averaging 451kg were 30-36 months, and 5-7 months PTIC to Angus bulls. From Dorrigo NSW, a line of 22 Angus PTIC heifers sold for $2360. The Brooklana blood heifers averaging 451kg were 20-26 months old and 3-5 months PTIC to Brooklana bulls.
Young cattle
Overall, steer numbers were down on last weeks' 8671 head, with 6526 offered this week. The reduced offering saw an upward trend in prices with increases across some weight categories and strong clearance rates. Light steers less than 200kg sold between 409-558c to average 485c, firm on last week. Top price went to a line of 29 weaned Angus steers, offered by Burge Pastoral Group, Allora QLD. The steers were EU accredited, 6-9 months averaging 165kg.
Other highlights included 42 vealer Angus steers, 5-7 months, 195kg, from Ebor NSW, selling for 552c; and 23 unweaned Angus & Angus cross steers, 7-10 months, 196kg, from Tenterfield NSW, selling for 530c.
Steers averaging 200-280kg were priced between 372-542c, averaging 466c, up 13c from last week. Two lots achieved the top price of the category. The first was a line of 38 weaned, EU accredited, Angus steers 7-9 months, 258kg offered by Aldersyde Partnership, Armidale NSW. The second was 51 weaned Angus steers, 7-8 months averaging 210kg from nearby Bundarra NSW.
In the 280-330kg category, steers sold from 280-503c, averaging 413c, firm on last week. Woodbine Partnership, Guyra NSW achieved the top price for a line of EU accredited Angus weaned steers 7-9 months averaging 297kg. A line of EU accredited Shorthorn steers Yamburgan blood, averaging 286kg at 6-7 months from Corowa in the Riverina, NSW made 468c.
Feeder steers from 330-400kg sold from 315-431c this week to average 388c, up 8c from last week. Top price hailed from Blayney NSW, with a line of 82 yearling Angus steers 359kg, 13-17 months old, offered by D Parfett. From Tumut NSW, a line of 24 Hereford steers, 351kg, 12-17 months made 416c. From Tassie, a line of 14 Angus steer calves, 338kg, 6-8 months returned 415c.
For feeder weight steers above 400kg, the average was down 17c from last week to 378c, with prices ranging from 316c and 408c. A line of 25 Rennylea and Hazeldean blood Angus steers 17-18 months averaging 424kg from Gregadoo NSW achieved the highest price of the category. From Tumut NSW, a line of 23 Hereford steers, 412kg, 14-17 months, made 395c.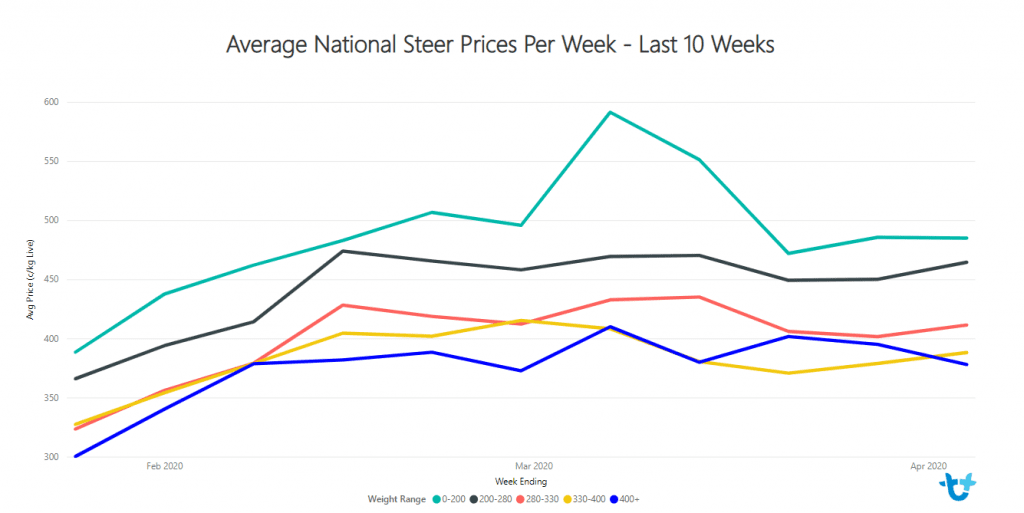 There was a significantly reduced offering of heifers this week with 6832 head listed, down 4660 head from the week before. Light heifers less than 200kg sold between 315-530c to average 444c, up 13c on last week.
Top price hailed from Burge Pastoral Group, Allora Queensland offering 28 weaned Angus heifers. The EU accredited heifers were 6-9 months averaging 135kg.
A line of 14 weaned Poll Hereford heifers 5-6 months old and averaging 163kg made 521c, while a line of 100 EU accredited Santa heifers, 6-7 months averaging 174kg from Consuelo Cattle Co, Rolleston QLD made 490c. Their 93 weaned steer siblings 6-7 months averaging 180kg made 477.5c.
In the 200-280kg category, heifers sold from 279-483c, averaging 398c, up 39c from last week. A line of 91 unweaned Angus 5-10 months averaging 217kg offered by Mackas Pastoral, Salt Ash NSW achieved the highest price. From Hartley NSW, a line of Angus x Limousin weaned heifers 6-8 months averaging 235kg sold for 471c.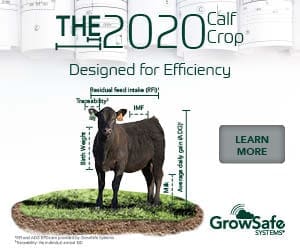 Heifers averaging 280-330kg were priced between 226-427c to average 356c, down 15c from last week. Top price went to a line of 12 NSM Angus x Hereford future breeders. The heifers were 11-12 months averaging 284kg and were offered by Jackalass Partnership,  Gundagai NSW. A run of 60 NSM Angus, Clunie Range blood heifers 17-19 months averaging 292kg from Glen Innes NSW sold for 418c.
Feeder heifers 330-400kg, sold from 279c to 458c this week, averaging 366c, down 13c from last week. Noonbah Pty Ltd, Holbrook NSW achieved the highest price of the category. Their line of 85 NSM yearling Angus heifers 12-13 months averaged 394kg.
From Stony Creek VIC, a line of NSM Angus future breeders 16-18 months old averaging 364kg made 401c. There was only one lot of heifers in the +400kg category which came from George Town in TAS. Vendors Effingham Pty Ltd" offered Angus heifers 18 months averaging 401kg, selling for 304c.
This week's Tasmania sale was very strong. Between feedlots, mainland and local buyers, to a total of 180 bidders connected, there was fierce competition on the island on Friday. Tasmania saw 1561 head offered and a clearance rate of 83pc, with stock selling between $690-$2060, averaging $1118. Top price was achieved by a line of Angus cross NSM cows & calves offered by Robert Freeman & Kelly Blundstone from Whitemark. These 2-3 year old cow & calf units averaging 455kg and sold for $2060. Weaner cattle sold from $690 to $1400, averaging $996. A line of 15 Angus weaned steers 11-12 months averaging 369kg from Lilydale achieved the top price.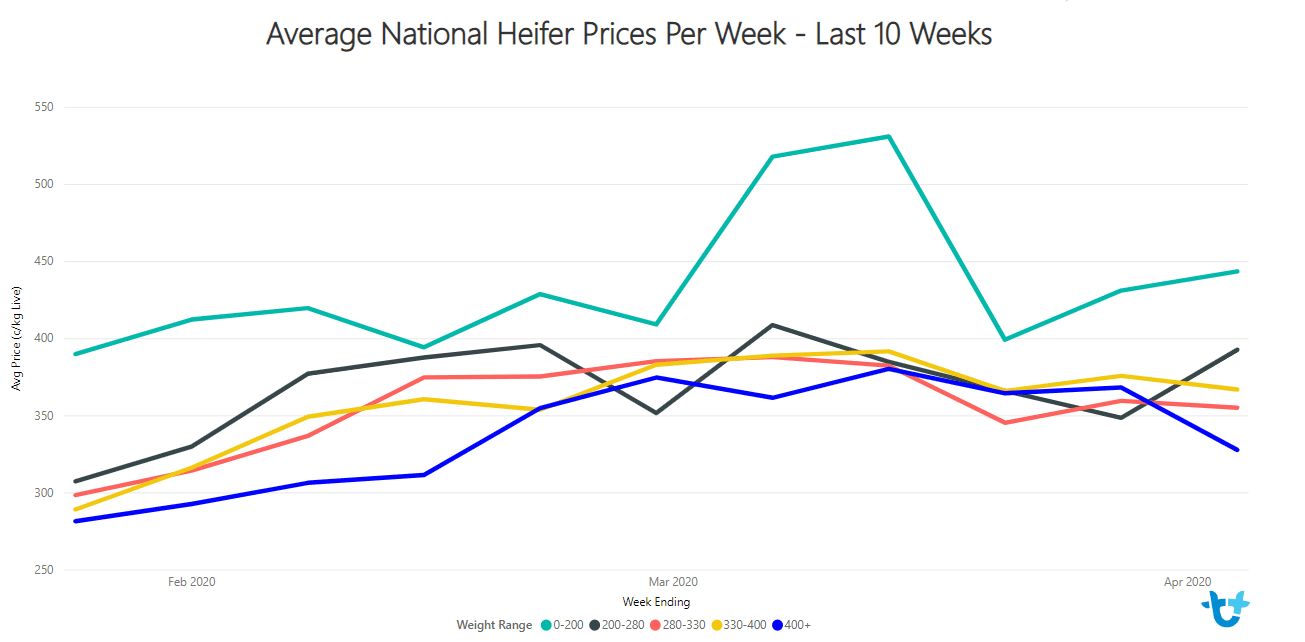 In a breakdown of young cattle sold this week, by weight range:
Less than 200kg: Steers sold from 409-558c/kg to average 485c/kg (down 2c on last week), while heifers sold from 315c/kg to 530c/kg to average 444c/kg (up 13c)
200-280kg: Steers sold from 372-542c to average 466c (up 13c), while heifers sold from 279c/kg to 483c/kg to average 393c/kg (up 40c)
280-330kg: Steers sold from 280-503c to average 413c (down 2c), while heifers sold from 266c/kg to 427c/kg to average 355c/kg (down 16c)
330-400kg: Steers sold from 315-431c to average 388c (up 8c), while heifers sold from 279c/kg to 458c/kg to average 367c/kg (down 12c)
400+kg: Steers sold from 316-408c to average 378c (down 17c), while heifers sold from 304c/kg to 354c/kg to average 328c/kg (down 40c).
Source: AuctionsPlus