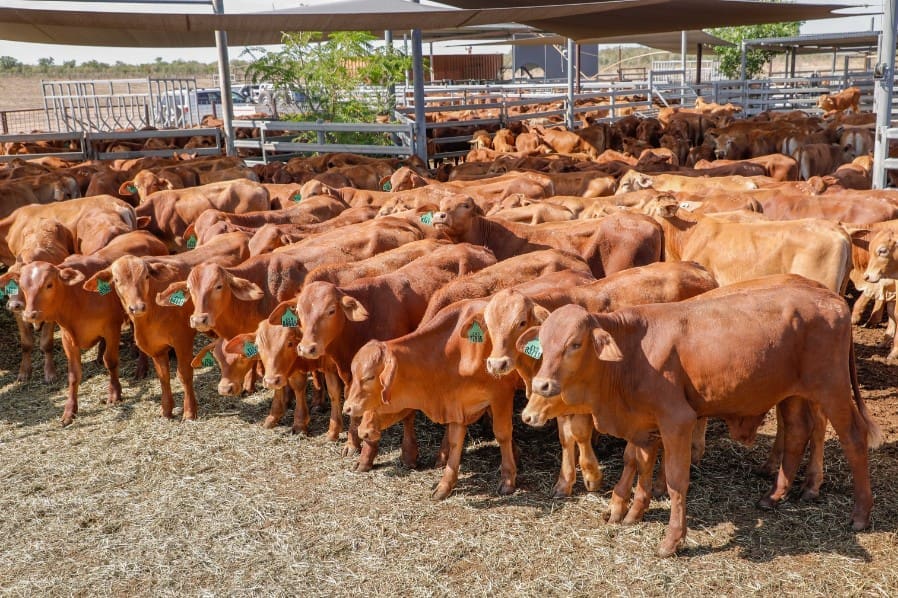 HAVING the right cattle, in the right location, at the right time in the market cycle has seen a Kimberley (WA) cattle station pull off an extraordinary sale result for 2100 young cattle offered on AuctionsPlus last Friday.
Exploiting the fever-pitch eastern states market for backgrounder and restocker cattle at present, Hancock Prospecting's Fossil Downs Station offered 1600 Droughtmaster backgrounder steers and 500-odd heifer sisters on Friday.
The listings carried a highly unusual sale feature: the vendor paid full freight from their home base near Fitzroy Crossing in WA, to the southern Queensland selling centre of Roma (or equivalent).
This move effectively exposed the Fossil Downs cattle to a far larger potential buyer audience, in the midst of unprecedented demand for quality young cattle across eastern Australia.
Yards records have been set for young cattle across eastern states in recent weeks (see today's Roma store sale report, click here), and the Eastern Young Cattle Indicator (a combination of yearling and vealer steer and heifer prices from saleyards across eastern states) yesterday reached 787.5c/kg, just short of the 793c/kg record high set earlier this month.
The 1600 Droughtmaster backgrounder steers and 500 heifers offered by Fossil Downs on Friday set all-time records for sale cattle based out of the Kimberley region – even with the large freight component deducted.
The steer portion was aged 6-12 months, with the lighter end averaged 155kg selling to a phenomenal 642c/kg liveweight, while the heavier steers 230kg made 575c.
Another key attraction to store buyers starved of numbers at present was the sheer scale of the offering of one-brand cattle.
The steer portion went three ways, all destined to enter feedlot programs after backgrounding. One heavier line went to a backgrounder in southern Queensland who is aligned with a large grainfed operation; a second line went to a feedlot backgrounder buyer in the Hunter Valley region of NSW; and the third went to a backgrounder buyer in the Riverina region of southern NSW.
The 500 Droughtmaster heifers offered on Friday, aged 7-16 months, saw the heavier end averaging 200kg make 536c/kg, while the lighter 155kg heifers made 547c, with both lots heading to backgrounders in WA's southern region. Again, both prices were easily all-time records for Kimberley-bred heifers.
This is not the first Kimberley consignment that marketing agent Northern Rural Supplies has offered with the freight incentive this year, however, with three earlier offerings completed – but Friday's was easily the largest. Prior to 2020, however, the 'freight-offset' strategy has never been attempted, but the surge in young cattle values in the east this year has been the catalyst.
Normally, Fossil Downs would hold these steers and heifers to heavier weights and sell into the live export market in a year's time, but the decision was made by the vendor to capitalise on the current grass fever in the eastern states for young cattle. Friday's sales had 'absolutely annihilated' the reserve placed on the cattle prior to the sale, Beef Central was told.
In effect, the steer portion has probably made more $/head value than if they had been held an extra season and sold onto boats in 2021, at perhaps 100kg heavier in weight. As a comparison, Indonesian boat steers above 300kg in the Kimberley currently are making around 350-355c/kg.
Breed factor
Another important factor in Friday's historic sale was breed type, and Fossil Downs' reputation for cattle handling.
It's fair to say that higher content Brahman cattle, typical of the Kimberley region, would not have attracted the same southeastern eastern states restocker support.
All the Fossil Downs sale cattle on Friday were straight Droughtmaster breeding, using high-priced bulls from some of the most prominent Droughtmaster studs in Queensland, including Glenlands, Valera Vale, Piggotts, SC, Lynsey Park, Barlyne and Munda Reds. Most of the offering were 50pc to five-eighth Bos Indicus, with a good percentage described as flatbacks.
The quality of the yarding is clearly evident in AuctionsPlus assessor, Todd Walsh's photos published here, and at top of page, taken by Stacey Ford Photography.
"The beauty of Droughtmaster cattle up here is that they have enough content to go onto a boat, or can go back into the feeder/backgrounder market like these Fossil Downs steers and heifers have," Andrew Stewart from Northern Rural Supplies in Broome said.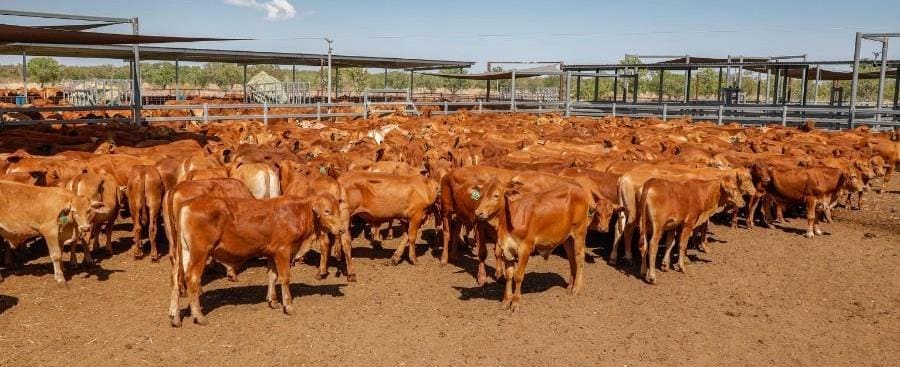 Freight cost
So what will it cost the vendor to land the Fossil Downs steer portion in Roma?
Hancock chose not to comment for this article, but we asked around the stock transport industry to get an 'educated guess.'
Loading these light steers at 38 to the deck, it is estimated that the trip from Fitzroy Crossing to Roma will cost $133 a head. That's based on a freight rate of $1.50/deck/km, but it is possible that Hancock has negotiated a cheaper rate with transporters, given the scale of its business. It's also possible that Hancock may use the return leg to transport a few bulls back to the west as back-freight, given recent spring Droughtmaster bull sales.
The $133/head forecast transport cost does not include extended spelling at Katherine and Winton, en route. Expect to add 75c/head/day spelling fee, plus $70/large round bale of hay (one bale per deck per day), and unloading/loading fee at the spelling yards of $10/deck.
With optimum animal welfare outcomes in mind, the steers are receiving extra-long spelling during stops at Katherine and Winton along the way. Including extended spelling, the cattle will take a week and a half to arrive at Roma, Beef Central was told.
One estimate suggested the total outlay per beast for delivery Roma may be around $150/head.
Andrew Stewart from Northern Rural Supplies said his business had sold more cattle out of the Kimberley region back east this year than ever before, as local producers took advantage of the big price movements for young cattle.
"The total this season would be close to 15,000-20,000 head," he told Beef Central.
Hancock purchased 400,000ha Fossil Downs from long-time owners the Henwood family in  2015. Since then Hancock has invested heavily in high quality Droughtmaster genetics. The Fossil Downs herd is widely regarded as perhaps the best large-scale, control-mated Droughtmaster herd in Northern Australia.