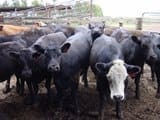 Many direct consignment slaughter cattle rates have lifted another 5-7c/kg over the past 48 hours, driven by supply shortage and some 'mildly' positive signs in international markets.
Providing the catalyst, some Southern over-the-hooks rates jumped 10c on Friday last week, particularly Bindaree Beef and Nippon Wingham, moving ahead of rates offered in southern Queensland.
In response, JBS Australia lifted rates typically 5c across many of its price grids on Wednesday, with top MSA steers rising to 345c; EU steers 350c; grassfed four tooth ox, 330c; and cows +300kg, 317c.
Teys Brothers – from Monday set to morph into the new merged Teys-Cargill business called 'Teys Australia – a Cargill joint venture' – also raised direct consignment rates on many lines an average 5c. Borthwicks Mackay this week also raised some prices an additional 3c, to match rates applying at both Rockhampton factories.
The latest round of increases takes many descriptions of grassfed slaughter cattle to 15c/kg better off than they were three weeks ago.
The Eastern Young Cattle Indicator has continued its recent sharp upwards trajectory, finishing today at 398.25c, up 1c on yesterday and 8c for the week. The EYCI is now up almost 25c/kg or 6pc from its recently low point on August 11.
The heavy export steer indicator is also moving into positive territory, at 190.7c/kg liveweight, up 7c since this time last week.
Meanwhile, beef imports into Japan during July increased 12pc year-on-year to 48,319 tonnes, as importers cleared significant volumes of frozen beef stocks after avoiding triggering the country's Safeguard tariff protection mechanism in June. Chilled and frozen imported stocks in Japan had soared to almost 80,000 tonnes over the past few months.
The safeguard is a trade mechanism that allows Japan to increase its beef tariff rate from the current 38.5pc to 50pc for the reminder of the Japanese fiscal year, ending March 2012, once cumulative import volumes exceed trigger levels set for each quarter.
In July, imports of frozen beef surged to 30,489t, up 31pc year-on-year, and the highest since November 2010. The chilled volume was down 11pc from 2010, impacted by slow and uncertain beef demand as a result of food safety incidents and radioactivity in domestic beef.
Imports from Australia continued to be pressured by competition from the US, MLA said yesterday, with the monthly total being just under the 2010 July figure at 29,274t. In contrast, US volumes reached 12,619t (up 48pc), the highest on record since the resumption of imports into Japan in July 2006.
Japan's calendar year to July import total increased 6pc from the same time last year to 288,572t, with Australia accounting for 66pc of the imported market (73pc in 2010), followed by US at 22pc (16pc).