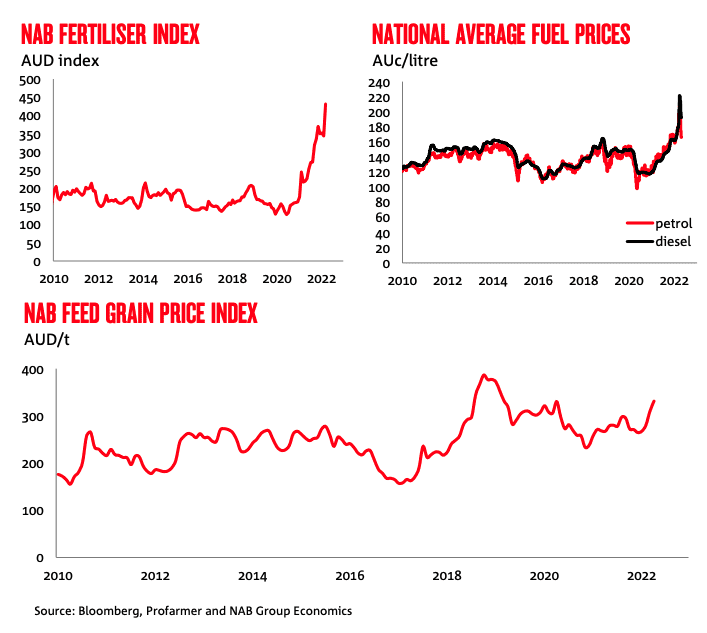 Despite good seasonal conditions in many areas and high commodity prices, the NAB Rural Commodities Index is on track for a drop of roughly 1.5% in April, its first decline since March 2021.
NAB's April Rural Commodities Wrap released today reports mounting inflationary pressures and rising input costs continue to present challenges for global agriculture.
NAB Senior Agribusiness Economist, Phin Ziebell, said fertiliser and fuel costs remain the key areas of concern for Australian producers, although labour costs continue to see upward pressure.
"Overall, our fertiliser index was up another 25.5% in March, to almost double its level just one year ago. April has shown some tentative signs that diammonium phosphate (DAP) and urea are flattening out on global markets, but we do not expect much downside this year," Mr Ziebell said.
"Oil prices have been extremely volatile this year. While the 22-cent cut to the fuel excise tax has brought petrol back to similar levels to those before Russia invaded Ukraine, diesel remains elevated.
"In any case, agricultural producers are generally not subject to excise, so continue to face fuel cost pressures."
Mr Ziebell said commodity prices remain generally very elevated, although dairy, cattle and sheep have recently eased, albeit from record or near-record levels.
"Autumn rain across many production regions has provided a welcome boost for many farmers, easing concerns around winter crop establishment," Mr Ziebell said.
"Global grain prices have skyrocketed in response to Russia's invasion of Ukraine, but underlying factors were already pushing up prices before this.
"Three key reasons for price growth are mixed global production, notably in the Americas, unevenly distributed stocks, with China holding around half the world's wheat stocks, and rising input costs.
"Volatility remains high, and it is hard to predict where the wheat market will go, especially given continued uncertainty in Russia and Ukraine, which combined account for 25-30% of global wheat exports.
"Canola prices are now almost back to the peaks we saw in late 2021. Last week, Indonesia announced a ban on palm oil exports, which is likely to put further upside on prices."
Looking ahead, Mr Ziebell said NAB expected the Reserve Bank of Australia would raise the cash rate next week, in response to yesterday's high CPI print.
"We see further upward pressure for the Australian Dollar and expect it to hit US80 cents later this year," Mr Ziebell said.
Source: NAB. The NAB Rural Commodities Index is based on the price and production data for 28 commodities and is weighted by their relative size in Australia's agricultural sector.