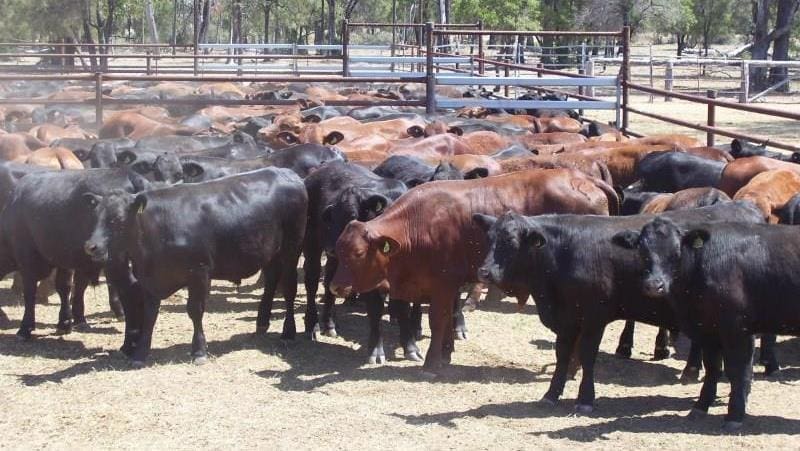 THERE have been further falls in bids on feeder steers across eastern Australia this week, continuing a marked trend seen during November.
Prices on all feeder cattle are coming under sustained pressure, with many large Queensland feedyards withdrawing from making offers on paddock cattle this week.
Bids in the market for heavy flatback feeders in Queensland yesterday were in the 420s (c/kg) but little business was being done at those rates, Beef Central was told. Small numbers of transactions were happening around 440-450c, but remained 'under pressure.'
Some supply chain stakeholders think it is only a matter of time before flatback feeders settle to around 400c/kg – a far cry from the +550c/kg seen back in June. Angus steers are now looking down the barrel of 500c/kg, after hitting 630c/kg back in May, as highlighted in this earlier story.
"It's hard to get a bead on the exact market for feeders this week, because most of the bigger feedlot operators are simply not quoting," one large supply chain manager said this morning.
A small offering of heavy feeders at yesterday's Warwick sale in southern Queensland averaged 429c/kg, while heavy feeders at Roma's Tuesday sale averaged 450c/kg, down another 9c on last week.
EYCI plunge
The Eastern Young Cattle Indicator finished yesterday at 902c/kg (dressed weight equivalent), down almost 16c/kg on Friday and 46c lower than this time a week ago.  Numbers contributing to the EYCI (rolling seven day average) have grown steadily over the past seven days, lifting to 19,600 yesterday from 14,800 this time last week.
When Beef Central published this feeder market report only a week ago, flatback heavy feeders in the paddock were still being quoted at 470c/kg, but were described then as 'under pressure.'
Part of the uncertainly is a lack of forward contract pricing signals on 100-day cattle for March delivery. It means 100-day cattle going onto feed this week are not covered for March close-out in terms of exit price. Grainfed processors are evidently wary about committing to a March price, in the current atmosphere of uncertainty in the international meat market.
Some grainfed processors are evidently a couple of weeks behind in their weekly kill cattle due to weather, meaning they may end up spilling a few February cattle into March dates.
"They are wary about what they need, come March, and their Wagyu and black cattle may be likely to take up a little more kill space early next year, that would otherwise have been filled by generic flatback 100-day cattle," one contact said. "It's putting more pressure on demand."
Some grainfed processors evidently have dropped prices on January-February delivery 100-day steers 0-4 teeth to 750c/kg, down from 800c earlier. Easter holiday shut-downs 7-10 April next year could also curb processor demand for a period early in the year.
"A lot of feedyards have over the past 18 months or so simply been putting cattle on feed, and getting away with it in terms of exit price. But March next year may well be the month where they really get caught," one supply chain manager said.
"Most of those steers that have just gone into pens would have been bought at around 460-480c liveweight, so any deterioration in carcase price at exit next year means they will look very expensive."
"March could be a turning point, especially with no forward carcase pricing attached. It could be reasonably concerning, for anybody caught in the middle of it."
With exceptional seasonal conditions again in many cattle regions heading into summer, some grainfed supply chains are anticipating a wave of feeders to hit the market earlier than normal next year. Some feeders may be 40-50kg liveweight ahead of where they might be in an average year. That could create additional supply congestion in the first quarter, one supply chain manager suggested.
"The feeder market and grainfed beef market is still very uncertain, and it's why we've pulled out of quoting on feeders for the timebeing," he said.
"There's a lot of product around in the export meat trade again, as there is in the Australian domestic market.
"Even though the placements of feeder cattle in the US are now starting to slow down after a massive drought year, and US feeders are starting to get more expensive – US feedlots are full. It means there is still an awful lot of US grainfed beef to work its way through the global meat system, before production volume in the US starts to decline next year."
"At the moment, we just can't find the bottom of the international beef market – and it's why everybody is cautious. Processors and lotfeeders in Australia are just sick of losing money on grainfed cattle. They've had enough, and that's what's being seen in feeder prices now."