UPDATE: 4.30pm:
The Eastern Young Cattle Indicator crashed further in the daily figure issued by NLRS this afternoon – falling by yet another 7.75c/kg to 566c. At Dubbo, where close to 10,000 head were yarded today, the figure collapsed by an extraordinary 48.55c on the previous week's sale. This may be an all-time record for an EYCI indicator sale, MLA has suggested to beef Central this afternoon. Despite Monday's Public holiday, more than 19,000 EYCI-eligible cattle had been sold by close of business on Thursday – up from a long-term weekly average figure of 17,000 head. Most sales reported this week have been back by 10-30c/kg, contributing to the rapid fall in the EYCI. "Three things are contributing to the sudden and dramatic decline," MLA's senior analyst Ben Thomas told Beef Central this afternoon. "The heatwave conditions since last week; the lack of confideence in seasonal outlook; and the recent, rapid declines in the US meat market." Mr Thomas will discuss current market dynamics at a Teys Condamine field day tomorrow morning.   
ANY prospect of the Eastern Young Cattle Indicator pushing beyond 600c/kg looks dashed for the timebeing, as young cattle prices suffered a solid check in the marketplace this week.
The EYCI closed yesterday at 573.25c, down 5.25c on the previous day, and back an eye-catching 21.25c/kg on a week ago.
Unusually hot, dry conditions for early October have pushed young cattle to market in unexpected quantities this week, helping push saleyards prices lower (see major selling centre NLRS summaries below).
Added to that has been a significant correction in direct consignment slaughter rates, discussed in detail in this Beef Central article published yesterday.
In other NLRS indictor categories yesterday:
Trade steers fell 3¢ to305¢/kg from the day before
Medium steers were back 7¢ on 292¢/kg
Heavy steers were 5¢ lower on 302¢/kg
Medium cows decreased 4¢ on 238¢/kg
Feeder steers were back 4¢ on 318¢kg.
Elders national livestock manager Chris Howie said the season, and classic supply/demand factors were driving current sentiment, as much as anything, combined with unusually early hot weather.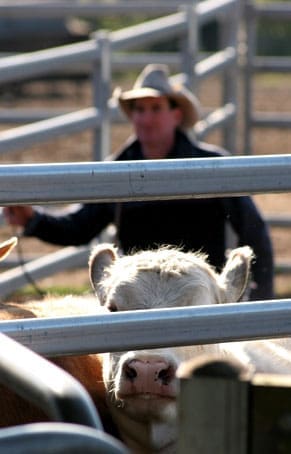 "Where we were struggling just six days ago to find feeder cattle, we've now come off that very dear market two weeks ago to a point where there are plenty of feeder cattle becoming available this week," Mr Howie said.
Feeders had fallen 20-30c/kg in places in a week, with individual saleyards this week falling back to around 300-310c/kg in places, due to the numbers now available.
A lot of lotfeeders, especially in NSW and further south, were booking feeders forward, with a delivery date but no set price attached, Mr Howie said.
"They just want to secure future numbers, into the feedlot. Vendors want to know they have a delivery slot – say for mid-November – and they'll settle on the final price closer to the delivery date," he said.
"How much further down the current market goes, I don't know, but historically it often softens around now as young cattle start to move, before recovering again around mid-December, when those runs of cattle in the south start to disappear."
"That would suggest this current price correction could last for the next couple of months, if history is anything to go by."
Mr Howie thought current market disruption in the US meat market was not directly impacting on young cattle prices in Australia yet, but might be exerting more influence on meatworks cow and heavy cattle prices.
"But all this is contingent on rainfall. You get significant rain up in Queensland, and this game could change overnight," he said.
"In the south, other than the southeast and in Victoria, we're probably past the 'rain benefit' component now. Any rain would freshen things up, but areas like the Riverina, Wimmera and the Mallee are now gone for the season. Northwest of Dubbo is starting to get hard enough, while the southeast is still not too bad, and the New England is alright, but needs rain."
"That would suggest cattle will continue to flow, and this is the time of year when those cattle start to run. There will be the last push out of the north before the real heat sets in, the south is coming on line – even though the season is perhaps three weeks earlier than normal – with a lot of those spongey heifers, milk vealers and dry cows starting to find the market," Mr Howie said.
"But we'll get into that back end of December, numbers will start to tighten and prices should rise again, before the start of the weaner sales," he suggested.
NLRS yards summaries
In key NLRS-reported indicator selling centres this week:
Yarding numbers at Dalby yesterday slipped 8pc week-on-week, to 6930 head. There was a mixed quality yarding with the heavy weight yearlings and grown cattle showing some good finish however there was some variation in the standard of the young lightweight cattle. The usual buyers were in attendance and operating in a generally cheaper market. Light C2 yearling steers to restockers declined 31¢, to average 300¢/kg, while medium C2 yearling steers to feed dropped 11¢, averaging 315¢. Medium C3 yearling heifers to feed dropped 18¢, averaging 292¢ while Medium C3 yearling heifers to slaughter slipped 12¢, to average 288¢. Heavy C4 grown steers dropped 15¢, to average 298¢, and heavy D4 cows declined 10¢ averaging 256¢.
Throughput at Casino increased 10pc to 1300 head. With an increased number of vealer cattle, quality of the younger cattle was mixed. There were several lines of well finished supplementary fed cattle, along with a fair number of plain cattle. The usual buyers were in attendance and operating in a cheaper market. Light C2 vealer steers to slaughter declined 21¢, averaging 287¢; Light D2 vealer steers back to the paddock slipped 28¢, to average 296¢; Light C2 vealer heifers to slaughter decreased 3¢, to average 297¢; Medium D2 cows declined 10¢, averaging 209¢.
The yarding at Leongatha jumped 39pc to 2005 head. Quality was mixed with a significant number of secondary lines and fewer prime cattle on offer, the usual buying group were present and operating in a selectively cheaper market. Medium D3 yearling heifers to slaughter declined 33¢, averaging 276¢; heavy D3 grown steers were down 24¢, to average 299¢; heavy D3 bullocks slipped 25¢, to average 295¢; medium D3 manufacturing steers slipped 34¢, averaging 281¢; heavy D4 cows decreased 12¢, to average 236¢.
On Tuesday, Roma store numbers increased 5pc, to 9818 head. Quality was mixed with store cattle offerings showing more signs of dry conditions week-on-week. Softening demand from NSW restockers was felt throughout the sale, with the plainer lines selling to a cheaper trend. Feedlot buyer competition strengthened for good medium and heavy weight yearling lines, with the lighter weight heifers selling to an easier trend. Light (200-280kg) C2 yearling steers to restockers were down 14¢, averaging 315¢, while medium C3 feeder lines also fell 4¢, to 322¢; light D2 yearling heifers to restockers eased 11¢, averaging 266¢.
Throughput at CTLX jumped 33pc on week-earlier numbers, yarding 3260 head. Quality was mixed, and with prime cattle in strong supply. The market was generally cheaper overall. A notable offering of yearling heifers were also penned, with the reasonable number of steers selling mainly to feedlot orders. Heavy C3 yearling steers to feed eased 27¢, averaging 314¢; medium C3 yearling heifers to slaughter were down 2¢, averaging 296¢, while the heavy C3 lines also dropped, easing 24¢ to 293¢. Heavy C3 grown steers dropped 41¢, averaging 289¢; heavy D4 cows eased 6¢, averaging 254¢.
NVLX Wodonga consignments increased 34pc, to 3700 head. Quality was solid across both trade and export categories, while secondary stock condition was mixed. There was a limited selection of supplementary-fed yearlings, with grass fed cattle making up the bulk of the numbers. The usual buyers attended, with export buyers operating in particularly cheaper market conditions. Heavy C2 vealer heifers to feed were down 22¢, averaging 311; heavy C3 yearling heifers to slaughter  decreased 28¢, to 288¢; heavy C3 grown steers dropped 18¢, to 305¢; C4 bullocks to slaughter also declined, easing 28¢, averaging 293¢.