JUST 12 months ago, a 1000c/kg Eastern Young Cattle Indictor was an inconceivable figure, but overnight the nation's primary indicator of the state of the store cattle market powered into four digits for the first time in history.
The EYCI has been threatening to crash through the barrier for most of this week, after more record-high prices were posted at the 23 key selling centres across Queensland, NSW and Victoria that contribute data.
The indicator closed this week at a historic 1003.44c/kg, up another 19c/kg over the past week and a breathtaking 250c/kg higher than this time last year.
Beef Central touched on EYCI's dramatic recent performance in this article last week, as the looming milestone approached.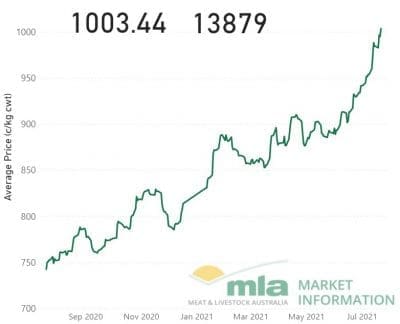 Today's achievement was reached on the back of yet more surges in vealer and yearling-type cattle values across the 23 saleyards that constitute the EYCI over the past week.
As emphasised in last week's story, the result is heavily influenced by performance at just two store sales in Queensland – Roma and Dalby – which this week accounted for more than 56pc or almost 7800 of the 13.879 EYCI eligible cattle recorded this past week. In comparison, the next largest southern-state sales included Wagga (5.99pc), CTLX Carcoar (4.78pc) and Dubbo (4.57pc).
Roma sale on Tuesday produced an average price of 1018.8c/kg for all EYCI eligible cattle sold, while Wednesday's Dalby sale was a little behind on 977.7c. A number of smaller southern sales averaged above 1100c/kg for the first time in history this past week, including Casino and Armidale.
As a measure of the rampant and largely unforeseen growth in the indicator this year, the National Livestock Reporting Service had to call on its IT experts yesterday, to add an extra digit in its online reporting systems – having never foreseen that the EYCI could reach four digits when the platform was originally designed and built.
MLA's manager for market information, Stephen Bignell said the result was a historic milestone, by any standards.
He said there were some interesting dynamics in play this year, some of which defied normal supply/demand convention.
"Prices continue to rise, at the same time as numbers being offered have risen," he said.
Recent EYCI weeks have topped 14,000 head – that's a huge jump since the start of the year, yet prices have continued to increase."
"It means that the demand is there – because under normal conditions, extra supply coming on like this would drive prices lower. But it hasn't happened, and just reinforces how strong the current restocker and feeder demand is."
There was also a disproportionate number of heavier cattle contributing to the EYCI result at the moment (due to the quality of the season and determination by producers to hold onto cattle as long as possible to add weight), which would normally have a moderating effect on the indicator, on a c/kg basis.
"We are still seeing those lighter vealer types commanding a premium, but yearling weights are currently much greater in number. This last week there were almost 12,300 yearling weight cattle offered at EYCI-eligible yards, versus less than 1600 vealers."
Mr Bignell was wary about speculating about where the indicator might go from here.
"We heard people earlier say, 'It won't break 750…. It won't break 800…. It won't break 900….' – a lot of good judges have been proven wrong."
However a normal inflow of young cattle heading into spring could tip the balance in favour of softer prices.
MLA shares the view being expressed by some across the processing sector at present that the current rate of beef herd recovery might be happening faster than previously thought.
Strong seasonal conditions across large parts of eastern and northern Australia, a very young female herd age profile, and lots of money being thrown at animal health and nutrition product support to maximise the impact of 'very valuable' calves may serve to push herd recovery along much faster than earlier anticipated.
MLA will share more insights on this in next week's Mid-Year Industry Projections.
Beef Central's Weekly Grill podcast will explore the EYCI milestone in greater detail this afternoon, when host Kerry Lonergan engages with regular cattle market columnist, StockCo's Chris Howie, and Thomas Elder Markets analyst Matt Dalgleish. Come back later today to download the audio file.