THE Eastern Young Cattle Indicator continues its near-vertical climb towards the magic 1000c/kg barrier this week, reaching yet another record high of 988.11c/kg (dressed weight equivalent) yesterday.
In what amounts to the most extraordinary rally in the indicator's 25-year history, the EYCI has risen almost 37c/kg over the past week, and the best part of 85c since this time last month.
This time last year, the indicator was more than 242c/kg lower than where it sits today. On a typical 400kg feeder, that equates to a lift of about $560 a head in value in 12 months, off an already-strong market.
Indicator-eligible cattle from eight weekly store sales held this past week topped 1000c/kg for the first time – Roma, Dalby, Wagga, Casino, Tamworth, Armidale, Singleton and Scone. A host of other sales this week averaged in the 940-960c/kg zone.
Counter to normal supply/demand patterns, this week's dramatic surge has happened on the back of larger supply of EYCI-eligible cattle – not less. In fact this week's NLRS records show this is the highest EYCI 'yarding' week seen since early May.
MLA analyst Stuart Bull said the recent near-vertical rise in the indicator had been driven by a combination of factors.
"For starters, there is a higher proportion of lighter cattle being purchased at present, than would normally be seen," he said.
"The EYCI weight range category that really picked up this week was the lighter 200-280kg liveweight cattle, making relatively higher c/kg prices than heavier descriptions," he said.
Good rain across large parts of eastern Australia over the past three weeks has also been a contributing demand factor.
High prices have seen vendors with available young cattle seeking to pounce on the incredible opportunity that currently presents itself, and at the buyer end, there is some element of FOMO (Fear Of Missing Out), grainfed supply chain contacts told Beef Central yesterday.
Young cattle going onto feed now for 100-day programs will not exit the feedyard until late October, when shortage of slaughter cattle is widely anticipated, especially further north.
"There are different producers currently looking to tap into that heightened demand," Mr Bull said.
He cautioned, however, that there were some 'unusual' circumstances involved in Tuesday's Roma store sale, that initially helped drive the EYCI dramatically higher this week.
In an annual marketing strategy, Kindee Pastoral Co turned off its annual run of 1311 quality weaners at Roma this week, attracting a larger gallery of buyers and pushing all EYCI eligible cattle higher. Additionally, numbers were boosted by the Maranoa Regional Council's donation of 50pc of selling fees at Roma this week to the RFDS.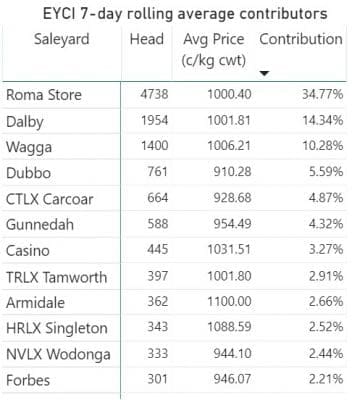 As can be seen in the attached table, a few very large eastern Australian sales can exert considerably greater influence over the EYCI's trend than others. This week, for example, Roma accounted for more than 4700 eligible EYCI cattle in its overall yarding of 6900 – or almost 35pc of the total EYCI-recorded cattle sold this past week. Dalby and Wagga sales accounted for 1954 (14.3pc) and 1400 (10.3pc) of EYCI cattle respectively. The calculation of the EYCI is weighted on numbers yarded, as well as average prices for eligible cattle in each selling centre (see EYCI explanation at bottom of page).
Compare this with other sales like Casino (just 445 EYCI eligible cattle this week), Gunnedah (588), Tamworth (397) and Armidale (362 – despite a record setting EYCI average price of 1100c/kg), and it is apparent that the handful of large-volume sales can have a significant influence over the EYCI's direction.
Take Roma sale's contribution out of the current EYCI formula, for example, and, it was calculated that the 15c/kg rise seen in the EYCI between Monday and Tuesday would have been only 3c/kg.
Having said that, both Dalby and Roma sales not only increased sharply in volume of EYCI eligible cattle this week, but produced the price rises to match it.
The composition of cattle yarded at each centre also has a bearing. Casino, for example, tends to be more heavily weighted towards vealer type cattle, which means it is always among the highest c/kg performers among saleyards each week. In contrast, a yard like Warwick often has more heavier cattle, tending to moderate its EYCI contribution.
What's also evident is a recent change on volume being purchased by feedlot buyers versus restockers – creating additional bidding tension. While northern lotfeeder buyers have been particularly active since May, restockers surged back into the market this week, accounting for 50pc of all EYCI-eligible cattle purchased, and feeders 44pc. A week or two earlier, feedlots accounted for 47pc of the offering, and 44pc restockers – representing a significant shift in the demand cycle.
The competitive rivalry between feedlots and producers looking to re-populate well-grassed paddocks after drought has been the back-story behind the broader, unprecedented young cattle price cycle witnessed over the past 12 months.
Mr Bull said a similar trend happened around this time last year, when much larger volumes of EYCI-eligible cattle hit the large Queensland saleyards, producing a similar spike in the indicator, led by strong competition out of NSW, which had been cleaned-out by the drought.
"We're seeing a similar dynamic this year, but off a much higher base, and attracting much higher demand from buyers out of Queensland," he said.
Understanding the EYCI
The Eastern Young Cattle Indicator, or EYCI, is a seven-day rolling average of young cattle (vealer and yearling weight steer and heifer categories) from 23 saleyards across Queensland, NSW and Victoria. It is expressed in c/kg, carcase weight equivalent.
The EYCI is designed to be applicable to a wide range of beef industry participants across the supply chain. It describes general movements in cattle market prices in much the same way that the All Ordinaries share index describes general price movements in the stock market. It is generally a good indicator of the physical market, with movements closely reflecting movements in other MLA cattle prices, including the National Vealer and Feeder Steer Indicators. Movements in the EYCI also closely reflects movements in young cattle prices in states outside the EYCI's (Queensland, NSW and Victoria). This is expected, as many major Australian and global factors that influence beef demand and supply have an impact across all states. Price movements in WA, SA and Tasmania follow the general trends of the EYCI due to the influences described above. However, these states show evidence of other price trends related to distance from major markets, focus on other trades such as live export and local factors such as meatworks closures or openings and regional weather influences.