THE Eastern Young Cattle Indicator officially broke into uncharted territory yesterday, posting a new record-high figure of 458.75c/kg on the back of some attention-grabbing price rises in southern-states saleyards yesterday and earlier this week.
The figure easily eclipses the previous EYCI record of 450.75c set back on February 5, soon after the big January rain event.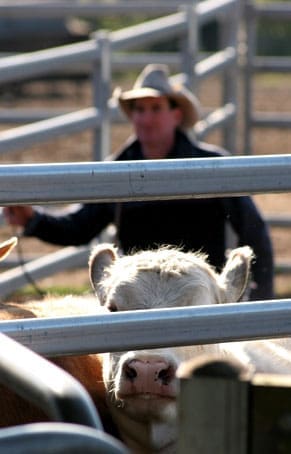 The prospect of a new record was touched-on in this Beef Central article published on Friday, "EYCI heads towards record territory, as southern rain impact hits."
Yesterday's new record EYCI figure leapt 8.75c on Monday's EYCI mark. To put it into further context, it is almost 20c/kg higher than this time a week ago; 35c/kg up on this time in March; and a monumental 100c/kg higher than this equivalent period in April 2014, when large parts of Eastern Australia were hurtling towards drought.
Big rises, week-on-week, were recorded at all nine NLRS-reported saleyards yardings sold yesterday, including Camperdown,  CTLX, Gunnedah, IRLX Inverell, NVLX Barnawatha, Roma Store, Scone, Shepparton and Warwick. The biggest lifts in young cattle values contributing to the EYCI indicator were seen at Inverell, where the price for yearlings and vealers rose by a breathtaking 28c/kg carcase weight on average, Camperdown up 26c/kg, CTLX Tamworth up 24c and Gunnedah almost 22c.
As discussed in Friday's report, widespread rain after Easter – and the prospect of more later this week – has reduced NSW and Victorian cattle yardings over the past fortnight, putting a sting in the market and helping rebuild momentum in the EYCI. Dubbo sales that had been consistently yarding +6000 head earlier, fell to 2000 head last week.
Teys general manager livestock, Geoff Teys, said Victorian, NSW and SA sales since Monday had 'run hot', with prices at sales like Leongatha in Victoria's Gippsland this morning being particularly strong.
"It's the combination of the recent rain; the prospect of more rain later this week; Autumn has started; and the general shortage of cattle that is starting to emerge," Mr Teys said.
"The lift in southern prices is not only being seen in young cattle contributing to the EYCI, but in the cows and bullocks as well," he said.
"Numbers are now starting to run out, in the south at least."
Other records fall like nine-pins
Other indicators generated by the National Livestock Reporting Service have also hit record levels in recent days.
At the close of Monday's markets, the Eastern States Feeder Steer Indicator (330-400kg liveweight, C2) broke through 250c for the first time in history, reaching 252.7c/kg liveweight.
Calculated as a seven-day rolling average, the indicator was supported by a very strong market at Monday's Wagga sale, where prices continued to surge following rain across eastern NSW. Medium weight C2 feeder steers average 261c and sell to a top of 270c/kg.
NLRS reports that eastern states out-of-the-paddock indicative prices are also historically high, but not yet at record levels. Domestic paddock feeder steer prices in southern states averaged 245¢ last week, lower than the 251¢/kg peak in late February, although many contributors are anticipating this will follow the physical market in the next two weeks.
"Encouraged by strong prices for finished cattle, feeder buyers have been very active," MLA reported yesterday.
"In the spot market, over-the-hooks 100 day grainfed steers (300-320kg, A-C muscle, 5-22mm fat) averaged 478¢/kg in Queensland this week, up 24 percent year-on-year and the highest nominal value on record. As discussed last week, while feeder purchase volumes have fallen to more seasonal levels of late, they started the year very strong."
Feeder prices have climbed to record highs, despite much of western Queensland and NSW remaining drought stricken.
"With the potential for further rain across north-eastern NSW towards the end of this week, as well as the BOM three-month outlook favouring a wetter autumn in the south-east of the country, there may be potential for further feeder price improvements, as feeder buyers compete with restockers and processors over a smaller pool of suitable southern cattle," MLA reported yesterday.
Another record that has fallen recently is the number of consecutive reported days for the EYCI figure to be above 400c/kg. As of close of business yesterday, the indicator had sat above 400c for the past 65 days, where NLRS has issued a daily figure. The previous record was 51 consecutive reporting days.
What is the EYCI?
The Eastern Young Cattle Indicator (EYCI) is the general benchmark of Australian cattle prices. The indicator is a seven-day rolling average produced daily by MLA's National Livestock Reporting Service.
The EYCI includes vealer and yearling heifers and steers, grade score C2 or C3, 200kg+ liveweight from saleyards in NSW, QLD and VIC. The results include cattle purchased for slaughter, restocking or lotfeeding and are expressed in c/kg dressed weight.