WIDESPREAD rain across large parts of southern Australia has dramatically restricted cattle yardings this week, helping again push the Eastern Young Cattle Indicator towards record territory.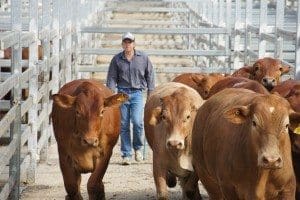 The EYCI closed after Thursday's sales at 445c/kg, up 3.25c on Wednesday, and 6.25c higher than this time a week earlier.
The record was set back on February 5 at 450.75c, soon after the big January rain event, but it has been gradually creeping up on that figure again this week.
A record that has been broken is the number of consecutive reported days for the EYCI figure to be above 400c/kg. As of close of business yesterday, the indicator had sat above 400c for the past 63 days, where NLRS has issued a daily figure. The previous record was 51 consecutive reporting days.
Aside from the general momentum in the reported yearling and vealer market segments currently being experienced this year, the indicator has been boosted strongly this week by the strength in the southern cattle market, following rain.
"It's the general rain that's been reported across large parts of NSW and Victoria over the last week that's driving it," MLA's senior analyst Ben Thomas said.
"Dubbo has been consistently yarding 6000 to 7000 head previously, but came back to just 2000 head yesterday," he said.
"We've seen the EYCI turn around a little. It did dip down a little earlier to around 430c, before creeping back up this week. It will be interesting to see what kind of signals we see next week, through what will likely be tighter supply," Mr Thomas said.
In other sales this week, yardings at Dalby (Qld) declined 27pc this week to 4252 head, with most descriptions dearer. C4 bullocks trended 12¢ dearer, regaining last week's losses and averaging 239¢, and heavy D4 cows improved 6¢, averaging 208¢/kg.
Numbers at Casino (NSW) eased 6pc, to 1980 head. Light vealers to restocker buyers gained 5-14¢, while heavy D4 cows averaged 192¢, up 3¢/kg week-on-week.
Warrnambool (Vic) yarded 1227 head, back 16pc week-on-week. Heavy D2 yearling heifers to feeder buyers eased 6¢, averaging 208¢/kg. Heavy C3 grown steers improved 4¢, averaging 247¢, while light C3 grown heifers were firm, making 233¢/kg, while heavy D1 dairy cows improved 3¢, averaging 172¢/kg.
Also underpinning the immediate outlook is this week's stronger-than-expected three-month rainfall outlook issued by the Bureau of Meteorology.
No EYCI figure will be generated today due to the absence of reportable sales. The next EYCI figure will be posted after Monday's sales.