The national cattle industry benchmark, the Eastern Young Cattle Indicator pushed beyond 900c/kg for the first time yesterday.
Driven by large yardings of EYCI-eligible cattle and very strong markets at Roma store sale on Tuesday and yesterday's weekly Dalby sale, the national indicator finished at a new record high of 901.71c/kg (dressed weight equivalent) yesterday afternoon.
Other big contributions to the indicator's movement this week have come from Tuesday's Wagga sale, where the local index rose beyond 947c, and Casino, where the index contribution hit an unheard-of 1029c/kg – albeit on only 516 head of eligible cattle.
The new EYCI record high exceeds the 896c/kg achieved on 29 March, which was set on the back of a rain-induced fall in supply.
NLRS has issued a series of warnings since late March suggesting heightened volatility was likely in the indicator's movement, as rainfall and the Easter holidays triggered lower yardings.
No such variability impact could be claimed for the past seven days, however, with EYCI-eligible cattle sold across eastern Australia over the past week hitting more than 15,000 head – almost three times as high as the slow Easter weeks. Excluding Easter and Christmas periods, the EYCI yarding for the week ending 29 March was the lowest since July 2018, with just 5500 EYCI eligible cattle yarded.
To put today's new record milestone into context, Beef Central only wrote about the EYCI cracking the 800c/kg mark for the first time in this article, published in October.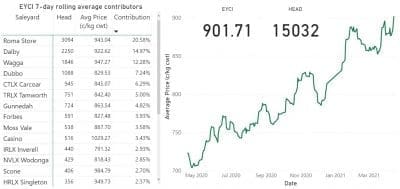 If anything, results this week in the EYCI's movement and cattle numbers offered were contrary to the laws of supply and demand.
NLRS analyst Stuart Bull said the remarkable thing about the rise to a new record high EYCI figure yesterday was that it was on the back of a dramatic uplift in the number of eligible cattle offered.
"There were 10,000 head more steers and heifers sold through eligible yards this past week, than there was the week before," he said.
"What that tells us is that supply and demand are not acting in their normal way at the moment – given the effects of rainfall and the Easter break. Typically, a big jump in numbers would put downwards pressure on prices."
"That suggests that the demand story is still very strong for young cattle. But equally there may be some distortions happening in demand (and price), because access to numbers was so low for the previous couple of weeks."
However there are some doubts that the current indicator level can be sustained, as the current figure may carry some 'lag factor', in pent-up demand from buyers after two very slow trading weeks, Beef Central was told.
Restockers continue to hold the whip hand in the market at present for lighter types, however lotfeeders are mounting stronger competitive pressure, especially for heavy weights. For the past seven days, feeders took just over 8000 head or 54pc of EYCI eligible saleyard cattle, while restockers took 5600, or 37pc.
Another factor helping drive the EYCI higher this year is the higher ratio of steers being sold, relative to heifers. This past week, for example, steers represented 60pc of EYCI-eligible cattle, with heifers 40pc.  The yearling steer portion this week averaged more than 46c/kg more than the yearling heifers, with vealer steers averaging 68c/kg higher than vealer heifers.
This time last year, the steer/heifer ratio was closer to 50/50.
NLIS agreed that as a result, the greater proportion of steers currently being sold is driving the EYCI relatively higher than it would otherwise be.
What is the EYCI?
The Eastern Young Cattle Indicator (EYCI) is the general benchmark of Australian cattle prices. The indicator is a seven-day rolling average produced daily by MLA's National Livestock Reporting Service. The EYCI includes vealer and yearling heifers and steers, grade score C2 or C3, 200kg+ liveweight from saleyards in NSW, QLD and VIC. The results include cattle purchased for slaughter, restocking or lotfeeding and are expressed in c/kg dressed weight.