STRONG demand continued across most categories on AuctionsPlus last week, as soring restocking and backgrounding momentum continues to gather pace.
Cows and calves were a highlight, averaging almost $2500, while young cattle demand was also strong.
Young cattle highlights this week included lighter backgrounder type steers, where a line of 91 weaned Angus steers 5-6 months old at 208kg from Merriwa, NSW made 531c/kg or $1105.
Their older unweaned half-siblings 9-11 months from the same vendor 287kg and 246kg, made $1275 and $1010 respectively.
Heavier Santa steers from Bundarra, NSW made 418c/kg or $1646. These 13 to 14 month olds by Yugilibar and Hardigreen bulls will be delivered at 394kg.
Further north, a large line of 160 Droughtmaster and Droughtmaster cross steers, 236kg at 6-10 months from Jericho, QLD (pictured below) made 458c/kg or $1080. Another mob of 144 of their older brothers from the same vendor, 289kg at 9-13 months, made $1235, while a heifer cohort, 114 in number, 8-13 months averaging 263kg, made $1065.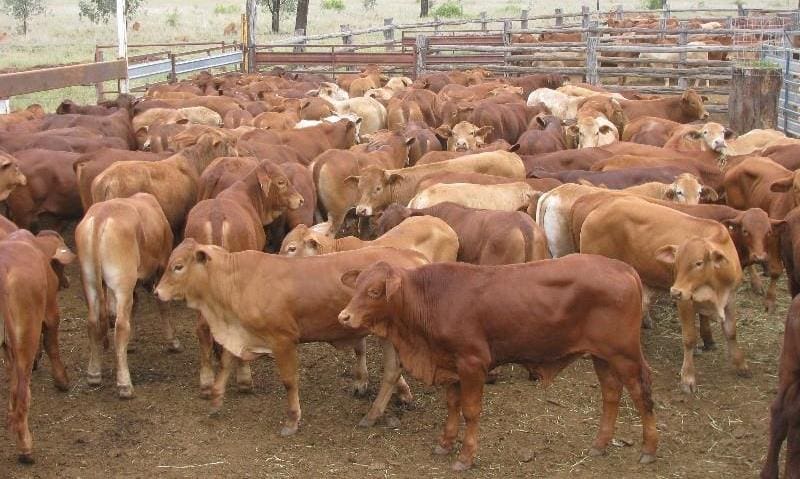 Lighter Angus heifers 221kg by Figtree and Coolamargh bulls from Glencoe, NSW sold for 430c/kg or $950 a head.
A tidy line of Angus heifers from Coonabarabran, NSW, weighing 358kg made 411c/kg or $1469 a head. Their heavier 361kg sisters also sold well making 406c/kg or $1466. In Queensland, Hereford heifers from Tambo made 428c/kg or $853 a head.
In a breakdown of young cattle sold, by weight range:
Steers weighing less than 250kg sold from 421c to 531c, averaging 467c/kg live; while heifers in the same weightrange sold from 397c to 430c, averaging of 416c.
Steers 250-300kg sold from 300c to 486c, averaging 428c; while heifers sold from 377c to 458c, averaging 412c
Steers 300-350kg sold from 351c to 423c, averaging 398c, while heifers sold from 317c to 421c, averaging 393c
Steers 350kg+ sold from 348c to 418c, averaging 393c, while heifers in the heaviest weight range sold from 298c to 411c to average 371c.
Breeding cattle highlights
PTIC females this week were in high demand from restockers, evident in the continuing strong prices. Majority of numbers were made up by young breeders and prices averaged $1578.
The top priced line of PTIC females made $2140, which were Kansas blood Angus females from Couradda, NSW. These three year olds, pictured below, were PTIC to Angus cross Black Simmental bulls, to calve in the autumn.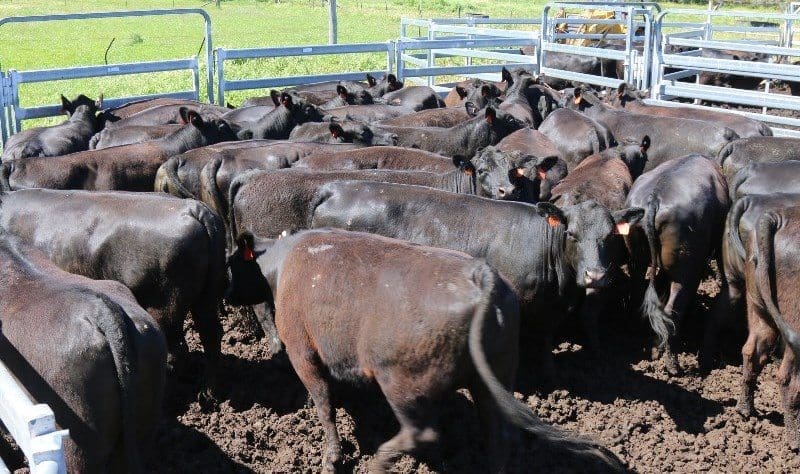 Cow and calf units were in high supply again this week, with all lots averaging an outstanding $2496 – a further lift on last week.
Younger cows sold from $2120 to $3200 to average $2589. The top priced line were Raff blood Angus first-calvers with Wagyu calves at foot averaging 171kg from Condamine, QLD.
Tasmanian sale
The Tasmanian cattle sale this week saw 251 head offered, sparking buyers into action. There was a nice line of Landfall-blood Angus steers from Avoca, offered on a forward contract basis for a January delivery which fetched 365c/kg or $1478.
A tidy line of unjoined Angus heifers 335kg from Pipers River, TAS sold for 409c/kg or $1371.
This week AuctionsPlus interfaced for the first time the Rockhampton Brahman Week Sale from CQLX Gracemere, where 823 bulls were sold for a whopping average of $11,750. Over the three days of selling, AuctionsPlus attracted 3793 guests logged-on to watch the livestream (Beef Central was one of them) and 6162 catalogue downloads.
If Beef Central had a criticism, it was the quality of the audio and difficulty in seeing bulls in the ring due to poor light conditions. Red bulls were especially hard to see – especially in the afternoon sessions, as the natural lighting conditions in the enclosed Gracemere stadium changed. A couple of floodlights next year might help correct that. Audio also lacked clarity, as amps and speakers appeared to be pushed well beyond their limits and were distorting badly.
Click here to access full summary of Friday's AuctionsPLus sale.
Coming up on AuctionsPlus:
The current unbelievable market strength for Wagyu infused feeder and breeder cattle will be put to the test next week when 230 Wagyu or Wagyu infused steers, heifers and PTIC cows are offered as part of the third Wagyu Premium Sale on AuctionsPlus. The sale takes place from 1pm (Sydney time, Noon Qld), Wednesday 12 October.
Four embryo lots are also included in the 18 lots involved – mostly smaller lines including individual bulls and some feeder steers.
However there's also three or four larger lines to watch:
49 PTIC Angus and Angus composite heifers mated to Fullblood Wagyu bulls out of Walcha, NSW
154 Angus and Angus composite cows 4-7 years, mated to Fullblood Wagyu bulls, offered in three lots each around 50 head. These are offered by Whyalla Beef Pty Ltd, part of the NH Foods/Whyalla feedlot network. Beef Central understands the sale of these mated females represents a significant wind-back, or exit, out of F1 breeding by Whyalla, which also feeds large lines of bought Wagyu infused cattle at the feedlot, in favour of a Fullblood Wagyu breeding program.
Elders Walcha has the Whyalla listing. Click here to access details.
Source: AuctionsPlus