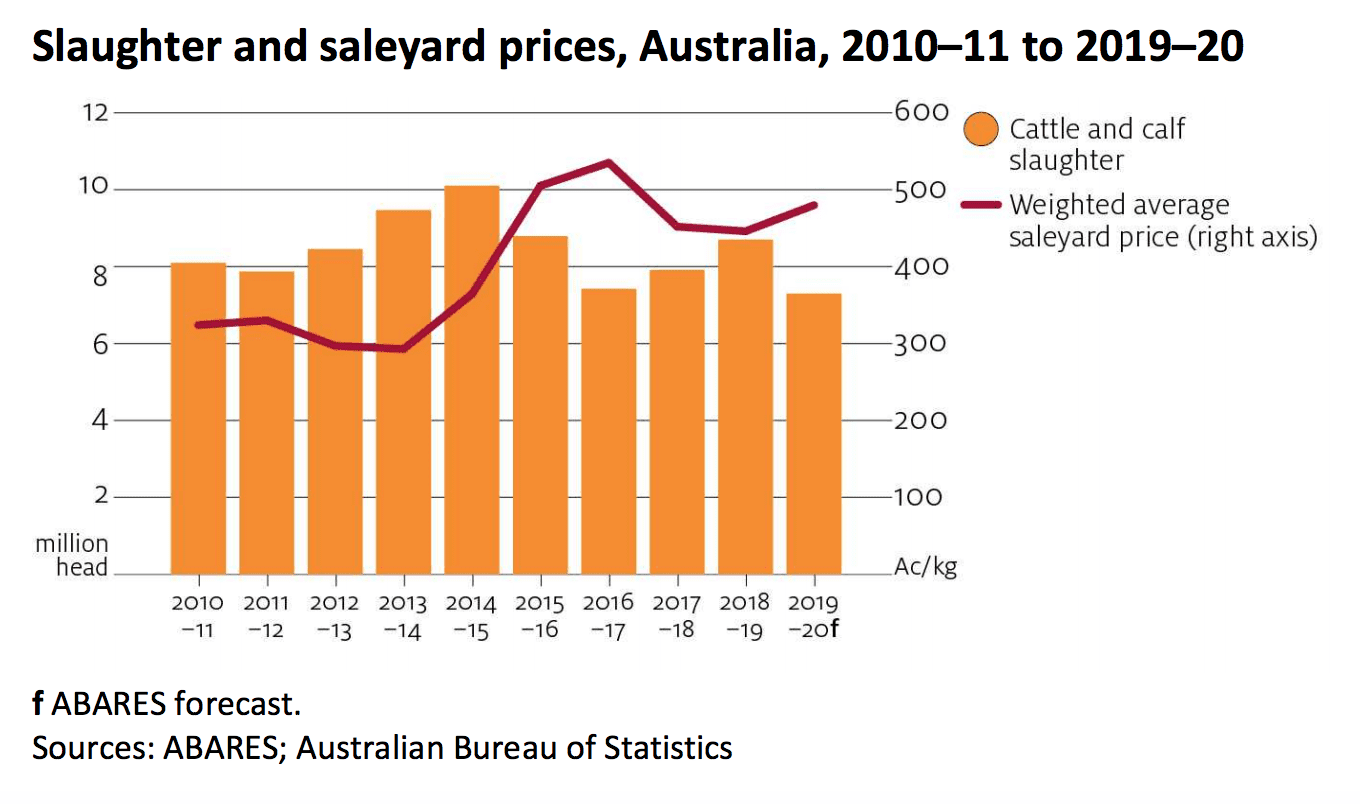 ABARES has upgraded its forecast for average saleyard cattle prices in 2019-2020 by 20c/kg, based on its expectations of strengthening demand for beef versus tightening supplies of cattle.
In its latest quarterly outlook released today, ABARES forecasts a weighted average saleyard price of 480c/kg in 2019-20, up from the 460c/kg average it forecast for the same period three months ago.
The upward revision assumes a return to average seasonal conditions over the northern wet season, which many producers across the north will be desperate to see, but which is not strongly supported for the NT or Qld by the latest Bureau of Meteorology rainfall outlook, but more promising for WA (see maps)
Should average seasonal conditions return during the forthcoming northern wet season, ABARES says the impact of producers commencing herd rebuilding will lead to lower slaughter rates, lower supply of cattle in saleyards and lower exports of beef.
The percentage of adult slaughter originating from feedlots is forecast to grow, with expectations of an improved winter crop leading to lower feed grain prices.
Global demand for beef is also tipped to be stronger based on one particular factor above all: the expected rise in Chinese demand for beef as a result of the ongoing outbreak of African Swine Fever and its impact on the overall meat protein supply in China.
"This will substantially reduce the supply of meat in China, and imports of all proteins are expected to increase as a result," the ABARES forecast says.
"In the six months to June 2019, China became Australia's second-largest market for beef exports in value and volume terms, overtaking traditional markets such as the Republic of Korea and the United States."
ABARES's view is that the outbreak is likely to be a temporary shock that will eventually be contained and result in demand growth returning to past levels.
"When this happens, Australia is likely to have ceded market share in traditional markets—including Japan and Korea—to competitors such as the United States."
Between March and June 2019, the proportion of female slaughter was 58pc—the highest on record.
The impact of this high rate of female turn-off on the size of the breeding herd will slow the rate herd rebuilding and limit beef production in coming years, ABARES says.
In the event of seasonal conditions not returning to average, and poor or later than expected rainfall resulting, the delay in delay pasture growth would lead to a continuation of increased turn-off of cattle and delay herd rebuilding.
This would increase the reliance of producers on purchasing cattle rather than breeding, and result in sharper increases in prices of young cattle when pasture growth improves.
US–Japan trade agreement nearing completion
ABARES has also drawn attention to the recent agreement in principle between the United States and Japan to a trade agreement in August 2019, with both expected to sign the agreement in September.
Under the new deal Japan is expected to reduce tariff rates on imports of US beef to a similar level as those Australia accesses under the Comprehensive and Progressive Agreement for Trans-Pacific Partnership (TPP-11) agreement.
"This is a downside risk to beef export forecasts because Australia currently has a significant tariff advantage over the United States in Japan. In 2019 Australian beef exports to Japan face a tariff rate of 26.6pc under the TPP-11 compared with 38.5pc for US exports without a trade deal.
"The deal would put downward pressure on finished cattle prices in Australia because Japan is Australia's largest beef export market."