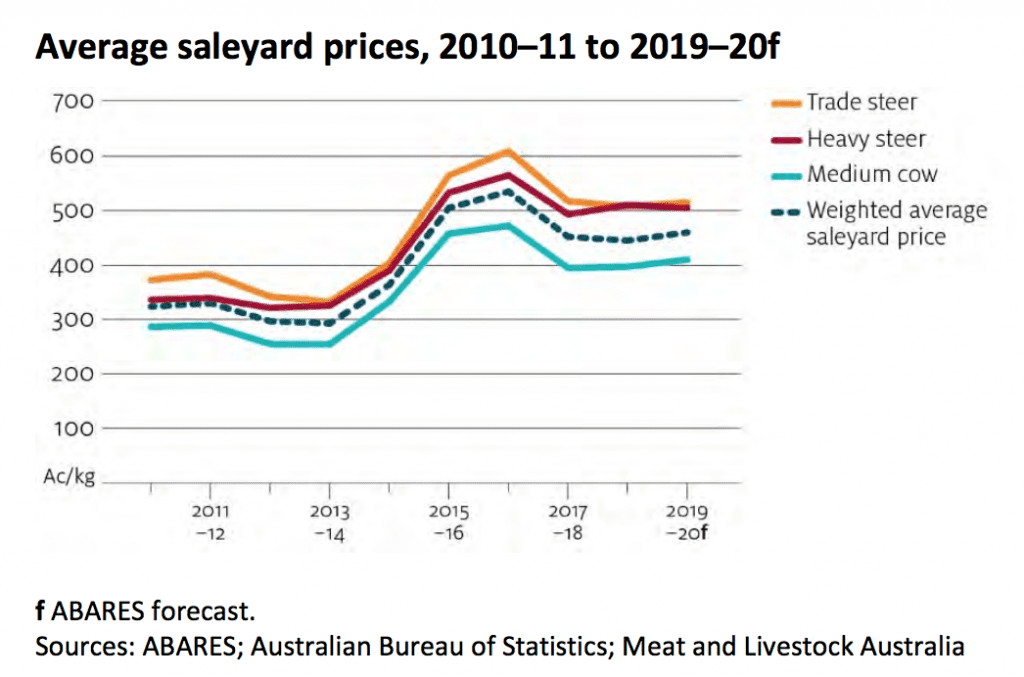 AUSTRALIAN cattle prices are tipped to rise by three percent next financial year, Government commodity analyst ABARES predicts in its June 2019 Agricultural commodities report released today.
The forecast is driven by an assumption of a return to average seasonal conditions triggering a widespread return to herd rebuilding and producers holding back females for breeding.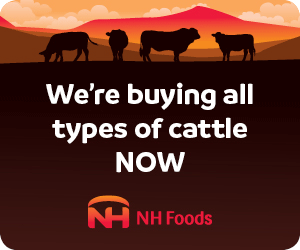 A reduced female supply in that scenario coupled with increasing demand for frozen beef exports would push weighted average saleyard cattle prices to an average of 460c/kg (dressed weight) in 2019-2020, up from 445c/kg in 2018-2019, ABARES suggests.
The unpalatable scenario of continuing dry conditions would result in above average levels of female slaughter being maintained. Global demand growth for lower-priced frozen beef is forecast to support prices for cows, which  would give producers an incentive to maintain a high rate of slaughter and await the return of rain before trading or agisting cattle.
"If seasonal conditions do not improve, herd rebuilding will be delayed," the ABARES outlook ventures. "This would increase the reliance of producers on purchasing cattle rather than breeding and result in sharper increases in prices of young cattle when rain returns."
Assuming a return to better seasonal conditions does occur, key messages from ABARES' June 2019 beef forecast include:
Female kill to reverse: Saleyard prices in 2018-19 were pulled down closer to the medium cow price due to a near record proportion of female cattle in total slaughter numbers. In 2019–20 this trend is expected to reverse because female slaughter is forecast to fall by more than male slaughter.
Slaughter, production and exports to fall: 2018-19 was defined by drought-elevated turnoff, with the number of cattle slaughtered in the three months to March 2019 climbing to the fourth highest level in 30 years – despite the opening herd being among the lowest over that period. Improved seasons and a return to herd rebuilding in 2019-2020 would reduce overall production, but the impact would also be partially offset by higher slaughter weights.
Continued high numbers on feed: The number of cattle on feed is also expected to remain high, reflecting falling feed costs and high export unit values for beef resulting from strong global demand and an assumed lower Australian dollar.
Lower exports to US, Japan: The value of Australian beef exports is forecast to fall due to lower production. This will reduce the volume available for export. Australia's fresh beef exports to Japan and the United States are expected to account for the largest fall in export volume. Increased production in the United States is expected to reduce US demand for beef imports and lead to increased competition in Japan.
Higher exports to China: Exports of frozen beef to China are expected to rise due to rising incomes and lower domestic pork production following the outbreak of African swine fever.
Cow prices to rise slightly: Prices for cows are expected to rise slightly as producers reduce supply at saleyards and Chinese demand for frozen beef exports rises. These factors are expected to more than offset lower demand for manufacturing beef from the United States.
Heavy steers to hold firm: Prices for finished steers are expected to remain relatively unchanged in 2019–20. Increased competition from the United States in chilled beef export markets is expected to be largely offset by increased competitiveness from a lower Australian dollar.
US—Japan trade negotiations underway: ABARES also notes that Japan and the United States began negotiating a trade agreement in April 2019.
Tariff reductions on agricultural exports such as beef to Japan are expected to be a priority for the United States, which poses  a risk to the competitiveness of Australia's beef exports.
Australia currently has significant tariff advantages through both the Japan– Australia Economic Partnership Agreement and the Comprehensive and Progressive Agreement for Trans-Pacific Partnership (TPP-11).
In February 2019 Japan granted the European Union similar beef import tariff reductions to those of the TPP-11 in the EU–Japan Economic Partnership Agreement.
If Japan grants similar rates to the United States, this would be expected to displace some Australian chilled beef exports.
It would also put downward pressure on finished cattle prices in Australia because Japan is Australia's largest beef export market.
African Swine Fever impact uncertain: Since the first official report in August 2018, African swine fever has spread to every province in China.
This is expected to have a significant impact on global protein markets because China is estimated to hold over half of the global pig herd. Production losses in China are estimated by industry at between 10pc and 35pc and herd losses at between 20pc and 30pc.
Global pork markets were largely unaffected until 2019, when China rapidly increased imports of pork and other proteins.
In the 3 months to March 2019, EU exports of frozen pork to China rose by 32pc year on-year and US exports of all pork cuts to China exceeded their total 2018 volume.
Australian beef exports have also benefited from increased demand. In the 3 months to March 2019, Australian exports of beef to China rose by 76pc year-on-year.
Relatively lower-priced frozen cuts of beef account for most of this rise.
"The extent to which Chinese demand for imported pork rises will depend on the total loss of domestic pork supply, the ability of China's poultry, beef and seafood industries to respond promptly to increased demand, and Chinese consumer willingness to substitute alternative proteins," ABARES notes.
"This therefore represents a risk to the global demand forecast and to prices received by producers supplying frozen beef cuts for export."
Source: ABARES