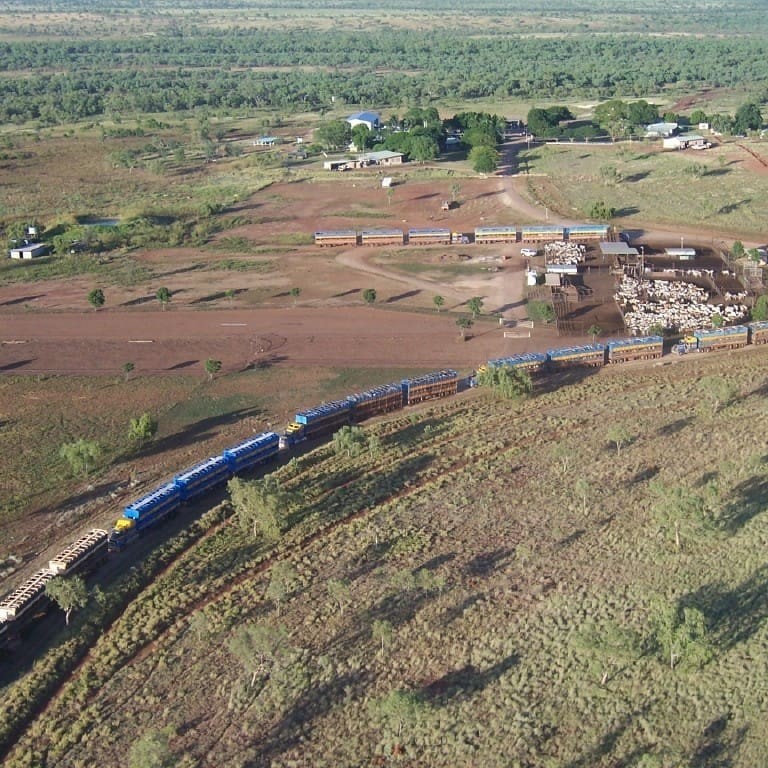 Enigmatic South Australian cattle and sheep producer Tom Brinkworth has completed one of the biggest single store cattle transactions seen in recent times, purchasing at least 14,000 surplus heifers, and possibly considerably more, from the Australian Agricultural Company.
While bigger store cattle deals are sometimes transacted into live export and slaughter, and as stock purchased as part of property acquisitions, it is the biggest producer-to-producer cattle deal seen in Australia for at least two to three years.
The contact is 'open-ended,' giving AA Co the option to add more numbers under the same specification if it chooses to do so. One source said the eventual number could easily top 16,000 head, and might go as high as 18,000.
The sale involves AA Co unmated heifers drawn from both the company's softer Barkly composite, and higher-Indicus content Gulf composite breeding programs. The Barkly composite's component parts are Senepol, Charolais and Santa genetics, while the Gulf composites carry Senepol, Charolais and Brahman (50pc).
The No 2 first-round muster heifers range in age from 12-15 months, weighing 250-300kg, and averaging around 275kg. They were culled by AA Co on weight-for-age and type.
Importantly, the sale does not represent any drought-forced liquidation of future breeders by AA Co, but is simply surplus and cull heifers not needed as this year's breeder replacements.
Another consideration is that as AA Co's fertility-packed composite breeding program continues to gain momentum, the company is now producing proportionally more surplus heifers each year than it otherwise would under previous genetic management.
No price has been disclosed, but it is understood it is 'considerably better' than the current Darwin live export price for heifers like these. Currently crossbred heifers of this weight are making 150c/kg, with higher Indicus types 140c, delivered Darwin.
Significantly, in the past five years all these heifers would have found their way onto live export vessels bound for Indonesia, either as feeders, or as breeding stock. In earlier times, they would have made around 180c/kg, delivered Darwin.
From Tom Brinkworth' perspective, while he has paid what appears to be a premium over current rates for an extreme large line of high-quality, fertile, genetically superior heifers, he appears to be looking to future prospects for the cattle, given a return to more normal seasonal cycles and pricing levels.
It is understood the Brinkworths will mate the heifers to Angus herd bulls to producer feeder cattle targeted at higher-performance marbling-oriented grainfed, or premium MSA progams.
Half of the heifers have already been delivered from their AA Co Barkly Tableland breeding property locations, with the balance to be consigned over the next couple of weeks.
The deal is for delivery Longreach, meaning the heifers could end up either back on Brinkworth's South Australian holdings, or pushed back onto his NSW properties which have recently received beneficial rain. Sources suggest the heifers may be walked south the 1600km to their final destination, from the changeover point at Longreach.
From their base at Watervalley near Kingston in SA, Tom Brinkworth and family operate a huge grazing operation stretching across more than 10,000sq km on properties in South Australia and NSW. The business includes about 80,000 cattle and 350,000 sheep.
The Brinkworths last year paid around $28 million for the 80,000ha Uardry aggregation around Hay in NSW, controversially selling off the history-laden Uardry stud flock within months of purchase. Cattle are now filling some of the paddocks that held Uardry stud and flock ewes for much of the previous century.
Beef Central has done a few sums on the back on an envelope, and has come up with the following plausible price indicator, based on conservative estimates. Given the bottom end of the contract scale (14,000 head), an average weight of 275kg, and a possible purchase price of 165c/kg liveweight, the deal has cost the Brinkworth family more than $6.3 million.
Should the decision be take to transport the cattle south by road, rather than using the stock-route, the Longreach/Hay run is around 1600km. Even at a 'discounted for bulk' freight rate of $1.55/deck/km, the trip would add at least another $1 million to the Brinkworth's landed price, once spelling and feeding costs were taken into account. That freight cost would rise further if the heifers are heading back into SA.
To put the uplift into some perspective, given a loading density of 34 to the deck, the shift from Brunette Downs and Anthony's Lagoon to Longreach will require well over 400 decks, even at the lower end of the contract range at 14,000 head. That will require more than 100 road-train movements.
While AA Co has done bigger deals in the past, the transaction still rates as one of the bigger single cattle deals negotiated by the company. To put it into some context, however, the agreement represents less than 5pc of AA Co's normal yearly cattle sales turnover.
AA Co declined to comment for this article.