THE AuctionsPlus national online livestock trading platform continues to surge to new highs as a preferred marketing tool among buyers and vendors, hitting a new record turnover for the 2016-17 financial year of 436,578 head.
Volumes traded in all states were up, delivering a 22 percent increase in numbers transacted (+77,000 head) compared with the previous record of 358,897 head set a year earlier.
Clearance rates on all cattle offered for the year were 84pc (includes sales negotiated post-auction).  The security of the reserve price, with the cattle on offer still at home in their paddock, allowed vendors to meet the market when required, while still having the option to hold-on to stock when necessary.
New South Wales accounted for the largest share of cattle traded last year, supplying almost 197,000 head, up 19pc on the previous year. Queensland was second with 153,000-plus cattle, up 12pc year-on-year.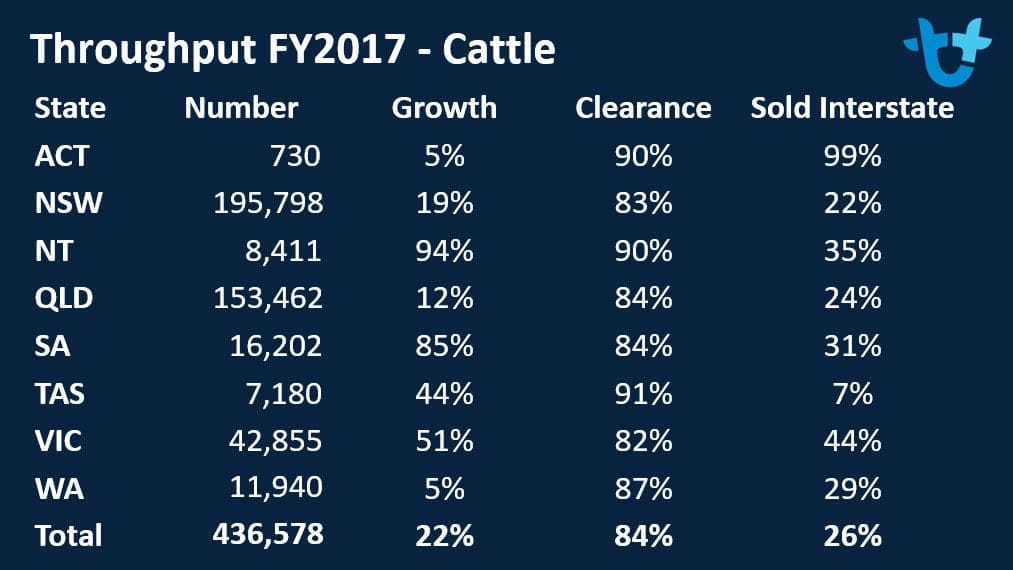 Perhaps even more impressive were the levels of engagement among new AuctionsPlus buyers and vendors during the financial year ended June 30.
All states bar Western Australia showed solid double-digit and even triple digit growth in new buyers and vendors, with standouts being South Australia (+140pc for new vendors, and +98pc for buyers); Victoria (+40pc for new vendors and 106pc for buyers); and Tasmania (+40pc for buyers, +106pc for vendors).
AuctionsPlus management told Beef Central it had averaged 200-300 new registered buyers per month for most of the past year.
New buyers and vendors have come from a variety of sources, with a bunch of new assessors and agents taking part for the first time, and growth seen in feedlot buyers seeking feeder cattle in a tight feeder market during 2016-17. Dedicated feeder cattle sales have perhaps contributed to that process.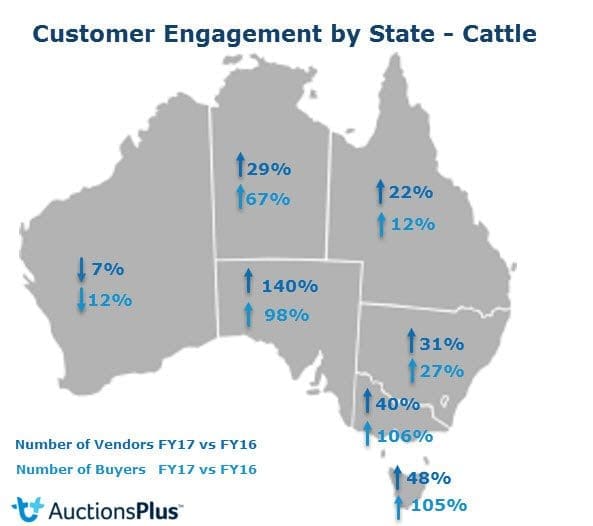 Undoubtedly, dry conditions has played a part in the high level of transactions seen over the past 12 months, but worth remembering is that the trading period represented in the report pre-dated the worst of the seasonal decline seen over the past three months.
Nevertheless, more vendors are now obviously seeing AuctionsPlus as a legitimate marketing platform when conditions are drying off, rather than simply using the local saleyard.
It suggests that AuctionsPlus has now shrugged off its perhaps undeserved earlier reputation for being a good platform to use on a rising market, but less-so on a declining market.
Buyer 'footprint' attracts strong interstate support
The recent trends in throughput, and AuctionsPlus's ability to extend the buyer footprint considerably further than any typical set of saleyards, is clearly reflected in the financial year statistics for sales to interstate buyers.
No less than 26pc of cattle transacted on AuctionsPlus last financial year went to interstate buyers. Those percentages ranged quite widely, with Victoria (logically, with state borders to the north and west) offloading 44pc of its AuctionsPlus offering interstate, while Tasmania accounted for just 7pc. Even Western Australia shipped 29pc of its online sale cattle interstate, including some slaughter stock to processors, plus breeders and backgrounders.
A classic example, as reported in Beef Central's weekly AuctionsPlus sale report this morning, was a  line of 228 Shorthorn cross weaner heifers out of Balfour Downs near Badgingarra in WA's midlands, which found an online buyer last week near Albury on the NSW/VIC border.
Perhaps the biggest single contributor to growth in numbers this past year has been the large lines of northern live-export type cattle offered out of the NT, northern WA and northwest Queensland regions, which previously relied almost exclusively on direct consignment paddock sales. See earlier article on Beef Central.
In other results from AuctionsPlus's 2016-17 trading year, PTIC heifers were the biggest growth category, increasing 61pc in number year-on-year, with plenty of producers choosing to value-add this article by joining rather than backgrounding.
Steer numbers last year increased by 24,000 or 18pc, with numbers peaking in July. Numbers were also high during peak weaner season in autumn.
Sheep numbers also surged dramatically in AuctionsPlus online trading last year, reaching 2.75 million head, up 24pc on the previous 1015-16 year (see Sheep Central report for details).