THERE was a sharp 50 percent rise in listing numbers offered on AuctionsPlus this week, aided by turnoff momentum due to dry conditions, and several large lines out of northern Australia.
Listings rose to 10,370 head, up just shy of 3500 head from last week. Almost 2000 of those came from large mobs offered from Broome and Badgingarra, WA.
Auction clearances remained steady at a relatively low 50pc, with the market flooded by cattle producers offloading stock due to very dry conditions, and restocking being put on the back-burner.
As can be seen in the steer and heifer graphs below, most young cattle weight categories continued their trend downwards in price.
Despite the downturn in the market, cow and calf prices were up this week, averaging $1873 and reaching a top of $2300 for line of Bongongo blood Angus first-calvers with Wagyu calves at foot from Redhill, Adjungbilly, NSW. Joined females made similar money to last week, averaging $1474, selling to a top of $1650 for two lots of Wattletop blood Angus heifers, PTIC to Wagyu bulls from Glenall, Rocky Creek, NSW.
WA was getting it done on the box this week offering 2211 head across eight lots, for an 88pc clearance.
Three lots of mixed sex yearlings offered on Monday out of Pemberton (149 head averaging 500kg) and Boyup Brook (100 head averaging 506kg) got snapped-up, for 485-490c/kg. Further north, 228 Shorthorn cross weaned heifers off Balfour Downs near Badgingarra in WA's midlands averaging 237kg sold for $305. They will be saddling up and heading east to the Murray River country at Albury, NSW. In the state's far-north, three lines of young Brahman cross bulls were sold out of Broome (Eastern Guruma Pastoral Co), totalling 1540 head. Among them was a run of 731 Brahman cross feeder bulls, 12-36 months, 296kg, making $904 or 305c/kg, sold into the boat trade.
In a breakdown of young cattle sold, by weight range: Breakdown
Steers less than 250kg sold from 278c to 353c/kg to average 330c (down 15c); while heifers sold from 129-298c to average 228c (down 89c)
Steers 250-300kg sold from 285-341c to average 321c (up 2c) ; while heifers sold from 240-289c to average 271c (down 27c)
Steers 300-350kg sold from 249-334c to average 290c (down 12c) ; while heifers sold from 219-290c to average 262c (down 25c)
Steers 350kg + sold from 263-287c to average 277c (down 40c) ; while heifers sold from 250-313c to average 290c (up 22c).
Steer highlights:
Charolais x Santa Gertrudis steers 6-10 mths 239kg from COOYAR, QLD sold for 353c/$842
Santa x Santa/Hereford steers 6-10 mths 239kg from COOYAR, QLD sold for 350c/$838
Angus x Angus/Santas steers 10-14 mths 313kg from MOONIE, QLD sold for 334c/$1045
Angus steers 12-13 mths 298kg from DUNEDOO, NSW sold for 341c/$1015
Angus steers 11-12 mths 391kg from QUIRINDI, NSW sold for 276c/$1079
Poll Hereford/Angus steers 11-12 mths 375kg from QUIRINDI, NSW sold for 273c/$1021
Heifer Highlights:
Hereford heifers 6-10 mths 220kg from BLACKALL, QLD sold for 298c/$655
Angus/Angus heifers 12-14 mths 252kg from GOONDIWINDI, QLD sold for 289c/$730
Composite heifers 13-14 mths 308kg from MOURA, QLD sold for 272c/$839
Angus x Angus/Santa heifers 10-14 mths 332kg from MOONIE, QLD sold for 252c/$835
Angus heifers 12-14 mths 355kg from FORBES, NSW sold for 313c/$1110
Angus heifers 12-14 mths 354kg from FORBES, NSW sold for 308c/$1090
Angus heifers 18-19 mths 392kg from BLAYNEY, NSW sold for 284c/$1110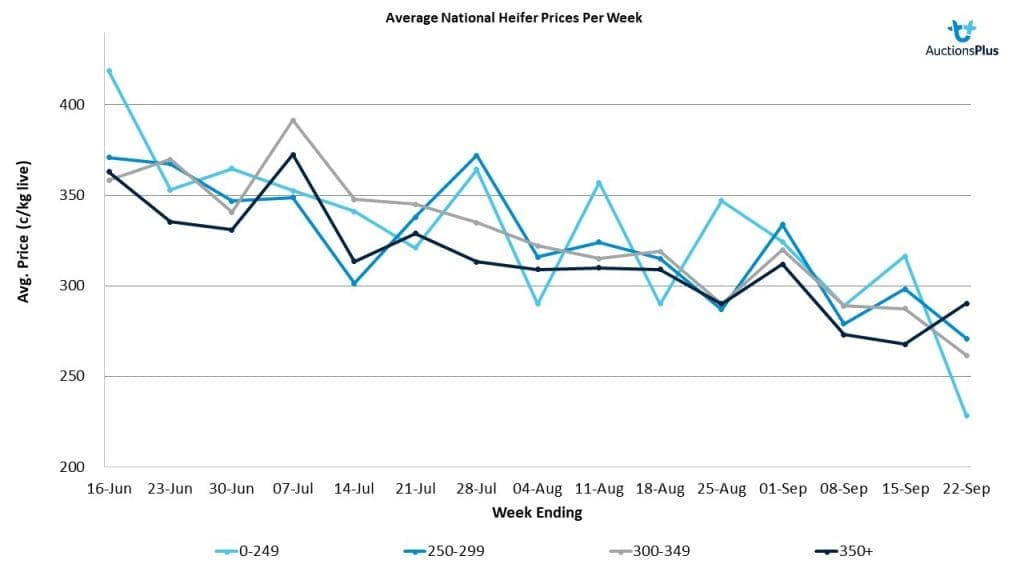 Source: AuctionsPlus