FULLY capturing the sentiment evident in the physical cattle market across Eastern Australia at present, AuctionsPlus logged another outstanding sale result on Friday, with records again broken in several categories.
Friday's combined northern and southern sales attracted 6188 head, producing an 85 percent clearance at auction with 333 registered buyers accessing the sales.
There was strong bidding activity from backgrounders, breeders, lotfeeders and processors, all trying to fill orders. The online sales platform's ability to provide a large geographic buying footprint was again in clear evidence, with numerous interstate transactions, including a run of heifers heading out of eastern states to buyers in Western Australia.
With steer prices relatively stable, it was among the light backgrounders and feeders on offer where the significant upward price movement was seen. Females also performed strongly, with proven and future breeders achieving some outstanding prices.
A line of 340 Hazeldean Angus weaner heifers, mostly 10-11 months of age, drafted into eight weight lines sold from $890 to $1205 for the tops weighing 345kg, averaging $1028 or 357c. All except the lightest pen were purchased by a breeder in WA.
The lightest of the eight mobs on offer, weighing 229kg liveweight, sold for an AuctionsPlus weaner heifer record price of 389c/kg to return $891 a head. A pen of heavier half-sibs averaging 345c/kg made 349c/kg to return $1208.
PTIC first-calvers made $700 to a top of $1420 for a line of black baldy heifers in the ACT, and the top cow price was from the same property with the four-year-old draft in calf to Angus bulls selling for $1700.
Other young cows made $900 to $1660, for an average of $1328. Young cows with calves made $1130 to $1580, averaging $1356, with the top price paid for three to five-year-old Angus cows with Angus calves at Bingara. A small line of 2-11 year old Charolais cows with calves in southern Queensland sold for $1535.
Records broken for F1 Wagyu backgrounders
As foreshadowed in a brief preview story on Beef Central on Friday, another offering of Wagyu x Angus F1 weaners sold for unprecedented rates on Friday.
A line of 223kg Wagyu x Angus F1 weaner steers (pictured below) from Goulburn, sired by Kuro Kin bulls, made 570c/kg liveweight or $1270, while their 211kg heifer siblings made 526c or $1110. Both lines went to a backgrounder in western Victoria.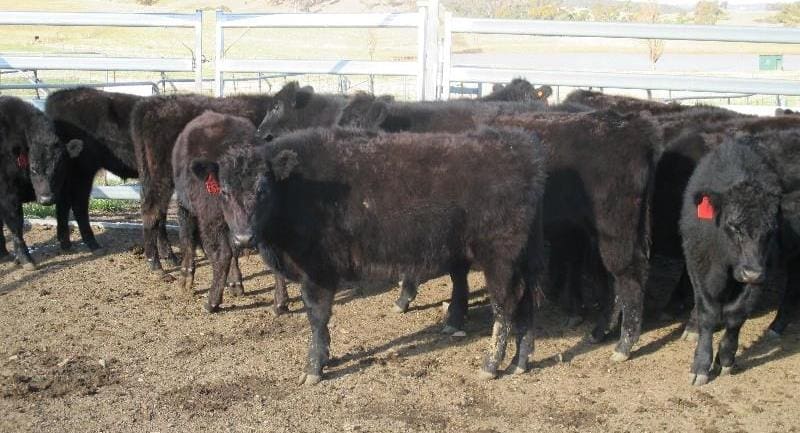 That result surpasses the previous c/kg record on AuctionsPlus set only a week earlier at 557c/kg, also for Wagyu x weaners.  There is a distinct trend emerging on AuctionsPlus for listings among specialised Wagyu cross feeder cattle, both steers and heifers, in order to maximise buying competition.
Other light steers of conventional breeds offered on Friday's sale saw steers under 250kg make 304-321c, averaging 314c, up 1c, and heifers in the same weight category make 258-389c (averaging 303c), up 37c.
Steers 250-300kg made 284-330c to average 310c, down 2c, and equivalent weight heifers sold from 259-348c, averaging 282c, up 7c. Steers 300-350kg were sought-after, rising by 18c to average 311c and selling from 274-337c, and heifers were up 17c to average 291c.
Crossbred heavy steers offered on Friday made 279c-280c including a large line of Droughtmaster cross steers out of Muttaburra in Central Queensland, heading to a NSW feedlot. Heifers over 350kg were highly sought after by feedlots and made 240-303c to average 278c, including 402kg Angus heifers at Inverell selling for $1220.
Click here to view full tabulated results from Friday's AuctionsPlus sales.