CATTLE numbers remained high on AuctionsPlus this week, with 11,278 head listed – about 500 less than the previous week.
Most steer and heifer descriptions were moderately higher in price, with the exception of heifers less than 250kg which eased about 20c/kg on average.
Almost 350 bidders logged in for the two Eastern States sales, exhibiting strong competition and interest in stock listed.
Joined females sold this week averaged of $1437, with the top price of $1675 for a line of Murray Grey cows out of Wellington, NSW. These Woodbourne & Waroona blood cows were PTIC to Murray Grey bulls, and will be heading to Wodonga, VIC.
A high supply of cows and calves was met by strong demand, with 73pc of lots offered finding buyers. Prices averaged $1925, with a top of $2640 for a line of Millah Murrah blood Angus cows 743kg at four years of age with Angus calves at foot. The cows from Condobolin, NSW will be going to Yea, VIC.
Heavyweight Hereford cows averaging 693kg, ranging from 4-10 years old, with 1-3 month old calves at foot out of South Australia sold to a top of $2020, moving to Millicent, SA.
Unjoined Hereford heifers weighing 412kg from Uranquinty, NSW sold for $1370 or 333c. These 12-14 month old Yavenvale blood heifers are heading north to Wagga Wagga, NSW. Further highlights among heifers include a line of Droughtmasters out of Winton, QLD which sold for $710 or 332c. These Bernborough blood heifers averaged 214kg, and are heading to Blackall, QLD.
A good selection of steers were on offer this week, with prices ranging from $695 to $1440. Top price went to a line of Angus feeder steers out of Holbrook, NSW, 16-18 months old, 473kg which found a buyer in Albury, NSW.
A line of 9-11 month old Yulgilbar and Eidsvold blood Santa Gertrudis steers 288kg out of Ironpot, QLD also sold well at $1156 or 401c,moving to Roma.
Three lots were offered out of Tasmania this week, with two clearing their reserve. The top price came out of Waterhouse to a line of 20 Angus heifers 14-15 months, 373kg, bred from Quaterways Angus bulls, heading to Edith Creek, TAS.
In a breakdown of young cattle sold this week, by weightrange:
Steers less than 250kg sold from 329c to 425c/kg to average 393c (up 5c); while heifers less than 250kg sold from 315-374c to average 337c (down 23c)
Steers 250-300kg sold from 318-401c to average 366c (up 2c); while heifers sold from 303-332c to average 320c (up 5c)
Steers 300-350kg sold from 301-368c to average 342c (up 11c); while heifers sold from 275-390c to average 316c (up 8c)
Steers 350-400kg sold from 294-345c to average 317c; while heifers sold from 270c/kg to 381c/kg to average 317c/kg (up 8c
Steer Highlights
Angus steers 10-12 months, 228kg, from HILLSTON, NSW sold for 418c/950
Angus steers 16-18 months, 456kg, from HOLBROOK, NSW sold for 316c/1440
Santa steers 9-11 months, 288kg from IRONPOT, QLD sold for 402c/1156
Droughtmaster cross steers 11-13 months, 227kg, from SPRINGSURE, QLD sold for 401c/909
Shorthorn steers 14-18 months, 399kg, from ST GEORGE, QLD sold for 303c/1205
Angus steers 5-6 months, 247kg, from SUTTON GRANGE, VIC sold for 425c/1050
Angus steers 13-15 months, 335kg, from BIGGARA, VIC sold for 345c/1155
Angus steers 13-15 months, 404kg, from BIGGARA, VIC sold for 332c/1340
Angus steers 14-15 months, 418kg, from CHATSWORTH, VIC sold for 319c/1330
Angus steers 14-15 months, 409kg, from BRIDPORT, TAS sold for 345c/1410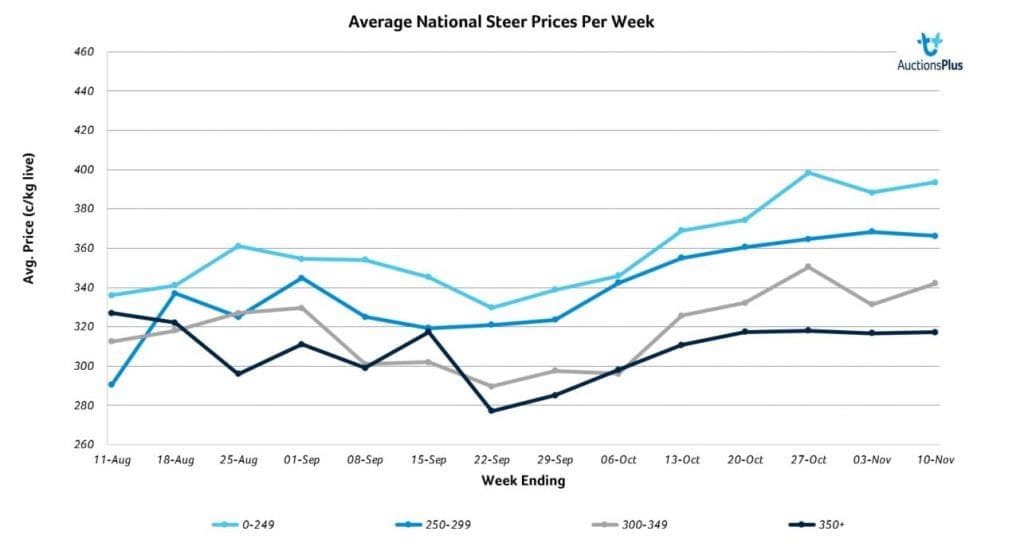 Heifer Highlights
Angus heifers 13-14 months, 359kg, from GUNNING, NSW sold for 381c/$1370
Angus heifers 12-13 months, 361kg, from FINLEY, NSW sold for 349c/$1260
Angus heifers 13-14 months, 359kg, from GUNNING, NSW sold for 381c/$1370
Angus heifers 11-14 months, 310kg, from BELL, QLD sold for 390c/1210
Droughtmaster heifers 7-15 months, 214kg, from WINTON, QLD sold for 332c/710
Angus heifers 12-15 months, 407kg, from BELL, QLD sold for 332c/1350
Angus heifers 11-14 months, 310kg, from BELL, QLD sold for 390/1210
Angus heifers 5-6 months, 231kg, from SUTTON GRANGE, VIC sold for 375c/865
Angus heifers 11-12 months, 320kg, from TATONG, VIC sold for 366c/1170
Angus heifers 12-13 months, 364kg, from TATONG, VIC sold for 351c/1275
Angus heifers 14-15 months, 354kg, from WATERHOUSE, TAS sold for 348c/1230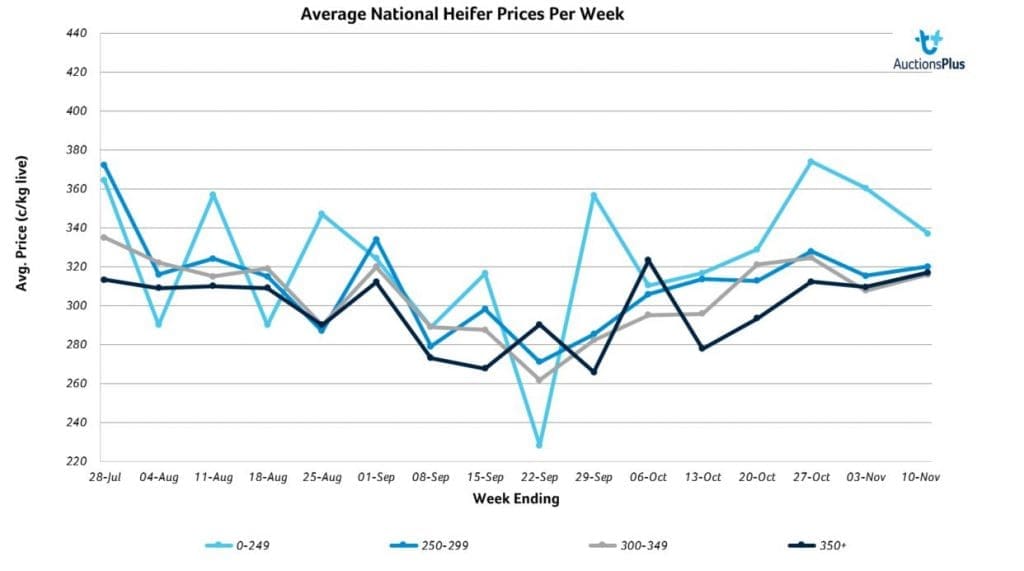 Source: AuctionsPlus