IT'S easy to imagine the city-country divide would be much less of an issue if there were more people like Thomas Green working in agriculture.
On Thursday evening the young manager of Thomas Food International's (TFI) 17,000 head Iranda feedlot at Tintinara in South Australia joined an elite Australian feedlot industry club by being named the 2017 Australian Lot Feeders' Association Young Lot Feeder of the Year.

Many leaders working in the Australian Feedlot Industry today are past winners of the ALFA award, including two of Thomas's previous bosses at former employer Teys Australia, Shane Bullock and Grant Garey.
Originally from a family seedstock operation at Wagga, Thomas studied at Charles Sturt University and worked for Teys Australia for five years before taking up a position with Paul Vogt at Iranda Beef 18 months ago.
Thomas said he has long felt concern about the lack of exposure agriculture receives in the school syllabus, particularly in younger grades. In most schools agriculture is only available to students as an elective in high school, so many children reach secondary school without receiving any exposure to agriculture.
Many people in agriculture share the same feeling, but few have been as prepared to act as Thomas has.
He came up with an idea called "Food Connect" to involve the recently expanded feedlot, by then Tintinara's largest employer, more actively in the community while at the same time making a proactive effort to educate local primary school students about agriculture.
In July Iranda Beef teamed with Natural Resources SA Murray-Darling Basin (NRM) to conduct a 10 week pilot program to expose primary school children aged five to seven to intensive agriculture, which also included other local agribusinesses Mt Boothby Pastoral Company and Hoop's Honey.
The program involved a mix of class room sessions, school visits, field trips and food tasting.
"They had a great time," Thomas said. "There was a lot of discussion about what comes in and out of the feedlot, grain coming in, meat going out.
"They blew my mind these five year olds, the questions they were asking were amazing, they were so interested and attentive."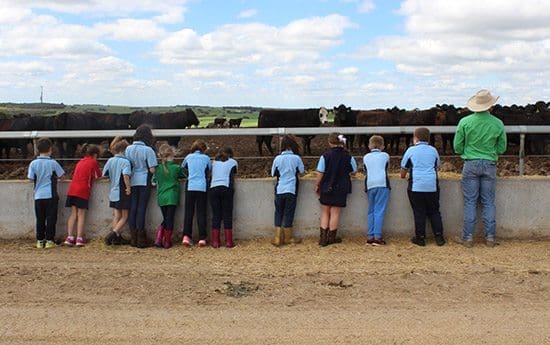 Thomas (right) introduces Tintinara Area School students to a cattle feedlot – for more pictures visit Iranda Beef's Food Connect page here
Thomas said there was a lot of emphasis on educating children about the role agriculture plays in providing the food they consume.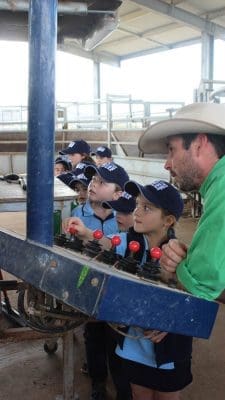 Iranda Beef is adding more resources from the Food Connect program that other farmers are welcome to use to educate children in their towns and regions.
"Any parent can get on there and have a look at what we have done it is a low cost thing, you could do it for a couple of kilos of sausages," he said.
"We have already had urban schools in Adelaide contact us about next year, we might do 100 plus participants next year.
"The take home message is that I don't think the industry can wait and expect the Government or the education department to go and throw agriculture in the spotlight, it is up to us as an industry to be progressive and try and get in front of kids."
Thomas said he was privileged to have joined a "really special list of people" who have won the ALFA Young Lot Feeder of the Year award previously.
"To be put in the same category as them is really special to me," he said.
Runners up in this year's competition were Lachy Brown, Pakaderinga Feedlot, Kingaroy, who spoke about his plan to develop an online feedlot industry platform called Feedlot Connect, and Jeremy Sloss from Mort & Co's Grassdale Feedlot, who spoke about initiatives he has overseen to drive further gains in feed efficiency.