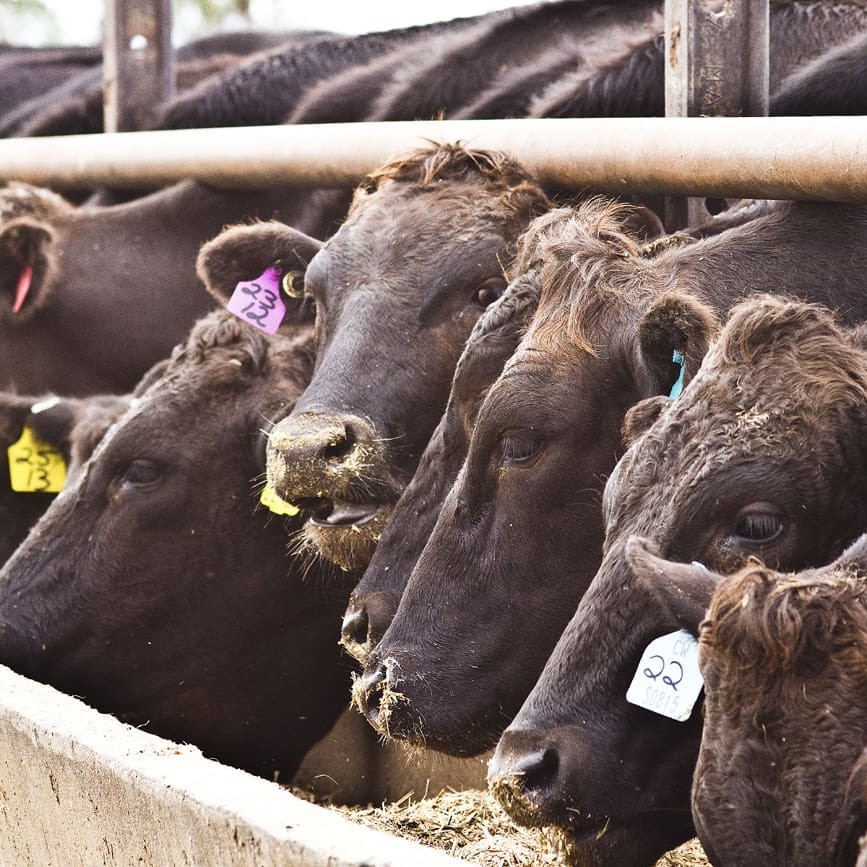 Outcomes were a little improved, but still disappointing in Beef Central's latest fortnightly grainfed trading budget calculated yesterday, which suggested a $64 loss on 100-day cattle entering the feedlot yesterday and closing-out in mid-May.
The outcome eases a little from a figure of negative $87 recorded in our year-opening budget calculated on January 11, but still reflects the tough going, profit-wise, in non-committed grainfed cattle at present.
The profit forecast signals are not stopping heavy demand for custom-feeding space in southern Queensland feedlots, however, as producers under serious drought pressure seek a grainfed solution to finishing cattle, almost regardless of profit prospects.
The December quarterly feedlot survey due out in the next fortnight or so should shed some light on the jump in numbers on feed that anecdotally, at least, has occurred since conditions started to seriously dry-off back in October.
Continuing high feedgrain prices and growing supply-side pressure on grainfed cattle prices as cattle placement numbers swell have been the major negative impacts on Beef Central's latest grainfed trading budget, based on typical 100-day flatback cattle (variables listed at bottom of page).
Looking back, Beef Central's latest $67 theoretical loss figure is $23 better than mid-January, but on par with a December 20 calculation. In late November's breakeven, the calculation produced a loss of $38 a head, while the last positive trade was a +$5 result back in early November.
For yesterday's trading budget, the prescribed feeder steer buy price ex Darling Downs was dropped 5c/kg on three weeks ago, to 180c/kg. Evidence suggests feeders fitting our profile are trading currently at 170-180c, however for budgeting purposes we have stayed at the higher end of that range. Higher grade cattle this week were trading in the mid to low 160s.
The chosen 180c/kg steer buy-in price is still historically low, however – unseen in this report since July, 2011.
It should be pointed out, however, that the early 2013 market is still a little unclear with regard to some input values, given the recent disturbance caused by rain. A couple of short-term factors appear to be in play:
Yardings are all up this week after last week's rain-impacted saleyards, effectively delivering a 'double-week' in supply in some selling centres
Many processors and feedlots did not take a lot of deliveries last week, for obvious reasons, meaning they still have a backlog of bookings. This 'spill-over' appears to have taken a little strength out of the market.
The other major factor, in Queensland feedyards, at least, is the continued very strong demand for custom-feeding space, reducing the percentage of cattle that the feedlots themselves are buying/bidding on. One large feedlot offering custom-feeding services told Beef Central yesterday it has seen a 60pc rise in custom placements due to dry conditions since October. Another large lot operator has dropped from buying 2000 head per week themselves, to around 600 as pens fill up with customers' cattle. That's meant feedlot buyers have been able to drop their rate considerably, while still securing the right cattle.
Yesterday's breakeven 450kg steer value apportioned at 180c/kg values him at $810, back $21 on three weeks ago, and $156 less than what he was worth 12 months ago – the price high-point for 2012, when our steer was worth $967.
Ration price for this week's trading budget stays the same as three weeks ago at $310/t. That follows an accumulated $15/t rise over the previous nine weeks, and leaves the finished ration price to its highest point since Beef Central started to report this data-set in May, 2011.
A factor in current grain price strength comes from the demand side, with many Downs feedlots now at or close to feeding capacity due to the effects of prolonged dry weather across NSW and Queensland. This has meant many feedgrain buyers have had to be more bullish in their buying strategies, which has probably exacerbated the market strengthening trend.
The ration price of $310/t attributed in yesterday's trading budget represents a total feeding cost over 105 days of $485 on our trading steer, up $15 from December. Total production cost is calculated at $1387, down $22 on January 11's feeding budget figure, due to softer steer price.
Cost of gain, using our chosen variables (2kg/day ADG, for 210kg gain over 105 days) stays high at 233c/kg, compared with 216c/kg back in late November. This time last year, the cost-of-gain was 187c/kg on a $250/t ration price, about $60/t or 25pc lower than yesterday's figure. Feeders back a year ago were worth 215c/kg, however.
Based on this, lotfeeders are likely to be seeking to place heavier, rather than lighter cattle on feed, to moderate the difference between steer buy price and the current cost of gain.
The above variables deliver a breakeven in yesterday's budget of 393c/kg dressed weight on a 100-day feeding exercise, down from 400c/kg three weeks ago (that was the highest breakeven figure seen since the July-August period when it peaked at 402c/kg).
Current forward public grid prices from Southeast Queensland processors for May, week three, are in the 370s-380s, from which we have chosen a forward price of 375c/kg, representing a trading loss on the current proposition of minus-$64. As recently as August/September, the finished forward cattle price was still in the 390s.
Change the steer price variable from 180c to a 165c, as would be seen in a higher Indicus percentage beast, and the current equation turns onto a positive $5 trade, however.
Meanwhile in the US, cattle feeding margins declined A$49/head last week, after a decline in cash cattle prices, according to the Sterling Beef Profit Tracker monitoring service. The change leaves average losses currently at near A$96 per head. US Beef packers saw their margins improve nearly A$16 per head, leaving losses at A$48 per head.
Beef Central's regular 100-day grainfed breakeven scenario is based on a representative standard set of production variables, ex Darling Downs. They include a 450kg liveweight feeder steer fed 105 days; 356kg dressed weight at slaughter; ADG of 2kg; consumption 15kg/day and a NFE ratio of 7.5:1 (as fed); $25 freight; typical implant program. Bank interest is included. It is important to note that variations exist across production models (feed conversion, daily gain, mortality, morbidity, carcase specification); from feedlot to feedlot; and between mobs of cattle. For a more specific performance forecast on a given mob of cattle, consult with your preferred custom feeder.