A FOCUS on emerging technologies with potential to deliver greater efficiency and productivity will be one of the highlights at the lotfeeding industry's upcoming Beefworks conference in Toowoomba.
Driverless feed-delivery trucks, the use of drones in monitoring in feedlot operations, and the potential to use 3D printers in agriculture will be some of the 'out-there' concepts to be explored over the two-day program.
While some of these technologies would represent a major step-change for lotfeeders, other topics for discussion cover those small 'one-percenters' that add-up to deliver greater operational efficiency or performance in lotfeeding operations.
BeefWorks is a technically-focussed hands-on event held every two years in rotation with the Australian Lot Feeders Association's major biennial BeefEx feedlot conference on the Gold Coast.
While BeefEx concentrates on the 'big-picture' issues facing the feedlot industry, BeefWorks is more applied in its content, with a stronger operational focus.
Conference chairman and ALFA councillor, Paul Vogt, from Iranda Beef feedlot in South Australia, said this year's program was about looking forward, perhaps a little over the horizon, to what was coming down the innovation pipeline, which could be of value to the industry.
"Who knows where a technology like 3D printing might end up – we might one day be printing parts for a feed truck after a breakdown in the feedlot office," he said.
This year's event will be held at Highfields Cultural Centre, Toowoomba on Wednesday, September 23 and the morning of Thursday September 24, before the program shifts to an afternoon session and site visit to Mort & Co's Grassdale feedlot near Dalby.
The Grassdale visit follows a highly successful BeefWorks program two years ago at the Hart family's Kerwee feedlot near Jondaryan.
Strong speaker lineup
Keynote speaker this year is Allflex Australasia's dynamic chief executive and Triple P program founder Shane McManaway, himself a livestock producer, who shares his special bond, passion and enthusiasm for the agricultural industry and his vision for empowering young employees to achieve the best productivity outcomes.
Exploring the prospect of driverless feed-delivery trucks in the feedlot industry will be Westrac's general manager of technology, Diedrik Lugtigheid. The mining and stevedoring industries have already successfully utilised driverless vehicles in their daily operations. He will discuss the mechanics of integrating the technology into existing businesses and the issues that might emerge in transferring the IP and automation into the feedlot sector.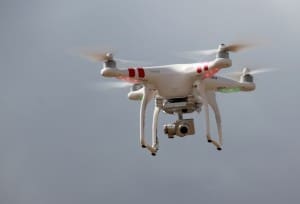 Exploring the potential use of drones in the feedlot sector will be UAV expert Rob Gilmour from HummingBird Drone Solutions.
While the big city media has focussed on the negatives of drones in relation to the feedlot sector, they also have potential positive application, including bunk calling, feed allocations and monitoring of feed, to maximise intake. Another potential application raised at a recent technology conference is infra-red monitoring of livestock body temperature to detect stock running temperatures due to respiratory infection. A demonstration will take place during the Grassdale visit.
Supporting the discussions around these 'blue sky' technologies will be a host of speakers on practical topics of interest to lotfeeders and their feeder cattle suppliers. Here's a few examples:
Shifting the focus to feet: Peter Best of Innovative Farmer Services addresses lameness in cattle and how new technology is optimising cow comfort and producer productivity.
Desktop review of non HGP alternatives: With some markets becoming increasingly sensitive regarding HGP use, Dr Rob Lawrence, IAP nutritionist services presents a desk top review of HGP alternatives and whether they stack up financially.
Getting the best out of your staff: Dennis Hoiberg from Lessons Learnt, provides some valuable insights into keeping staff motivated and productive in our feedlot businesses.
Capacity building in the feedlot: Matt Linnegar, CEO of the Australian Rural Leadership Foundation, challenges us to capacity build by tapping into the existing abilities of individuals, communities, organisations and systems to increase involvement, decision-making and ownership of issues.
Rapid Pregnancy Detection Technology: The technology to improve the early detection of pregnancies in cattle continues to improve. Renowned cattle vet Dr Tony Batterham scrutinises latest technology and how it can be utilised in calving management plans.
Acclimation trials: Dr Matt George from Bovine Dynamics brings us up to speed on the outcomes of the current acclimations project and introduces Boyd Holden from Allora who will demonstrate the best use of acclimation on cattle as they arrive at the feedlot.
Objective carcase measurement: MLA's Dr Alex Ball provides an update on the latest technology to objectively measure carcase attributes such as marbling and red meat yield, and the development of a value based marketing model that better aligns overall carcase performance and price.
Click here to view the full speaker program for BeefWorks.
Awards salute achievement
The event will again feature a series of industry awards marking personal and product achievement at different levels across the grainfed industry.
Included among these are:
The Phibro Young Lotfeeder of the Year award, won last year by Emily Perkins from JBS Australia's Prime City feedlot near Griffith.
The Zoetis Education Medal recognising excellence in workplace learning through industry courses
The Elanco Outstanding Service to Industry award, last awarded two years ago to Janos Hoey principal, Tony Hoey
The IAP Innovators' award recognising innovation in products and services with application on the lotfeeding sector, and
The Australian Country Choice Feedlot Industry Safe Work Award, showcasing the industry's ability to identify issues and provide solutions to improve workplace health and safety.
The Highfields venue will also be used to stage the IAHP BeefWorks dinner on Wednesday night, September 23, following the first day's proceedings.
BeefWorks is open to all industry stakeholders – not just ALFA members or lotfeeders. Grassfed cattle producers and backgrounders are also welcome to attend, given the wide relevance of much of the conference material.
Those planning to attend should consider Toowoomba accommodation options well in advance, as there are other large events on in the city at the same time. Click here for details.
Conference registration details and further information are accessible here.