WELCOME to the brave new world of agriculture where drones, robots and unmanned aerial and ground-based vehicles are looming as future tools to assist primary producers extract greater productivity and profitability.
But do such technologies have a potential role in extensive livestock production, as well as farming?
It's looking increasingly likely, but perhaps the potential uptake is a little further away than applications in more intensive agricultural pursuits, judging by comments made at a recent technology gathering on the Gold Coast.
One of the speakers at last week's Mobiletech robotics and automation technology in agriculture conference was Central Queensland farmer and beef producer, Andrew Bate.
Mr Bate and his family farm about 4000ha of country south of Emerald, as well as running 2000 head of cattle and a small feedlot. He is also investing heavily in design and commercial development of robotics systems for agricultural applications.
So what has motivated him to make such an investment?
"I'm like a lot of producers who spend a lot of time out in the paddock. I sense we're really plateauing-out in terms of where current technologies can take us, in terms of productivity and profitability. That push we have seen in the past 20 years is coming to an end, and we need to look to new frontiers," Mr Bate said
Far from seeing robotics as being of assistance only to cropping-type ag operations, he thinks such systems will ultimately engage heavily in livestock production systems as well.
"Cows are only harvesters, just as a grain farmer is a harvester," he said.
"The better pasture performance you can achieve, the higher your productivity, in any grazing operation. The first, obvious target for such technologies is woody weed control. Just look at the amount of wastage that goes on in using tools like Graslan pellets, where a paddock may be blanket-treated."
"Applying that same treatment, but on a more targeted basis, weed-by-weed, will not only lift paddock productivity by optimally controlling those woody weeds, while doing it more cost efficiently, and in a manner that's better for the environment. Legislation is getting tighter on such chemical use, with risk potential for runoff into river systems," Mr Bate said.
While his own robotics development project is based on hard-to-kill weeds in cultivation farming systems, he sees longer-term potential to extend into grazing systems.
'Swarmbots' approach to farming challenge
From a crop-protection perspective, Mr Bate said the first thing advocates for emerging new technologies told him was that robots would save farmers a lot of labour.
"But I don't think that's necessarily the case. Grain growers already have huge big machines, with spray rigs and planters covering 36-50 metres or more. We're already running one man to 5000 acres now. A driverless tractor, for example, in that sense does not really add that much labour saving."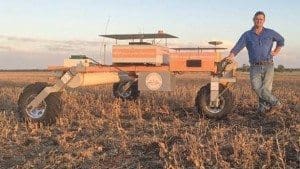 Instead of one big, complex piece of technology like a driverless tractor, Mr Bate sees a future using robotics under a system he calls 'Swarmbots' – effectively, multiple small, simple machines operating collectively that do simple tasks like weed control 'really well.'
"In the car industry, there is no single robotic machine building a car. Instead, it's lots of smaller, simpler machines doing just one simple task each, over and over again. I see something similar emerging in agriculture."
Mr Bate's company, SwarmFarm Robotics, is working on the development of 'swarms' of these small, lightweight, simple and relatively inexpensive machines (in his case ground-based, wheel-driven machines – not aerial drones), that will work in the field in agricultural applications.
His systems, from software to operating platforms, are designed to work completely autonomously, and are expected to hit the paddocks in commercial form before the end of this year – initially in farming crop protection roles.
The robots themselves carry weed detection technology, allowing them to identify and treat individual plants. Three Australian universities were currently working on even more sophisticated plant identification technology, he said, which could be linked to conventional chemical control systems, or alternatives such as heat-based weed control.
The 'Swarmbot' units also sense when they are low on inputs (chemical, fuel, fertiliser), and automatically return to a central point to replenish. They include obstacle detection technology and row-following capability that eliminates the need for GPS coverage.
It means that each machine can effectively operate 24/7, independent of human input. The robots can communicate between each other, to determine the best way to cover a paddock, manage breakdowns, or work around wash-outs or gullies, for example.
"One of the advantages is that they can be programmed to operate at a plant-by-plant level," Mr Bate said. "With a 36-metre boomspray, you are not stopping to address issues at an individual plant level. It's a blanket approach. This applies a chemical more intelligently."
Other advantages are reducing compaction, as each unit in the 'swarm' is light in weight. Scalability also means that a 'swarm' of such machines can be scaled to any operation size, simply by adding more units.
"A third-world farmer somewhere might employ just one unit, where a large-scale grain farmer in northern NSW might use 50 identical units," he said.
"Likewise, a smaller farming operation that is expanding can quickly scale-up its operations, by adding more repeatable machines."
Regardless of whether the application was in farming or livestock, breaking complicated tasks down into simple tasks would allow producers to better tailor operations in the field, whether it be based on climate, soil type or crop/pasture under management, Mr Bate said.
"Each machine can be tailored to function in the local environment in which it operates."
True value as an 'enabling technology'
He said the true value he saw in robotic technology in agriculture was as an enabling technology.
"It's about achieving those things that we don't consider possible right now."
He illustrated his point by using cotton harvesting as an example. In China, cotton is harvested by hand, using multiple passes through the field, as the crop progressively ripens, picking each boll when it is at its optimum for quality and yield. In Australia, a single pass is made using mechanical harvesters, compromising yield and quality for labour efficiency – and the entire crop is exposed to potential weather damage.
"This is the sort of application, to my mind, where swarm robotics can make a big difference in years to come. It's about opening our minds to new farming systems, and the applications are endless," he said.
"What's exciting is the ideas that have not even been thought-of yet, and there's a whole new generation of young farmers and graziers coming through that will enjoy a revolution in this type of technology."
Mr Bate said there had been tens of millions spent over the past 20 years on developing prototypes for robotics in agriculture, but none had yet been released in commercial form for the benefit of the industry.
"We expect to have our first commercial robots out in the field this year," he said.
"Robots can in fact benefit agriculture right now, but it won't be until a more complete robotic farming system emerges that the industry will see the full benefits of a robotic system," he said.
That may yet take a few years, where there is a complete system of hardware and software out there that a farmer or grazier can just buy off the shelf.
"But if primary producers are going to take something away from this, it's about starting to think outside the square. Forget about the technology and systems you are using now. It's that next generation of agronomists, farmers and smart guys out there, that will really broaden the horizon on this."
"At the end of the day it is not just about the robots – it's about developing new farming systems."
Will robots disenfranchise farmers?
During question-time, delegates asked Mr Bate about the risks of such robotics systems 'disenfranchising' farmers from what was going on in their paddocks.
He in fact thought the opposite might apply. "It's not about going fishing while the robots do the work," he said.
"If the farmer is not actually sitting in the cab of a machine carrying out weed control, for example, he has more time to be out in the field, setting the robotic machines up to do the exact job he wants, and fine-tuning it down to the last level. That might involve better managing spray drift through nozzle size selection or other refinements. But they will now have more time to do that."
"Robots put farmers more in the loop, not less in the loop. They return to being farmers, not machinery operators."
Mr Bate said there was future potential for certain chemicals to be registered only for use through a robotic system. "That's because they can guarantee the dose, the application, operating only in certain weather conditions – all completely traceable back to when and where it was applied, and who asked for it to be applied in that manner."
Click this link to view a separate article published this morning on producers' views on prospects for robotics in the cattle industry – "Robotics in the cattle industry: What do producers think?"