ACCESS to roughages is becoming a major headache for eastern Australia's feedlot industry as the prolonged drought wears on – and unless seasonal conditions turn around, could at some point limit the number of cattle that can be fed, some stakeholders believe.
As more desirable hay and silage sources are exhausted, lotfeeders are becoming increasingly desperate to source even second and third-grade roughage sources. Sugar cane tops, for example, have been trucked more than 1600km recently from the Tully district in far north Queensland to feedyards in Queensland's southeast. Rice straw is also being used in some applications.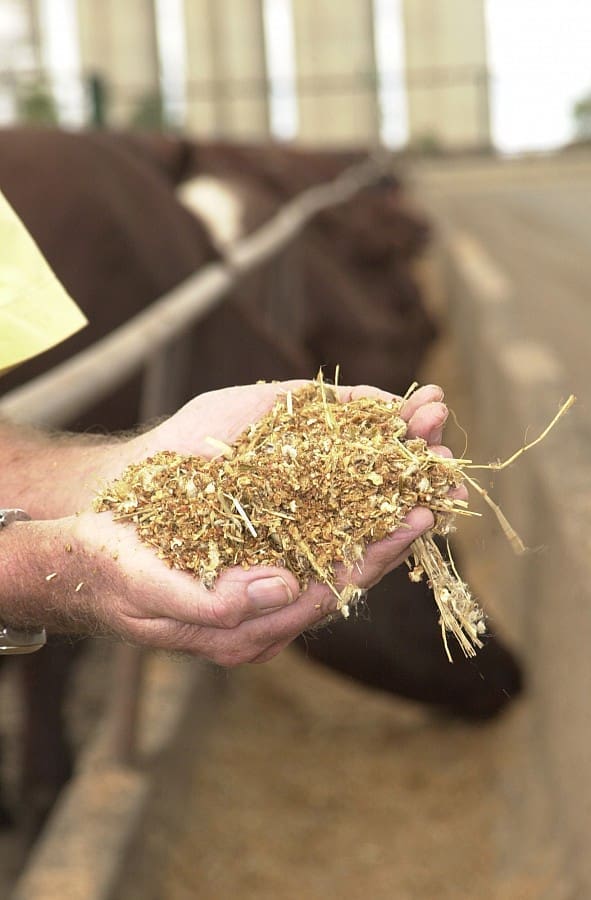 Feedlots typically like to stockpile large volumes of roughage in the form of silage or hay, but the scale and duration of the current drought has seen many roughage reserves greatly depleted, stakeholders of told Beef Central for this report
And the roughage availability situation is being exacerbated by the sheer number of cattle on feed across eastern Australia, hitting all-time record highs in the March quarter at 1.145 million head.
Well known feedlot nutritionist Dr Rob Lawrence from Integrated Animal Production said he was aware of yards using commodities like sugarcane tops as a roughage source.
"In a normal situation, using cane tops from Tully would sound ridiculous, but not under the current circumstances," he said.
"As poor a substitute as it is, the fact is that cane tops are 'there, and they're available'. Lotfeeders are no longer prepared to speculate about possible future roughage supply. It's all about security of supply now."
The alternatives included commodities like almond hulls – "not a bad product, but continuity is all over the shop," Dr Lawrence said – and items like rice straw, which was an 'awful' commodity to deal with for cattle.
But as the drought wore on, feedlots were increasingly having to resort to inferior sources of roughage.
"Roughage sources will probably always be available, but it becomes a factor of how deep your pockets are to procure them and transport them," he said. "Even now you can buy oaten hay, but only if you're prepared to pay $600/t for it."
Changing diets
Dr Lawrence said the current roughage situation had changed the way some lotfeeders managed their animals' diet.
"Not too long ago barley was more expensive than feed wheat. Wheat is a better option than barley in terms of energy, but barley contains more fibre. So a lotfeeder can feed a barley-based diet containing less roughage than a wheat-based ration – and that is a distinct advantage in the current environment. It was a strategic decision."
Dr Lawrence said the roughage shortage now applied across every significant lotfeeding region in Australia, and impacted yards large and small.
"In some ways I think the big yards have a greater exposure to the problem. Smaller yards might be able to take advantage of someone nearby with a small crop of silage that got some opportunistic rain – local opportunities, even if only a few hundred tonnes in size."
"But for a bigger yard, a 500 or 600 tonnes silage crop is nothing – less than a week's supply. They need real volume."
"A large feedlot can often pay a fortune for roughage quality that ranges from very good to absolute rubbish. But all common sense can go out the window, and it becomes just a matter of 'getting it through the gate'."
When roughage supply was really short, Dr Lawrence said one strategy was to 'max out' the cottonseed inclusion in a ration, and going for as low a silage or straw inclusion as possible.
"Depending on price and location, if a lotfeeder can realistically take cotton seed up to say, 12pc, they probably only need 2-3 pc straw from there," he said.
"If you are paying $450/t for straw that has 80pc lower energy value than cottonseed, it makes cottonseed at $650/t look pretty good," he said.
One calculation showed that cottonseed even above $1000/t was still more attractive than expensive hay, which had an impact on the efficiency of feeding.
Asked whether poor roughage sources were impacting feedlot performance at present, Dr Lawrence said it depended on the fibre value of the roughage, and the capacity of the feedlot to manage particle size. If a yard could not process corn or sorghum stubble properly, for example, with large particle size being delivered in the ration, cattle would 'sort the crap out of it,' leaving a bunk full of stalk, while inhibiting feed intake because of the un-consumed roughage.
Killara feedlot's experience
Elders Killara feedlot near Quirindi in heavily drought-affected northern NSW is typical of yards currently battling to maintain roughage supplies.
A yard of this size, around 20,000 head, uses in excess of 30 tonnes of silage a day, plus 15 tonnes of straw and hay.
"That's a lot of commodity, when stocks are very hard to get," Killara general manager Andrew Talbot said.
"Most of our hay and straw requirements are now coming from far and wide, because there just hasn't been grain crops on the Liverpool Plains now for a couple of years," he said.
"The only straw that has been available has been some sorghum stubble, but other than that, nearly all of our oaten and wheaten or barley straw has come from southern NSW and South Australia. That's come at a huge transport cost – over $100/t delivered."
For other soft commodities used for roughage like almond kernels and cottonseed, there was not a lot of it about in the market and was 'very pricey.'
"There's no doubt that drought years like 2018-19 forces people to look outside the square when it comes to available fibre and commodities. Most feedlots try to stick to 'tried and tested' commodities for roughage, but there are plenty of reports of yards trying to use sugarcane tops and rice straw which are far from ideal," Mr Talbot said.
"It's been a challenging time."
Value in feed additives
He said many feedlots had looked at ways to reduce the ratio of roughage to grain in a finished ration.
"The reason for that is that while grain remains expensive, in comparison with the soft commodities used for roughage and fibre, it remains good value," he said.
"Some people have looked at using new additives to reduce the amount of time cattle are on starter rations (higher in roughage) before transitioning onto finisher ration. Transitioning cattle too quickly from starter ration to finisher ration increases the risk of acidosis problems, but feed additive products like Lactipro (a natural, lactic acid-utilising bacteria included in rations) are allowing cattle to transition through the rations quicker," Mr Talbot said.
Traditionally, many feedlots use a starter ration higher in roughage for seven days, followed by a second and third transition ration, for a week each, before going onto full finisher ration around day 21.
"But with the difficulty in finding roughage, operators have been looking to take out one stage in the cycle, aiming to get cattle onto finisher ration (containing less silage or roughage) by day 14, to save roughage.
Rather than compromising feedlot performance, Mr Talbot said the opposite applied: it could potentially improve performance.
"Grain has more metabolisable energy than roughage, so the quicker cattle are transitioned across the better – but it comes at a risk of acidosis problems, if it is not managed well," he said.
Lactipro had now become quite broadly used across the industry, he said, and in a year like this where soft commodities are difficult to source and expensive, everyone has been forced to look at such strategies.
Mr Talbot said nutritionists had been primarily responsible for leading that development.
"But even after the drought breaks and roughage supply returns to normal, I'd anticipate that lotfeeders will continue to use additives like LactiPro," he said.
"It's a bit of a turning point in attitude, somewhat like the shift in attitude to feeding lighter cattle.
"Eighteen months ago, we all wanted to buy feeders for export (100-day) programs minimum 400kg, but we just couldn't get them due to drought. We, and other feedlots started feeding cattle 350kg+ – at least 30-40kg lighter. We got better at doing that, and I think that will now continue as a part of standard feedlot programs in future."
Mr Talbot said Killara was currently well down on its normal comfortable reserve of 15-20,000t of stored silage and hay, supplied either internally or contract grown by nearby farmers.
"But with more talk about the water sharing plans and potential cuts to allocations with water licences, the ability to get growers to grow silage crops for a feedlot could get harder. The internal competition within agriculture over where the water goes to – cotton, silage or other purposes – is worrying.
"Some of the input costs, like silage, for example, could get dearer, as they try to ensure that their contract growers continue to grow crops for silage."
Editor's note: References to the Lactipro product in this article were made voluntarily by Beef Central's industry contacts, and did not involve any promotion or marketing by manufacturer, BEC Biotech.