CATTLE on feed across Australia hit a new record high of more than 1.145 million head in the March quarterly feedlot survey released yesterday.
The number represents a rise of 34,874 head or 3.1 percent on the December quarter, and is close to 120,000 head more than this time last year.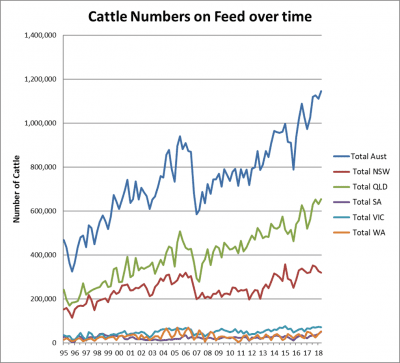 Growth was seen in most feedlot size categories, with opportunity yards less than 500 head up 67pc in numbers to 14,300 head at the end of March, and larger yards 1000-10,000 head capacity up 3.5pc to 419,000 head.
The latest March quarter survey conducted by the Australian Lot Feeders Association and Meat & Livestock Australia showed sharp rises in feeding activity in Queensland, South Australia and Western Australia.
Queensland numbers rose by 22,242 head or 3.5pc since December to 653,528 head, while second and third largest lotfeeding states New South Wales and Victoria decreased by 2.3pc and 3.6pc to 318,941 head and 70,572 head respectively.
South Australia's numbers jumped sharply by 24pc to 50,166 head and Western Australia increased by 12,887 or 33pc, to 52,355 head compared to the December quarter.
Australian Lot Feeders Association president Bryce Camm said numbers continued to be influenced by dry conditions, coupled with strong demand for high-quality Australian beef.
"The record numbers for the March 2019 quarter were driven by an unfavourably dry summer resulting in more cattle moving into the feedlot production system," Mr Camm said.

Capacity also hits new record
Licensed feeding capacity also reached a new record high of 1.363 million head in March, up 70,376 year-on-year, suggesting strong investor support for feedlots and their ability to deliver consistent high-quality Australian beef to global customers, Mr Camm said.
Queensland accounted for the largest portion of capacity growth, rising another 37,500 since December, and +56,000 in capacity compared with this time last year. South Australia also rose sharply in capacity, rising another 11,000 head since this time last year to 51,700.
"The record capacity and cattle on feed number, despite being faced with very challenging seasonal and climatic conditions, indicates how resilient lotfeeding businesses have become and the important role they play in meeting our customer's needs," Mr Camm said.
MLA's manager of market intelligence Scott Tolmie said severe weather conditions prompted a large-scale destocking event across parts of Eastern Australia in February, with feeder steers falling to a four-year low of 232¢/kg on 12 March. A rain-led recovery resulted in feeder steers ending the quarter at 280¢/kg, just 1pc below the beginning of the quarter, he said.
Lotfeeders experienced some slight grain price relief during the first quarter, albeit from a very high base, with wheat ex-Darling Downs averaging $430/t and barley averaging $393/t.
"These prices are still an increase of 30pc and 20pc year-on-year, respectively, and remain considerably elevated when compared to global indicators," Mr Tolmie said.
"Notwithstanding the volatile growing conditions domestically, global demand fundamentals remain strong for high quality Australian grainfed beef, reflected in the Queensland 100-day grain fedsteer over-the-hooks indicator increasing 9pc year-on-year in the March quarter to average 554¢/kg carcase weight," Mr Tolmie said.
Click here to see Beef Central's monthly grainfed trading budget result published yesterday
Click here to see our regular feedgrain reports.