WHILE feeder steers are a little higher in price in Beef Central's latest 100-day grainfed trading budget projection calculated yesterday, an easing in ration costs and stronger forward contract price on slaughter cattle has delivered an improved financial outcome.
In our fifth monthly trading budget projection for 2019, our standard set of variables (see list at base of page) has produced a negative $73 result on a typical 450kg flatback feeder steer, entering a Darling Downs feedlot yesterday and closing-out after 105 days on feed in the first week of September.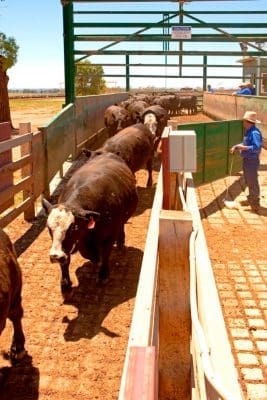 That's a $10 a head improvement on our corresponding budget done back on April 16, but for better performing cattle, weightgain-wise (see details below) the result is now close to breakeven.
For this month's budget, we've priced our typical flatback heavy feeder ex Downs at 290c/kg, up 5c/kg since April, reflecting the tightness of supply and reasonably aggressive mood among buyers for feeders hitting our weight spec. Regular readers might recall that this follows a sharp 25c/kg rise in feeder values that took place between March and April reports, following rain events in some parts of eastern Australia.
It's inevitable that preferred heavier feeders will be a scarce commodity in coming months, given the weather events and impact on calf production that's occurred over the past two years, suggesting there is some upside in feeder prices to come. That will particularly apply if NSW receives some autumn rain. At their peak around June 2016, feeders in this report sequence topped at 360c/kg.
While true backgrounder types across eastern states are still worth a similar rate to heavy feeder steers around 280-290c/kg, that lighter, less desirable feeder steer sub-400kg is currently 10-20c/kg less, depending on type. Some better British types are perhaps not a lot cheaper, because of domestic supermarket light feeder demand.
During the depths of the drought, lighter backgrounder types were often at a 10-20 percent discount to feeder types, due to the lack of feed resources of all types – including pasture, roughages, hay and supplements, but that gap has now closed considerably.
A buy price of 290c/kg in today's calculation values our feeder at $1305, $23 higher than last month, and $113/head dearer than May last year, when we had feeders priced at 265c/kg.
Given what lies ahead with slaughter cattle supply in coming months, there's a degree of urgency evident in the market among supply chains keen to put a few feeder cattle away for later in the year.
Historically, June represents the annual low-point in feeder prices, but whether normal cycles follow in a year like this is open to question.
Ration price eases to $475/t
Helping soften the impact of a slightly higher feeder steer prices, we've applied a finished ration price for today's budget of $475/tonne, down $10/t on last month. With new-season sorghum about, some yards may have offers below that price. Ration prices are likely to continue to weaken in coming months, on the back of further drops in wheat/barley and sorghum values, with harvest coming into play. The current figure is still uncomfortably close to our all-time high ration cost of $500/t seen back in August, however.
Most Darling Downs yards are still close to operating capacity, and have a fair grain position around them, bought at higher prices, Beef Central was told.
Wheat prices delivered downs are currently sub-$400/t, the lowest seen in this report since ration prices shot up from $415/t in July last year to $500/t (representing a grain component worth $470/t) only six weeks later. Other ration inputs, such as cottonseed, have reduced in price quite dramatically over the past month, falling about $200/t due to the impact of new season ginning in the south.
Those reductions in ration input prices are expected to produce more substantial material changes in ration costs in the next few months' trading budget reports.
One the basis of the above figures, we've calculated feeding cost this month at $744/head (down $16 on last time), and total production cost (feeder purchase plus feeding cost) at $2154.
Cost of gain in today's calculation is 354c/kg, down 8c/kg since April, based on our standard steer gaining at 2kg/day. But for better-performing examples gaining at 2.2kg/day, cost of gain drops to 322c/kg.
All this delivers a breakeven in today's budget of 610c/kg (592c/kg on higher-gain cattle), compared with a 609c/kg breakeven figure a month ago. In this report 12 months ago, the breakeven was 550c/kg, with the rise attributed to both the higher feeder price and the dramatic surge in ration prices that occurred after that.
Forward contract slaughter price 590c
Current forward contract price offers for 100-day steers for early September delivery are 590c/kg (up 5c/kg since last month's projection, for late July delivery). While some supply chain managers remain confident that grainfed steer prices will go plus-600c/kg in coming months, the sheer numbers on feed at present appears to be keeping a cap on higher price discovery.
While ever eastern Australia stays dry and feedyards remain near full, grainfed processors are likely to continue to buy requirements at a somewhat discounted rate, one yard manager said.  Widespread rain would see that change dramatically, however. Due to normal seasonal supply constraints ,slaughter markets are characteristically strong during the September/October/November period.
With a forward contract slaughter price at 590c/kg, that delivers a $73 loss on the trading budget exercise for our 'standard' beast gaining at 2kg/day, while a heavier-gaining beast (2.2kg ADG), is close to breakeven, delivering just a $7 loss.
That represents a modest improvement on last month when the loss on the standard beast was $83, and $18 on the better-performer, gain-wise.
Spot price versus forward contract
Looking back at feeder cattle that went onto feed in January, closing-out for slaughter this week, they were contracted forward by southern Queensland processors at the time at around 570c/kg.
That compares with spot price in processor grids this week of 570-580c/kg, meaning forward-purchased cattle being slaughtered this week are marginally cheaper than the spot market.
Beef Central's regular 100-day grainfed breakeven scenario is based on a standard set of representative production variables, ex Darling Downs. It is built on a feeder steer of 450kg liveweight, fed 105 days; 356kg dressed weight at slaughter; ADG of 2kg; consumption 15kg/day and a NFE ratio of 7.5:1 (as fed); $25 freight; typical implant program. Bank interest is included. It is important to note that variations exist across production models (feed conversion, daily gain, mortality, morbidity, carcase specification); from feedlot to feedlot; and between mobs of cattle. Equally, there can be considerable variation at any given time in ration costs charged by different custom-feed service feedlots. Click here to view an earlier article on this topic. For a more specific performance assessment on a given mob of cattle, consult with your preferred custom feeder.