THE number of grainfed cattle turned off in Australia is forecast to fall significantly this year, Meat & Livestock Australia says in its annual industry projections released this morning.
However the expectations of relatively cheap feedgrain prices following the recent record wheat/barley harvest, may also result in grainfed cattle remaining on feed for longer than usual during 2017 – perhaps by as much as 10-30 percent longer, MLA says.
Total grainfed cattle turnoff in 2017 is forecast at 2.5 million head, back about 100,000 head, or 3.8 percent from last year. That compares with overall cattle slaughter this year back 3pc, or about 200,000 head.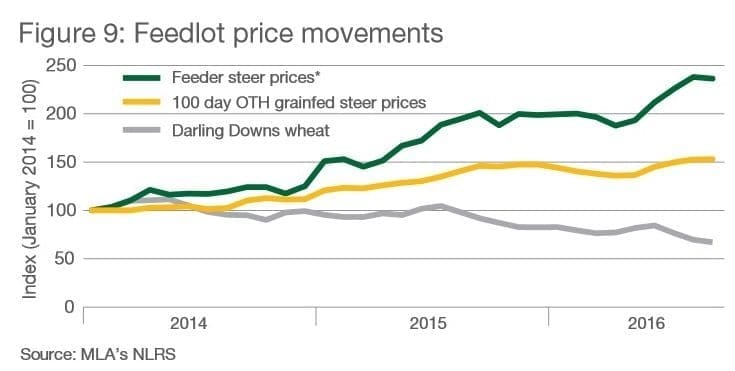 After an extraordinary rise in feeder cattle prices in 2015 and 2016, lotfeeders are unlikely to have any major reprieve in feeder steer and heifer prices in 2017, MLA's report says. That will apply particularly in the first half of the year, as the availability of cattle remains tight.
At the close of markets in 2016, the feeder cattle market was 8pc dearer than a year earlier – all on the back of the extremely short cattle supplies and fierce competition from restockers. During December, the average feeder steer price reported by MLA was 345¢/kg liveweight, up 81pc from the five-year average of 191¢/kg for the years 2010 to 2014.
While there has been a rise in the Queensland 100-day over-the-hook grainfed steer beef indicator over the past two years, it has not risen to nearly the same extent as what has occurred in feeder cattle prices. In fact, the indicator averaged 365¢/kg dressed weight from 2010-2014, and closed 2016 at 569¢/kg – up 56pc, compared with  a rise of more than 80pc for feeder steers over the same period.
The widening gap between feeder steer and finished cattle prices has been in clear evidence in Beef Central's regular 100-day trading budget reports published over the past two years.
"Considering there are more headwinds on the horizon for finished cattle (from factors including international beef export competition and currency value), it is likely the downward pressure will continue to mount on the slaughter cattle end of the market as a result of greater US competition in Australia's largest grainfed beef export destinations.
As flagged in yesterday's regular grainfed trading budget report, feedgrain prices really are the only reprieve for many lotfeeders at the moment, and the enormous Australian crop from 2016 (together with a well-supplied world market) is likely to see those prices remain suppressed during 2017.
"Taking all this into account, the number of cattle on feed for 2017 is likely to trend below the ten-year average of 800,000 head for the duration of the year," MLA's report said. "The only reason this wouldn't occur is if there was an unforeseen sudden drop in feeder cattle prices – but the likelihood of that is low unless widespread drought reappears."
However, while there will be fewer cattle on feed, expectations are for cattle to stay on feed for 10-20 days longer, due to the low feedgrain prices, which should raise weights and mitigate the fall in grainfed beef production, to some extent, MLA says. Average carcase weight of Australian adult slaughter cattle this year is expected to rise slightly to 287kg.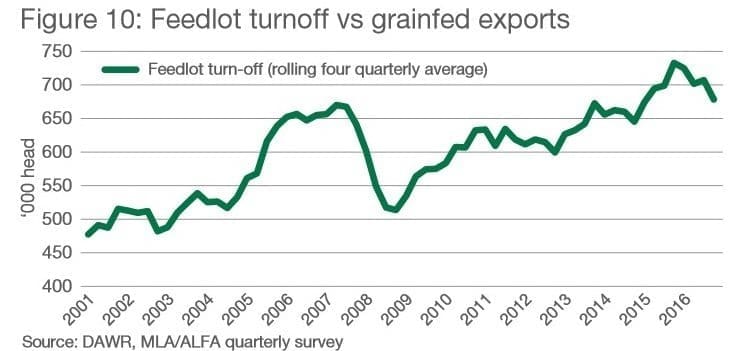 The drop in the number of cattle on feed is likely to impact grainfed beef exports this year – with limited supply, rather than poor demand, the inhibiting factor.
Last year, 2016, saw Australian grainfed beef exports fall just short (1pc) of the record set one year earlier, with 260,386t  shipped.
Japan was again the largest destination, accounting for 129,005t of grainfed beef, back 8pc, while volumes to Korea more than offset the decline to Japan, up 26pc year-on-year, to 55,756t. Shipments to Japan this year are likely to be steady, to slightly lower than in 2016.
Similarly, grainfed beef volumes to China rose 9pc last year, to reach 23,557t, while volumes to the EU eased 1pc, to 15,980t.
One of the challenges in Japan is that the US improved its market share during 2016, on the back of increased production, a lower US$/A$ exchange and subsequent beef price fall. Besides the pricing, the availability of single cuts in large quantities, and re-invigorated interest in US products by Japanese trade continue to pose strong competition to Australia, especially for grainfed product.
In the EU market Australian grainfed shipments held ground much better than grassfed last year, with the grainfed volume down only 1pc from the previous year, at 15,980t, while grassfed was down 34pc. That was largely the result of tighter availability compared to grainfed product, particularly during the second half of the year.
The EU's 48,500t grainfed global quota was filled on 10 December 2016. Therefore, no product could be cleared through the ports until 1 January this year, without incurring full duty.
Click here to access the full 2017 MLA Beef Projections document.