A SMALL lift in feeder cattle prices, and an easing trend in grainfed slaughter cattle money since late last year have combined to worsen the financial outcome in Beef Central's latest 100-day grainfed trading budget calculated this morning.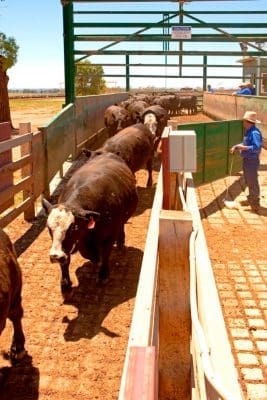 A moderate adjustment in grain and ration prices was not enough to offset the livestock impact, producing a forecast loss of $98 for our typical flatback feeder steer going on feed in a typical downs feedlot today, and closing out in May. The trading budget result is $25/head worse than our previous budget, carried out back on December 8.
It's the worst outcome in our trading budget since back-to-back losses of $114 forecast in August and September last year.
There's been movement in several variables used in our breakeven calculation (see full list at base of page) which have impacted on the result calculated this morning.
Feeder steer price rises to 340c
Feeder steer price applied in today's budget has been lifted 5c/kg since the final 2016 report, to 340c/kg liveweight, although some higher bids are evident.
Reflecting the general shortage of feeder cattle, and a period of small placements by many lotfeeders recently, there are a number of bids in the market this week for feeder cattle meeting our spec (450kg flatback steers) as high as 350c. The very patchy start to summer, hot weather and uncertain outlook heading into February hasn't helped.
At their high-point in our reports this year, feeders 'officially' got as high as 360c/kg, but during periods between trading budget reports, rose to as high as 375c for a couple of weeks during August.
Pricing today's feeder steer at 340c/kg values him at $1530, up $23 since our last report in December.
Ration price eases to $290/t
On the strength of recent grain price trends, we have reduced ration price in today's budget by a further $10/t, to $290/t. Grain prices quoted out of Toowoomba this morning have wheat at $228-$230/t February.
Along with a ration figure of $285-$290/t during harvest pressure back in September-October, that's the lowest ration price we have quoted since March, 2013. Back in July 2015 during the height of the drought, ration prices hit their peak at $385/t, with some Queensland yards pulling grain out of southern NSW.
The $290/t ration price in today's budget delivers a total feeding cost of $485, up $15 since our previous October report. Total production cost (feeding cost plus feeder steer purchase) in today's budget is $2091, up $7 since last time. The production cost figure has rarely dipped below $2000 since it first broke through the ceiling in August 2015.
Cost of gain has softened a littler in the latest budget calculation, on the strength of cheaper grain. It comes in at 215c/kg, back 9c/kg on our previous December report. That figure remains extremely attractive compared with the purchase price of feeder cattle, and clearly explains why some yards continue to chase lighter cattle for 100-day programs, because it is cheaper to add the weight through feed than it is to buy it out of the paddock.
Breakeven moves to 593c
The variables described above deliver a breakeven figure in today's budget of 593c/kg. While that's marginally higher than our previous December report (591c), and the record high of 632c/kg in July last year (when ration price was 320c/kg and feeders were worth 360c), it still reflects very tough lotfeeding conditions, carrying on from those experienced during most of 2016.
Forward slaughter prices on the wane
Grainfed forward price grids for 100-day cattle from southern Queensland processors this week for delivery in May have dropped 5c/kg to 565c.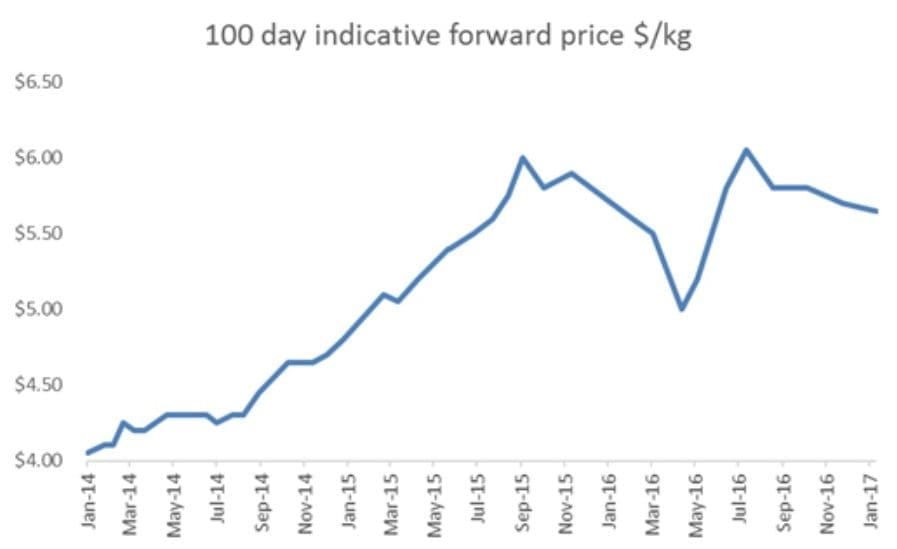 That reflects a number of things, including the general difficult meat trading conditions for export processors in the early stages of 2017; and an A$which has shot up about 5pc (in US$ terms) since late last year, making our exports less competitive. It perhaps also reflects the 'expensive' cattle bought earlier by processors, on forward contracts, that are currently being processed.
As the graph published above shows, the forward price on slaughter grainfed cattle has been gradually drifting downwards, from 580c in September-October and 570c in November. Currency movements, and international beef trade competition will hold one of the keys to where that price goes from here.
While US cattle futures have shown a dramatic 20pc rise in value since a ten-year low around October, globally, Australian beef remains heavily overpriced, trade sources suggest. That's especially so in the face of abundant, cheaper supply out of the US and Brazil.
Australia can continue to argue that near-record high cattle prices are justified, given 20-year lows in herd size. But given our +70pc exposure to export markets, we still must remain competitive with alternate international suppliers like the US.
Of concern for grainfed slaughter price prospects in 2017 is what happened around April-May last year, when finished grainfed prices plummeted to 500c, dropping a breathtaking 100c/kg between September 2014 and April 2016. The market made that all back again by July, hitting 605c, before again starting its current, gradual decline. If the market was to sustain a similar fall this year, it would have a catastrophic effect on grainfed profitability, as measured in our regular trading budget forecast.
All the elements discussed above means that today's trading budget delivers a loss on our current proposition of $98 a head – a $25 a head deterioration since our December 8 budget.
Spot market comparisons
Looking at 100-day grainfed cattle heading for slaughter this week, that went onto feed in October, forward contracts written on those cattle four months ago were priced around 580c/kg. In comparison, the spot market for 100-day cattle today for southeast Queensland slaughter is more around 560-570c.
That suggests that processors are probably $35 a head worse off this week on 100-day cattle bought earlier on forward contracts, than the same cattle bought on today's spot market.
Tomorrow: Big contrasts in grain prices, north and south, impacts on lotfeeding
Beef Central's regular 100-day grainfed breakeven scenario is based on a standard set of representative production variables, ex Darling Downs. It is built on a feeder steer of 450kg liveweight, fed 105 days; 356kg dressed weight at slaughter; ADG of 2kg; consumption 15kg/day and a NFE ratio of 7.5:1 (as fed); $25 freight; typical implant program. Bank interest is included. It is important to note that variations exist across production models (feed conversion, daily gain, mortality, morbidity, carcase specification); from feedlot to feedlot; and between mobs of cattle. Equally, there can be considerable variation at any given time in ration costs charged by different custom-feed service feedlots. Click here to view an earlier article on this topic. For a more specific performance assessment on a given mob of cattle, consult with your preferred custom feeder.