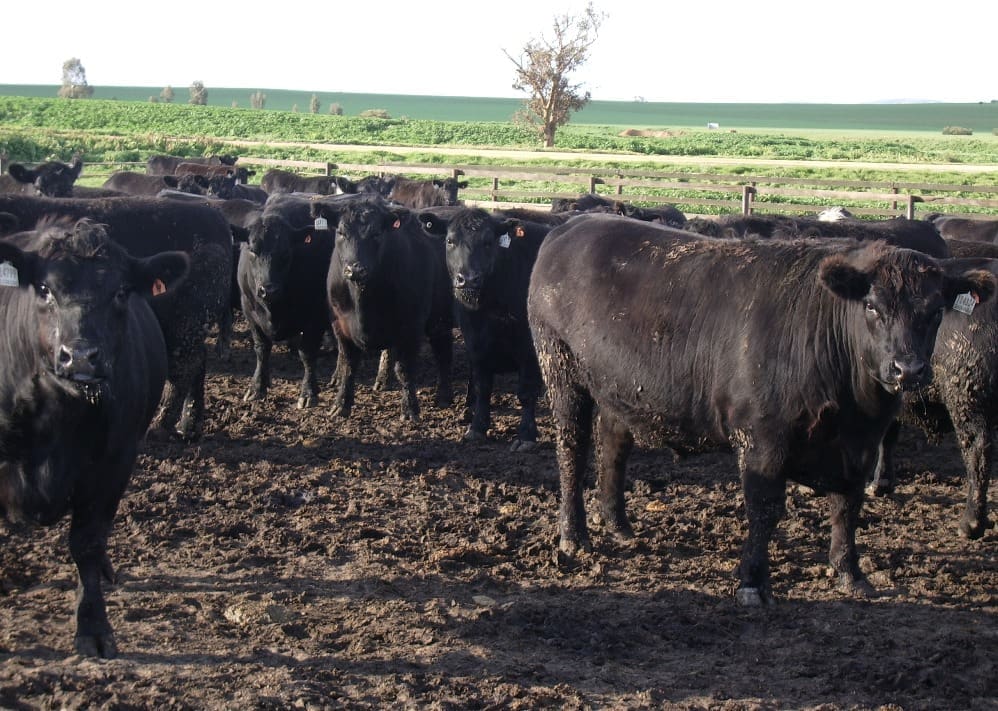 COMMERCIAL feedlots across eastern Australia are reporting particularly poor cattle feeding performance this winter, as persistent wet and cold conditions weigh heavily on average daily gains and rates of ration consumption.
To make matters worse, the compromised performance has added additional challenges in a trading environment where lotfeeders have had to pay all-time record high prices for feeder cattle (see earlier report).
Across the heavy concentration of feedyards in northern NSW and southern Queensland, the 2021 winter has been characterised by unusually wet conditions since the start of June, with regular follow-up falls not giving pens a chance to dry out.
"It's affected everyone who has received the unusually high, and ongoing rainfall over winter," consultant feedlot nutritionist and veterinarian Dr Rob Lawrence from Integrated Animal Production told Beef Central this morning.
In comments made in Tuesday's feeder price report on Beef Central, Elders Killara feedlot manager Andrew Talbot said some NSW yards had received their wettest winter in at least 20 years, if not ever.
To make matters worse, the Bureau of Meteorology if forecasting wetter than average conditions to continue across areas where major lotfeeding activity occurs, into the spring (see our recent July to September seasonal climate outlook below).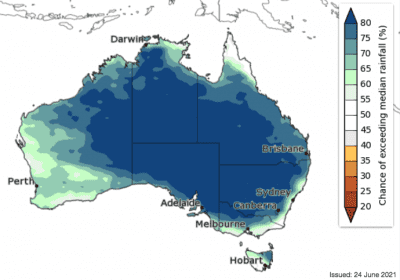 "We expect it to be wet in winter in Victoria, but in those large northern NSW and southern QLD lotfeeding areas that receive summer-dominant rainfall, it has been highly unusual," Dr Lawrence said.
"One, it's rained heavily since the start of June, and two, it continues to rain, at a time when evaporation is very low. Even small showers of 5-10mm that would normally not be an issue have simply topped-up the conditions, setting pens back again, because everything is saturated."
"We haven't seen a wet winter cycle anything like this for probably five or six years. Tamworth's Chaffey Dam, that was at 14pc of capacity earlier, is now back to 93pc, and it's the same right across NSW catchments."
Dr Lawrence suggested the performance compromise in cattle on feed since the wet conditions started had started had been "worse than a heatload event."
In some yards, cattle that had been producing average daily gains of 2kg/day had declined to 1.6kg/day, or even 1.5kg/day – a 20 to 25pc reduction in performance.
The conditions had also been reflected in reduced feed intake.
"There's two things going on," Dr Lawrence said. "Feed intake has been depressed, and because cattle have faced that persistent wet and boggy environment, we have subtle cold-stress going on. Cattle under those conditions are using more energy to try to keep warm, reducing the energy available for weightgain – in combination with depressed feed intake."
Under normal (drier) winter conditions, feedlot animals display an increase in feed intake, but this year's pen conditions offset that, and cattle could get hoof-sore in a constantly wet environment.
Northern NSW appeared to be the worst impacted region, and it appeared to be impacting cattle of both export and lighter domestic weights.
"When the prolonged rain event first started, conditions were still mild, but it's been the onset of really cold weather on top of wet pens which have pushed performance lower," Dr Lawrence said. "Up to that point, cattle had been feeding reasonably well."
Cost of gain performance compromised
Dr Lawrence said the current poor feeding performance was an added battle, when lotfeeders were having to pay historically high prices for replacement feeders.
"The tool that lotfeeders had to defend against these phenomenal feeder cattle prices was relatively low cost of gain, compared with the purchase value," he said.
"But cost of gain is driven not only by ration price, but also cattle performance. If you start to lose that performance, then the cost of gain advantage declines."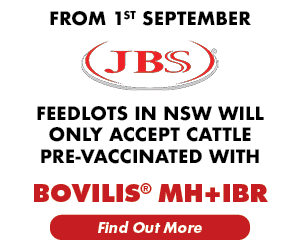 Dr Lawrence said he was aware of a number of yards exposed to persistent wet weather where COG had declined substantially. Some intake rates were down by 2kg/day, across a mixture of both domestic and export weight cattle, off a normal intake of 12-14kg/day.
"Cattle have the capacity to recover reasonably quickly if pen conditions start to dry out, but it's just the return of these persistent falls that's stopping that from happening. And there's more rain forecast for some southern Queensland lotfeeding areas later this week."
"It really has to start to warm up first, for this cycle to change."
Asked whether there had been a rise in respiratory challenge over the wet winter, Dr Lawrence said he hadn't seen evidence of it, above expected levels. However the 'starter' cattle that had been put on feed during the wet conditions had proven unusually slow to adjust to feedlot rations this winter.
Some yards were leaving cattle on feed longer, to try to compensate for recent poor rate of gain.
Pen maintenance challenge
A large northern NSW lotfeeder told Beef Central this morning his yard had been significantly impacted by conditions this year.
"The further south (and colder) you go in NSW, the greater the impact," he said.
His yard had faced challenging wet conditions for the past two-and-a-half months.
"It's just been persistent rain. The last month has been the worst, because we've received some rain every week. There's just no chance for the pens to dry out."
"Cold, wet conditions mean instead of feed being utilised for weightgain, it's being used on body maintenance and keeping warm – it's as simple as that."
Depending on the type of cattle being fed, rate of gain in his yard had declined eight percent, and intake was down 9.5pc.
"Starting little cattle in the wet, they don't like it. And we tend to find that the HGP-free cattle do not perform as well in wet conditions as the implanted cattle," he said.
Pen maintenance had become another issue this winter, the lotfeeder said, because conditions had not dried-out enough to employ pen scrapers.
Soupy conditions had made it impossible to get onto pens, and one yard with less than ideal drainage slope had recently tried adding straw to try to bind-up the pen surface in some pens.
There will need to be some big pen cleaning operations once condition start to dry out, one operator said.
Dag loads on some grainfed southern slaughter cattle had also become more acute this winter, as a result of pen conditions. But the fact that dags were still 'moist' was making them relatively easy to remove at the meatworks holding yards.