A PERFECT storm is driving feeder steer prices to unprecedented record highs, but some big lifts in slaughter cattle pricing may be necessary to justify current price levels, some lotfeeders say.
As reported in last week's item on the rampant rises being seen in the Eastern Young Cattle Indicator, lotfeeders are currently shelling out 'eye-watering' prices for suitable feeder cattle in order to fill vacant pens.
MLA's feeder steer indicator (steers up to 500kg liveweight bought strictly by lotfeeder buyers out of NLRS reported saleyards) sits today at 484.13c/kg liveweight – just marginally down from the record high of 485.3c set last week. (Note – the indicator covers includes all breed types, from indicus crosses through to Angus where premiums apply.)
This time last month, the NLRS feeder steer indicator sat at 442c/kg, representing a mammoth 42c/kg jump in the past four weeks (see graph). Compare today's figure to this time last year (377.6c/kg), and feeder steers today are on average 108c/kg higher in value. On a typical 400kg beast, that's worth an additional $430 a head on an animal only 12 months old or less.
And the current rising cycle is showing no real signs of abating. At Roma store sale this morning, lighter flatback feeders 330-350kg were reported to be making 530-550c/kg liveweight – considerably higher than the same sale last week, where records were set. Feeders sold at Roma last week averaged 516c/kg liveweight, while last week's Wagga sale saw feeders average 533c/kg. Heavier feeders were yet to be sold at this morning's Roma sale, when Beef Central heard from contacts at the yards.
In direct consignment paddock sales, major lotfeeding businesses are this week paying 465-480c/kg for flatback heavy feeder steers in Queensland, 500c/kg for better British types, and 540-545c/kg for HGP-free Angus.
So rapid has been the recent sharp rise in feeder prices, that it has made it difficult for slaughter pricing (typically 3-4 months ahead, given time on feed) to keep pace.
Near vertical price rises
MLA's market analyst Stuart Bull said the recent price trend in feeders had been 'near vertical.'
He says if anything, the latest extreme rise in feeder indicator prices to record highs may be 'under-reported,' because there is a greater proportion of heavier weights coming through the indicator this year – a testament to the season, as well as the financial incentive for producers to add as much weight as possible before sale. (On a c/kg basis, feeder cattle become cheaper the heavier they get.)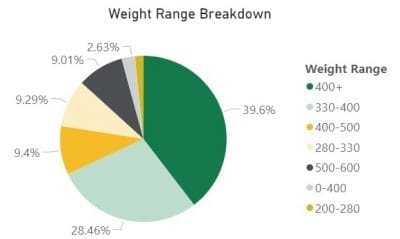 Breakdown figures from NLRS-reported sales to lotfeeders last week showed an unusually high 40pc of sale cattle in the +400kg range, and just 28.5pc in the traditional 330-400kg range (see pie chart).
Demand-side factors were also impacting current feeder pricing levels, Mr Bull said, with a number of large exporting countries facing shortened supply, at a time when quality beef demand was growing out of key export markets, as COVID recovery starts to gain momentum (reference the UK ending its lockdown phase yesterday, as vaccination roll-outs take greater effect, and stimulus packages take effect). The level of confidence in some countries continues to grow.
"From an Australian perspective, if you are a producer or lotfeeder, you've seen these prices continuing to defy expectations, for most of this year," Mr Bull said.
"Generally, the supply chain has become accustomed to these extraordinarily high prices, which can sometimes add a little more confidence to stakeholders along the chain to go back into the market."
"They have seen the market perform like this for so long, it has given stakeholders a degree of confidence that it is safe to press on – even at prices like those we are seeing this week," Mr Bull said.
"Couple that with signs that food service is starting to open up in some international markets, and there is a bit more cash in peoples' pockets – particularly in markets like the US – and the grainfed market is exhibiting the confidence to press on."
"Perfect storm"
In comments made to Beef Central late last week, NSW lotfeeder Andrew Talbot said over the preceding fortnight his Elders Killara feedlot near Quirindi had witnessed local feeder prices lift another ten percent, on top of levels that were already at record highs.
"Black feeders 400-500kg rose from 480s and 490s only a fortnight earlier to 540s and 550s this week," he said.
Lighter steers 350-400kg were making even higher, now in the 560-580c/kg range.
Isolated sales in saleyards and online had made even higher money recently. At RLX Carcoar last week, 490kg Angus steers made 558c.
Mr Talbot said a 'perfect storm' had triggered the latest sharp rise, on top of feeder prices that were already at record levels.
"There's no doubt that meat prices have lifted – both in Australia and overseas," he said.
"All of a sudden, there's more demand coming through – grinding meat prices have lifted recently, and chilled primals are attracting more export demand, despite short supply. Woolworths and Coles have lifted prices recently in domestic supermarkets."
There had been 'encouragement' by end-users to get more cattle onto feed, he said, because over the preceding six months during second-wave COVID, the number of cattle going onto feed for export programs had slowed. Nobody wanted to get caught with expensive grainfed beef if there were more mass-closures of food service and hospitality markets.
"Everything was held back because of that uncertainty, globally, over where food service was headed. But all of a sudden now, markets have started to move and prices have lifted, in response," Mr Talbot said.
"A lot of large processors are encouraging lotfeeders to put cattle back on feed – at exactly the same time as feeder supply hits its normal mid-year lull. That has only been made worse this year by the impact of the 2019 drought on herd numbers."
He said what had been seen in NSW and Victoria in terms of feeder supply and price had also flowed into Queensland.
"All of a sudden there is a lack of supply, driven by higher demand, and prices have just lifted, in a huge way in a very short period of time."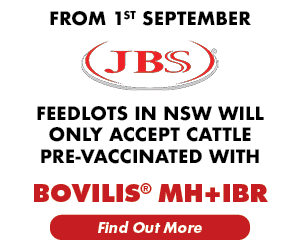 As more Queensland lotfeeders moved into Angus branded beef programs, they were having to buy black cattle further south – at extraordinarily high prices, and especially when freight had to be applied on top to get the feeders back to the yard. This had created additional competitive tension for available black feeders this year. Some of the 530-550c/kg southern feeders being bought this week would look even more expensive in a southern Queensland feedyard, with a 10-20c/kg freight bill to get them home.
Feeder heifers, also, had lifted around 40c/kg in the preceding two weeks, driven by lack of supply and continued demand from restockers or breeders.
"That's been in play for a long time, and it's why the heifer market really, over the past six months has been dearer than the steer market (in NSW, at least)," he said.
Breeder type heifers had been anywhere up to a dollar a kilo higher than they equivalent weight feeder steer, taking them completely out of the play for feeding purposes.
"But now, suddenly 100-day and 150-day programs are being wound back up, because of end-user demand, and there aren't enough cattle about to meet that demand. As a result, there's been this buying 'frenzy' to secure adequate volumes of steers suitable for export feeding."
Profitability challenge
Asked what current feeder prices were doing for lotfeeder profitability, Mr Talbot said it would inevitably push end-pricing for grainfed slaughter cattle higher.
"We think finished grainfed cattle prices may have to rise 5-10pc, to accommodate the money currently being paid for feeders," he said.
"Later in the year, to coincide with cattle just entering pens now for 100 and 150-day programs, it will push over the hooks prices up by about 60c/kg, dressed weight, in our opinion.
"The discussions are underway right now between processors and their customers over that," he said.
That process was already being reflected in forward contract price movements.
"What this will do is really test the mettle for some of these grainfed supply chains," Mr Talbot said.
"It's all very well for them to say, we want you to put more cattle on feed, but they may have been basing that on old pricing – perhaps a shortfed HGP-treated 100-day animal leaving the feedlot in the 780s (c/kg carcase weight), whereas clearly now they need to be at mid-8s, to justify current feeder price levels."
In mid-fed HGP-free premium cattle – which had copped a 'real hammering' over the past six months due to COVID – those cattle were currently leaving the feedlot at low-8s, but would need to rise to 880-900c/kg, come December, Mr Talbot said.
Asked whether the meat market was prepared to accommodate that, Mr Talbot said, "This is the unknown."
"There has to be a lot of questions asked about the sustainability of some of these programs, given the price lift," he said.
But as has been seen already this year, the market continues to confound Australian supply chains in terms of what it is prepared to pay for quality Australian beef.
Mr Talbot said some operators appeared to be burying their head in the sand a little on profit outlook.
"Some lotfeeders appear to be focussed on simply getting more cattle on feed, without really understanding the full price implications of exiting feedlots come Christmas time," he said.
Another factor was that with predictions of a wet spring on top of recent wet conditions, weightgain performance in feedlots had been compromised.
"Many would have hoped to achieve a traditional spring level of feeding performance, but that is unlikely, given that 2021 has produced as wet a mid-winter feeding conditions as many yards in in NSW and Victoria have ever experienced – at least for 20-odd years."
Mr Talbot said it was important to remember that the industry currently was "not in normal times."
"We all need to remember that NSW and Victoria have a typical spring dry-off, where cattle start selling in larger volumes come October through to Christmas.
"I believe it is unlikely that the levels of feeder pricing that we are seeing right now, driven by an acute shortage of supply, are likely to continue into the end of the year," he said.
"It's a classic supply and demand situation, and I would have thought we have seen the best of it by now."
"In a traditional year, feeder cattle prices typically peak in early August. If this is an acute year, some of the very big price rises we have witnessed could be matched with equally large falls, if numbers start to appear in October-November. It could come off the boil at a rate of knots."
Some feedlots were offering forward price contracts on feeders through July, August and even September, but all yards would be extremely cautious about carrying that risk into November and December, he said.
Australian Lot Feeders Association president Bryce Camm said it was encouraging to note that finished grainfed cattle prices had started to rise, in response to feeder price trends.
"In the past two or three weeks we have definitely seen the impacts of the shortage of feeder cattle, reflected in the dramatic rise in prices, coming in," Mr Camm said.
"But the factor that is helping maintain some confidence in the lotfeeding sector is the processor response – it's nothing to be look at grids for better HGP-free grainfed cattle with an 'eight in front of them' at the moment, and high sevens for implanted cattle – which is pretty exciting."
Asked whether recent rises were enough to compensate for recent dramatic feeder price rises, Mr Camm said with some irony, from a lotfeeder's perspective it was never 'enough' – but particularly in program business focussed on brands, lotfeeders were working hard with processors to keep cattle coming onto feed to match current demand.
"Undoubtedly, with the feeder price hikes we have seen recently, slaughter prices are rising to reflect that. That's the positive part, in that we are seeing that movement. The bigger story is about the confidence and demand that continues for quality Australian beef – even at these historically high prices – keeping all these brand programs going."
Grain prices had helped offset a little of the recent feeder price movements, with barley at presented worth around $300/t, delivered Downs, back a little over the past couple of weeks.
Mr Camm was not anticipating any dramatic changes with the arrival of new season grain in coming months, and with harvest approaching, supply was looking sound.
"There's not going to be any really cheap grain anywhere, because export demand is capping prices, but most people would not be uncomfortable with where grain prices sit at the moment."