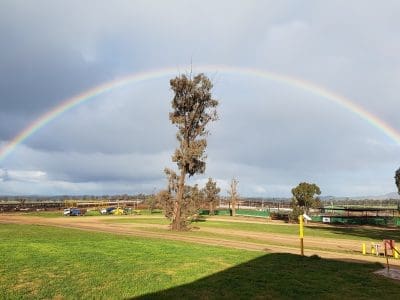 THREE New South Wales feedlots have taken out major awards at the grainfed beef industry's 2021 Feedlot of the Year competition, results from which were announced online this evening.
Teys' Jindalee Feedlot, Gunnee Feedlot and Gundamain Feedlot all won their respective categories, based on operating capacity, with Paradise Beef in Western Australia the only operation outside NSW to share in the winnings.
The Australian Lot Feeders Association's industry awards have been running since 1991, with the winners traditionally announced at the Beef Ex conference. But this year it was taken online due to COVID 19 restrictions.
"All finalists in the competition this year should be commended for their efforts in striving to push the status quo and be the best they can be," ALFA president Bryce Camm said.
"The winning feedlots are a proud reflection of the lotfeeding sector's strong commitment to operating within robust quality management systems, continual improvement and innovation."
All operations under the National Feedlot Accreditation Scheme (NFAS) were eligible for the awards, with the winners recognised for exceeding the principles of the scheme.
The competition is judged in two rounds, with feedlots demonstrating their credentials to a panel of judges in the first round and progressing through to finals if successful. The companies had another chance to put their case forward in the second round before the winners were announced.
Teys win big on the more than 15,000 head category
The large-scale feedlot category came down to two of Australia's largest beef supply chain companies – Teys with its Charlton and Jindalee feedlots and Australian Agricultural Company's Goonoo Feedlot in Queensland.
Wining the category was the Jindalee Feedlot, based in the Riverina region of NSW, for demonstrating itself as leaders in safety, animal welfare, environmental management, sustainability and social accountability.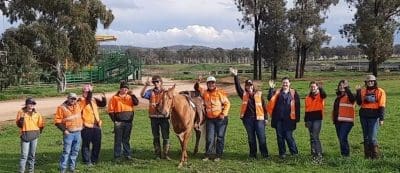 In accepting the award, Jindalee's general manager Shane Bullock said adapting to change and being involved in the community was a mandate of the operation.
"Feeding cattle is the basic part of what we do every day, but we do lots of other things as well," Mr Bullock said.
"We enjoy participating in a lot of research and development work and we like to be at the fore-front of change in the industry.
"We are very involved in supporting schools and charity groups and we've raised a lot of money and helped out where we can."
Jindalee is one of three feedlots owned by Teys, and Mr Bullock said it had potential to expand on its 17,000 head capacity.
"It would be nice to expand the yard further, we have a license to do that," he said.
"We haven't done so yet but we will see what comes in the future."
Hancock feedlot takes out 8000 to 15,000 head category
The Gina Rinehart-owned Gunnee feedlot, near Inverell, managed to beat Mort and Co's Pinegrove operation on account of its animal welfare and safety culture.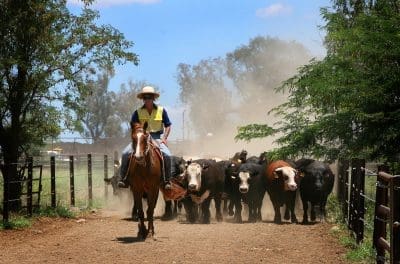 Ms Rinehart's Hancock Prospecting purchased Gunnee from the Statham family's Sundown Pastoral in 2018 – it had the capacity to feed 10,000 head when it was purchased.
Manager Mark Byrne said the operation has had a major turn around in recent years with significant rain breaking a long drought.
"We were averaging 24mm of rain for eight months, even through winter, which has been great for the local environment," Mr Byrne said.
Gunnee feeds Wagyu cattle for Hancock Prospecting's 2GR brand.
Former president wins 3000 to 8000 head category
The Gundamain Feedlot in central west NSW, owned by the family of former ALFA president Tess Herbert, has taken out this category for its efforts in being sustainable, adaptive and resilient.
Earlier this week, Ms Herbert told Beef Central the family had plans to expand Gundamain with its Ladysmith operation, about three hours south, on the market.
The Herbert family has been operating in the agricultural industry for more than 150 years.
Gundamain feeds a combination of 100-day grain-fed and 70-day domestic cattle, all owned by the Herberts, and mostly forward-contracted to processors.
The other finalist in the category was the Southern QLD-based Wonga Plains Feedlot, which is owned by the family of current ALFA president Bryce Camm.
Tess Herbert said Wonga Plains and Gundamain had a healthy rivalry in the competition.
"We go head-to-head every year and I'm sure it will be Wonga Plains' turn next time," she said.
Western Australian feedlot wins less than 3000 head category
Paradise Beef in the south-west of Western Australia has taken out this year's less than 3,000 head category for its contribution to the local community.
Based near the town of Donnybrook, the Paradise feedlot has been running since 2009 – primarily custom-feeding cattle for clients and helping with marketing through its Paradises Enterprises brand.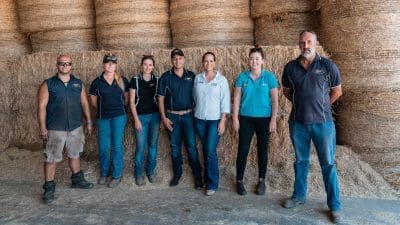 Owner Gary Dimasi said with few lotfeeders in Western Australia it was a risk starting the operation 12-years-ago – but winning the award was worth it.
"With innovative ideas it has been a good thing for our business and that's why we won the award," Mr Dimasi said.
"We had a crazy dream and look where we are today."