A Melbourne-based investor family has taken a strategic stake in the Rodgers Creek feedlot, which operates under the name B Feeders, near Warwick on Queensland's southern Darling Downs.
The unnamed investor was described to Beef Central as holding a strong interest in agriculture and food production, with a particular emphasis on export trade into Asia.
Rodgers Creek was bought by the current owners, a syndicate of Queensland beef industry stakeholders, in 2013 as a distressed sale through receivers, from the estate of the late northern cattle and live export identity, John Quintana (see earlier report).
It was suggested at the time that a bargain basement price of less than $3 million was paid for the yard, greatly discounted to its replacement value at the time. No price has been disclosed this time around.
Original partners in the B Feeders business included James Maclean, principal of Toowoomba-based supply chain managers, Allied Beef; former Mort & Co private client manager Ben Maher, who left Mort later in 2013 to manage the Rodgers Creek yard; the original owner/developer of the feedlot, Murray Murdoch; and Brisbane agribusiness investor Ben Woodhouse. Mr Murdoch's share was later bought out by the other three partners.
The transaction that has occurred this month sees Ben Maher retain his share in the business and remain as managing director and operations manager, with the new partner contributing to grow the business in other areas. The new partner already has some cattle in custom-feeding programs in the yard.
The Rodgers Creek yard was built by Murray Murdoch during the 1990s, and remains one of the more modern commercial feedlots in southern Queensland.
Location is a feature, being just 20km from Warwick off the Inglewood Highway, giving good access to saleyards, processors and grain, making it well suited to either Queensland or NSW feeder cattle.
For a smaller feedlot (capacity around 5000 head, including some surrounding backgrounding paddocks totalling 830ha of country), the facilities are of a high standard.
Feedlot operations infrastructure includes a large commodities shed, modern concrete feed bunks and aprons, large machinery shed/workshop, 500 tonnes of grain storage, liquid supplement tanks, cement silage pits, feedmill, good cattle handling and loading facilities, office and residence. The property also has a 180 megalitre dam and effluent ponds.
While much of the yard's grain requirements (barley based) are currently coming from interstate via the Port of Brisbane, in normal seasons grain is sourced widely from the southern downs region, with local forages and hay.
Benchmarked on lighter domestic weight cattle, Rodgers Creek can potentially turn over about 20,000 head each year.
Opportunities for expansion will be explored under the new ownership structure, Beef Central was told.
The yard is currently operating at close to capacity, split roughly between company-owned and custom-fed cattle. Feeding programs range from domestic grainfed (the yard holds a Woolworths contract for two B-double loads per week, and feeds other cattle to 100-day export weights, plus a smaller number of longfed Wagyu.
The facility is designed for smaller lines of cattle, being divided into 80-100 head pens, and will continue to operate as a custom-feeding yard under the new ownership.
Mr Maher said it would be business as usual for the yard following the change of ownership, with no significant changes to the current model.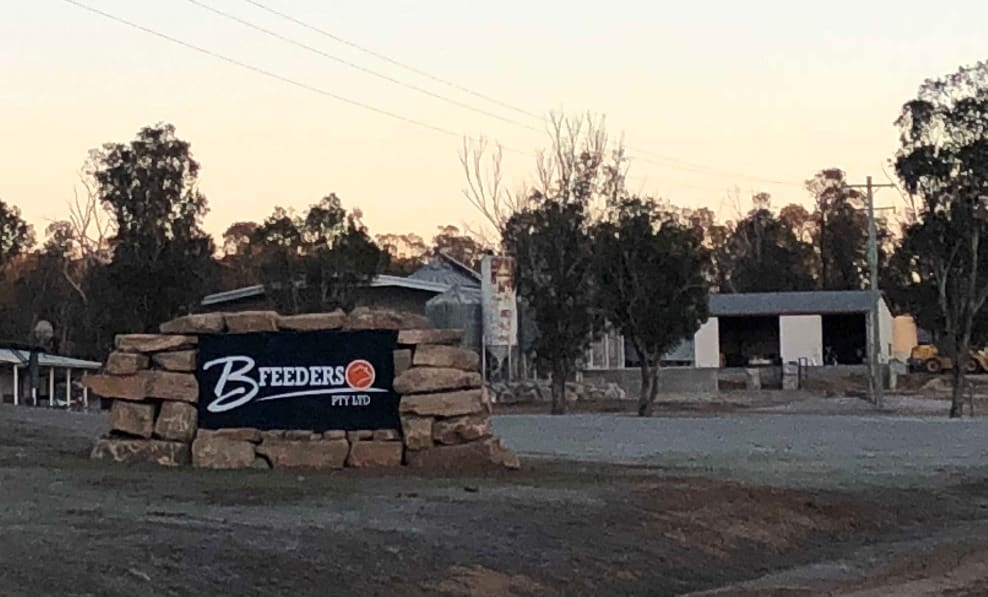 Rodgers Creek is currently feeding domestic weight cattle for a grainfed paddock to plate competition being staged as part of the upcoming Primex Field Days near Casino.